In June 2023, Hung Thinh Land, the developer of MerryLand Quy Nhon, launched Marina District new subdivision to the market alongside a product line of MerryHome. Boasting prominent attributes in terms of location, utilities, view, management unit and payment policy, MerryHome offers opportunities for those who want to own an ocean-view apartment to make their dreams come true.
MerryHome, a product line in Marina District which is the second subdivision at MerryLand Quy Nhon, is developed to meet the diverse demands of clients. Especially, it targets those who want to possess a house right in the coastal city and make use of the tourism potential of Quy Nhon, which is dubbed Maldives Vietnam by Sydney Morning Herald, an Australian newspaper.
At MerryLand Quy Nhon, Canal District is known as the "sleepless kingdom", boasting two product lines including Bizhouse, a circular business model generating profits at all times, and Townhouse at the center of the multi-functional peninsula city which boasts both residential and commercial values. Meanwhile, Marina District is developed to become a district of yachts at the peninsula city. At this place, each tower is designed to look like a sailing cruise ship embracing the arc-shaped beach. With 90% of apartments with the ocean view, Marina District will offer special experiences on sea view, elevation, and flexible changes of the sea color at various hours of the day. A living space full of sunshine and sea breeze will bring residents a peaceful, healthy and exciting life at every moment. Together with Marina District subdivision, MerryHome is a product line which is developed in a complex of tourism, hotel, trade center and resort; each apartment is a cozy house on white sand beach flooded with warm sunshine and is affordable to every Vietnamese family.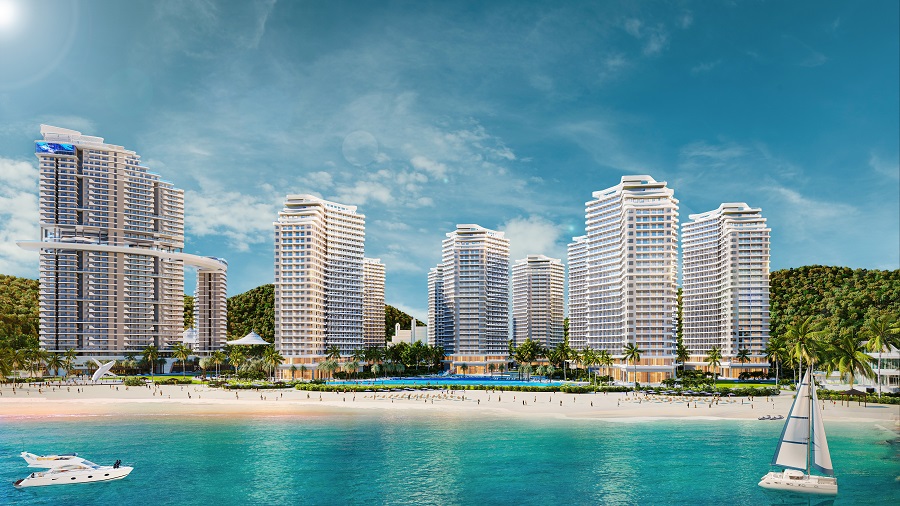 Up to 60% of the products of Marina District have an area ranging from 30 to 55 square meters, which are designed in a modern, delicate and convenient fashion for the purpose of relaxation, residence, and business. With a reasonable price starting from VND1 billion, MerryHome is affordable to everyone in Marina District. This is a mutifunctional category with numerous values, appropriate for accomodation, relaxation and leasing service business. Thanks to its location, MerryHome apartment owners will have a living space of a house and a hotel at the same time. The apartment's conveniences, modernity, coziness will bring comfortability for the apartment owner everday.
Besides, in the context that workcation (a combination of vacation and business) becomes a trend among the young Vietnamese people, Marina District is expected to be a suitable place for those who opt to work and take a vacation at the same time at the peninsula city. As a product line targeting most of Vietnamese families, especially people who are living and working in Quy Nhon – Binh Dinh, this option will help enhance the quality of living space. For potential clients in the Central Highlands, this is an opportunity for them to realize their dreams of possessing an apartment on the white sand beach flooded with sunshines and being able to hear sea waves whispering days and nights.
With reasonable prices starting from VND1 billion per unit and flexible payment policy and various incentives, MerryHome is a product line affordable to most of Vietnamese families.
Possessing MerryHome, clients will be entitled to specific utilities of Marina District such as the Snow World which appears for the first time in the tropical land of Quy Nhon; the outdoor art performance center where large-scale cultural and entertainment events are organized; yacht berth with busy sailing schedules, and infinity swimming pool with an amazing view. As a subdivision of the peninsula city, Marina District also offers residents access to a series of utilities of the entire project of MerryLand Quy Nhon such as the water music square, an 18-hole golf course, a theme park, and a beach square. The complex of dual utilities will fully meet the demand of residents and guests for enjoying life, entertainment, leisure, and shopping at the subdivision.
Being oriented to become the country's coastal center of economy, tourism, trading and service, seaway transport, science and technology and hi-tech, Binh Dinh expects to attract qualified human resources. The development of the Marina District subdivision alongside a product line of MerryHome will meet the requirements on a comfortable and green living space of many experts, managament and qualified human resources who are living in this city.
To open up a sustainable development cycle, create more utilities, enhance clients' experiences and improve service quality at Marina District subdivision with the category of MerryHome, Hung Thinh Land as the developer has signed a service agreement with Best Western that will provide management and consultancy services to Marina District. Best Western is one of the top 10 popular hotel brands in the world with over 75 years of experience in management of hotels worldwide. Best Western is now providing operation and management services for over 4,500 hotels in 100 countries and territories.
Being known as "wonder of the tropical region", MerryLand Quy Nhon is home to many international festivals and large scale cultural and entertainment events. This place had hosted the final rounds of Miss World Vietnam, one of the most prestigious beauty contests, in two consecutive times. Other similar events promise to lure dozens of thousands of local and international guests to the peninsula city, creating opportunities to conduct leasing service business at Marina District subdivision with the product line of MerryHome. This year, the national final round of Miss World Vietnam will take place in July with the final night falling on July 22.
Covering nearly 1,000 hectares of land on Hai Giang peninsula, Quy Nhon City – MerryLand Quy Nhon is an international standard, smart tourism and commercial peninsula city. Featuring many potentials and values, MerryLand Quy Nhon is realizing its vision step by step to become a destination offering multiple experiences, contributing to redefining the local brand in the tourism maps of Vietnam and Asia.