When discussing the socioeconomic situation during the recent sitting of the National Assembly, several legislators said it is necessary to lift the public debt ceiling to enable the Government to borrow more money so that bigger capital can be pooled into programs to recover the economy. However, this is a controversy. In the current context, a more vexing issue is not how much money will be pumped into the economy, but how and where to spend money to restore and stimulate growth. If money is not spent in the right place effectively, more money, whatever how much it is, will be useless.
Some experts have opined that the most worrisome issue of the Vietnamese economy at present is not the lack of capital but the ability to absorb it. According to the Ministry of Finance, by the end of October 2021, Vietnam had been able to realize less than 56% of the public investment amount already allocated for 2021. In other words, over VND200 trillion is still sitting idly in the State Treasury and 2021 will come to an end in only more than a month.
When it comes to the ability to absorb capital, it is not a phenomenon, but a chronic problem that has dragged on for ages. Therefore, the pandemic should not be to blame for the prolonged disbursement. According to Minister of Planning and Investment Nguyen Chi Dung, delayed disbursement of capital is not due to time-consuming administrative procedures, either. Instead, it is caused by problematic investment preparations made by authorities in relevant sectors and local governments. The minister backed his argument by saying that the procedures are common for all localities, and some have obtained a very high rate of disbursement while other have fallen far behind.
The business circle is almost in the same shoe. What they are grappling with is not the shortage of capital for purchasing materials or paying salaries, but how to sell their goods and services to push up the money flow to feed themselves and their workers. The problem is the purchasing power of the market—which is the driving force for all enterprises and the entire economy—is currently way too weak.
There is no need to make complicated calculations to figure out what the issue really is. Look at the rows of shops which put up signs saying they are closed along the streets in the city's central business district, or restaurants which were once flooded with diners and are now frequented by a few. The problem lies there. In such a context, if a business household has access to credit worth several dozen million dong at a preferential interest rate, or a small business receives a loan worth several billion dong, these amounts of capital is of little help to them.
In reality, the first priority of the economic recovery scheme at this moment is not more about where to seek more money to pump into the economy than about how to enable all enterprises and business households to come back to their business and reach the new normal as soon as possible.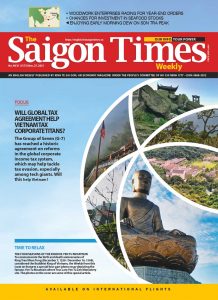 It also concerns an early recovery of domestic and international tourism; further loosening of different forms of trading, entertainment and transport services; creation of favorable conditions for not only goods circulation but also people's mobility; and finally, the universal implementation of the Government's Resolution 128 on adaptivity to safety, flexibility and effective control of Covid-19 throughout the nation.
As soon as business activities are back to normal, the consideration of several economic stimulus policies is indispensable. Consequently, public investment enhancement plays a crucial role. This nonetheless can be a double-edged sword.
The private sector and business households are an integral part of Vietnam's economy, which both contribute up to 41% of GDP (Gross Domestic Product) and create the biggest number of job opportunities.
However, given the fact that 97% of them are small firms and microbusinesses, their main markets are domestic. Therefore, the Government's investment stimulus programs, aside from focusing on the common economic efficiency, should take into account measures for creating some purchasing power to a category of businesses which traditionally rely only upon the home market. This argument means that at present, mammoth projects which stimulate only imports—such as the North-South express railway project—should be carefully scrutinized.
In addition to stimulus investment programs, the promotion of individual and household consumption must also be taken into consideration. To this effect, policies on consumer loans, personal income tax, value-added tax and tax policies on enterprises should be revised to help them cut production and service costs.
To cut a long story short, businesses are in need of markets. If markets are within their reach, they will immediately know where to find the necessary capital to do business.