Commonly, for enterprises, business is business. For Dai-ichi Life Vietnam, the premier Japanese life insurer, while doing business, the community love spirit always shines.
Aside from making outstanding business endeavors, the life insurer has long been a pro-active member in philanthropic and social programs across the country nearly 15 years, with billions of Vietnam dong spent each year on community activities.
The company's corporate social responsibility (CSR) has been further heightened over the past couple of years as Vietnam has been battered by waves of coronavirus infection and natural disasters. Dai-ichi Life Vietnam, has lent a helping hand to people in need to encourage them to overcome the hard time and move forward to a better life.
Companion in the fight against Covid-19
Since June this year, the Japanese life insurer has contributed VND7.7 billion to support Vietnam in checking the Covid pandemic. Of the total amount, VND3 billion was donated to the national Covid-19 vaccine fund, VND4.7 billion was offered to support the frontline healthcare workers, local residents, disadvantaged children, orphans, and cancer child patients that were impacted by the public health crisis.
The life insurer has made donations of medical equipment, food necessities and cash to coronavirus hotspots such as Bac Giang, Bac Ninh, Hanoi, HCMC, Tien Giang, Long An, and Binh Duong. These activities are part of Dai-ichi Life Vietnam's program entitled "Connect to love  – Joining hands in the Covid-19 prevention " launched by the company's CSR foundation "For A Better Life".
Tran Dinh Quan, general director of Dai-ichi Life Vietnam and president of the "For A Better Life" Foundation, said: "The prolonged Covid pandemic has caused serious damages in all aspects of life, especially disadvantaged people. Orphans and poor children with cancer who were affected by the pandemic are encountering multiple difficulties and really need the care of the society. We hope our donations could help encourage them to overcome obstacles, recover from their diseases and return home to meet their beloved ones soon."
Besides this, with its business philosophy "Customer First", the life insurer recently implemented a voluntary financial support program with total funding to more than VND77 billion for   over thousands of  clients, financial consultants and employees who were infected with Covid 19.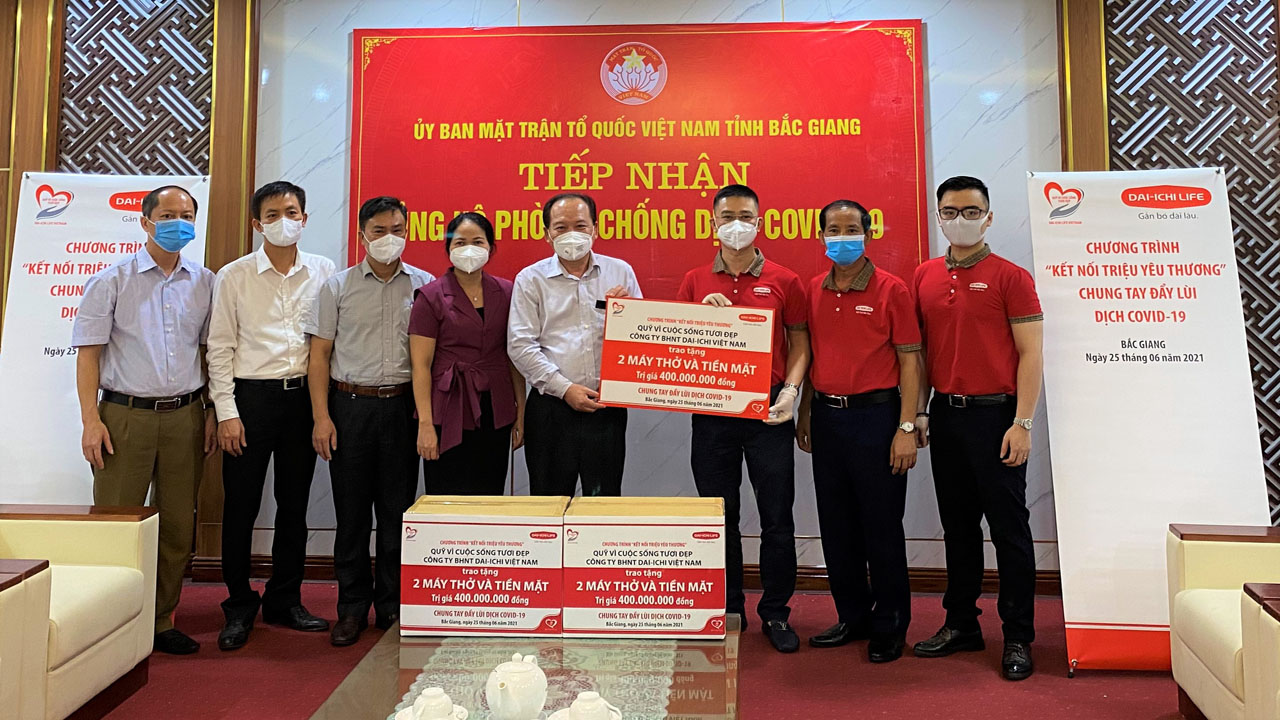 Representatives of Dai-ichi Life Vietnam present ventilators to support the Covid-19 fight in the northern province of Bac Giang
Helping unfortunate people
With an aim to help local people return to their normal life after experiencing overlapping floods in the Central region in late 2020, the "For A Better Life" Foundation timely launched the "Connect to love – Our hearts toward Central Vietnam" program, with total amount of VND5 billion contributed by all of the Dai-ichi Life Vietnam employees and financial consultants associated with the life insurer nationwide. The program provided aid to more than 2,300 local households in seven central provinces.
Dai-ichi Life Vietnam in April this year coordinated with the Sponsoring Association for Poor Patients in HCMC, HCMC-based Nguyen Trai Hospital, the Lam Dong Provincial Sponsoring Association for the Disabled, Poor Patients, and Orphans, and medical centers in Lam Dong to organize charitable cataract operations for 228 poor patients with cataracts in the province's Don Duong and Di Linh districts.
This is the first eye operation in 2021 under the "Connect to love  – Bringing light to the poor" program sponsored by the "For A Better Life" Foundation with total funding of over VND400 million. The program is expected to restore eyesight for 500 needy patients in the three provinces of Lam Dong, Ca Mau, and Dong Nai. Also, this year marks the 13th edition of the life insurer's charitable program.
Offering warm clothes to highlands children
The annual "Connect to Love  – Love for children" program this year, which was funded with over VND2.5 billion, also sought to help disadvantaged children in highland regions have a better life, overcome harsh weather conditions and improve their health to go to school. In the first quarter of this year, thousands of coats and scholarships were given to students in 14 mountainous provinces such as Tuyen Quang, Daklak, Son La, Thanh Hoa, and Ha Giang.
"Dai-ichi – The Road of Love 2021"
"Health is the foundation of happiness". In order  to encourage a healthy lifestyle via active physical exercises, Dai-ichi Life Vietnam in July 2021 launched a virtual run  for the public  titled "Dai-ichi – The Road of Love 2021".  By end of November, this contest has attracted over 14,000 participants who have covered a combined nearly 2 million kilometers. The program has thus yielded almost VND4 billion that will be used to finance community support activities.
Apart from its programs mentioned above to spread the kindness and positiveness among local people, the life insurer also gave back to the community through many other activities such as providing purified drinking water for rural schools, implementing rural bridge-building programs, or organizing blood donation drives. Nearly  15  years, Dai-ichi  Life Vietnam while pursuing business goals has also consistently continued its CSR journey, with total contributions to the community exceeding VND55 billion.