Bangkok is again attempting to follow in Singapore's footsteps to take peddlers into purpose-built centers such as hawker centers to clear space on the pavements to take back the urban beauty. The authorities of Hanoi and HCMC once had similar plans. But adopting the Singapore model is no easy task.
It took Singapore a decade in the mid-1950s to clear all the sidewalk eateries that dumped trash into the sewers and sidewalk space was finally returned to pedestrians. This satisfactory result did not come from coercive measures but from education and social policies for tens of thousands of families relying on street stalls.
Hide-and-seek in Bangkok
Bangkok is home to millions of poor people. Street stalls filled with souvenirs, mango sticky rice, juice or Thai-style noodles are easily found somewhere near the five-star Dusit Thani Hotel or Si Lom Road, Bangkok's most famous commercial neighborhood. The owners of those street stalls come mainly from rural areas of Thailand, Myanmar, Laos, Cambodia, and even the Vietnamese provinces of Nghe An, Thanh Hoa and Quang Tri.
In the middle of 2016, Bangkok started campaigns to clear the sidewalks long occupied by peddlers and impose sanctions on people parking their motorbikes and cars around those street stalls. The authorities removed around 15,000 peddlers from 36 areas, according to the Bangkok Post news site.
The authority admitted that it was impossible to clear the sidewalks due to the lack of personnel. This campaign drew ire from the Thai public as 40% of the Bangkok population depended on street stalls as a livelihood. When the Covid-19 pandemic struck, those poor hawkers were gone. Since Thailand reopened its borders to international tourists, bustling street life has returned to normal. The new governor of Bangkok again announced a plan to build up what looks like Singapore's "hawker centers".
A month after his June 2022 inauguration, Governor Chadchart Sittipul announced his plan to clear the sidewalks. Although his plan lacks details, Chadchart is determined to turn Bangkok into a "beautiful place to attract tourists". Peddlers will have their street stalls relocated to areas designated by the authority with a low rental, he said.
However, peddlers have had a lukewarm response to the idea as they fear they will lose their regular customers.
Street food is an integral part of city life in Bangkok. Rice, rice noodles and many other snacks are offered at 50 Thai baht, equivalent to VND33,000, a price which is too low to be found at a decent eatery or restaurant in Bangkok.
Street vendors contribute a significant part to the charm of Bangkok, including the famous street stalls such as Jay Fai with Michelin-starred crab omelets. While selling street food helps peddlers earn their daily bread, it is also considered an eyesore in parts of the city. For instance, peddlers dump wastewater and trash into the sewers and encroach on the sidewalks, forcing pedestrians to walk on the roadways.
Chadchart suggested eliminating street stalls with "uncivilized and impolite" owners from a modern Bangkok. His plan has won support from many organizations because it was "for the sake of citizens, peddlers and tourists".
Nevertheless, his plan has remained unpopular among peddlers. "International tourists come here for street food," said a 56-year-old woman selling Pad Thai on Khao San Road, a famous backpackers street in Bangkok.
"We need to meet the governor face-to-face and ask the government to think about the future of peddlers," said Yada Pornpetrumpa, president of the Khao San Road Street Vendor Association.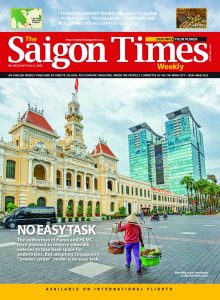 The soul of Singapore
Author Azhar Ghani at the Institute for Policy Studies at the Lee Kuan Yew School of Public Policy wrote in the report "Success Matters: Singapore Hawker Centres" that street vending was a big concern in the 1950s due to the unsanitary conditions and state of disorder. When the government wanted to clear space on the sidewalks, it received sympathy and support from the citizens.
In 1966, the Ministry of Health of Singapore estimated that only a quarter of 48,000-50,000 peddlers had been licensed. Thus, the Hawker Code was introduced to allow peddlers to register for their business licenses and ensure their rights and benefits, Ghani wrote in the report.
The government began to build many markets and hawker centers throughout the country, with an average of nine markets or centers per year. The authorities were willing to allocate land to investors on the condition that they had to build hawker centers there.
The authority considered relocating peddlers to areas close to their old selling points, helping to conquer their fear of losing regular customers. Each household received a relocation allowance of up to US$1,000 and had a chance to attend food safety courses and improve their cooking skills. In return, they had to register their business and pay the ground rent.
"Our attempt to clear space on the sidewalks came to nothing when we focused on driving away illegal peddlers and taxis for many years. We could only take the sidewalks back after 1971, when we created many jobs for peddlers. We granted them licenses and moved them from the sidewalks to the well-built hawker centers with pumping systems, sewage treatment systems and solid waste collection. By the early 1980s, we had completed the relocation of all the peddlers," wrote Prime Minister Lee Kuan Yew in his memoir "From Third World to First: The Singapore Story: 1965-2000".
His legacy of alleviating poverty and contributing to the prosperity of Singapore was far more than that.
The year 2018 was the first time Singapore's hawker centers became famous worldwide when the romantic comedy "Crazy Rich Asians" was filmed in this country with a cast of famous Asian American actors and actresses from Hollywood. Newton Food Center, one of Singapore's most famous food centers, had nearly 100 food stalls appearing at the beginning of the film.
Henceforth, Singapore's government submitted reports to UNESCO yearly, seeking recognition for its hawker centers as an intangible cultural heritage. It took almost three years to be officially recognized by UNESCO at the end of December 2020. According to statistics from the government, Singapore had 115 markets and food centers at the end of 2020.
In July 2022, some 67 Singapore hawker centers were awarded stars in the Michelin Guide, of which nine centers made it to the list for the first time. Those featured on this year's Michelin list comprised five street food stalls, 40 casual eateries in hawker centers and 22 restaurants with one to three Michelin stars.
Street food model in Vietnam
In 2017, the HCMC authority set aside specific areas for peddlers to sell their food on Nguyen Van Chiem Street and at Bach Tung Diep Park at the intersection of Nam Ky Khoi
Nghia and Ly Tu Trong streets in District 1. Until now, just a few street stalls have opened there and attracted few customers.
Nearby, street stalls have sprung up around the Saigon Notre-Dame Cathedral and Thong Nhat Park. It is easy to find peddlers pushing their carts around selling rice paper salads, fruits and soft drinks around Nguyen Hue pedestrian street.
Bustling food streets have appeared throughout the city, including Ho Thi Ky Market in District 10 and Phan Xich Long Street in Phu Nhuan District. However, food hygiene and waste treatment are two burning issues in those areas.
As the local authority kept failing to clear space on the sidewalks in districts 1 and 3, street vending has been suggested during many meetings, with the latest at the end of August. "Even if there are only 100, 200, or even 300 peddlers in this city, you must figure out who they are and how to help them make a living. Don't ever think of chasing them out of here," said Chairman Phan Van Mai.
Banning street vending is easier said than done. Helping peddlers make a living is tough for the local authorities. Most peddlers cannot ensure their food safety and their stalls do not fit with the urban beauty.
However, the authorities should not play hide-and-seek with peddlers. If they want to build Singapore-style hawker centers, it may take dozens of years to accomplish what Singapore has done.
After the introduction of the Hawker Code in 1966, Singapore spent 20 years relocating its peddlers and 30 years making their centers to the list of UNESCO's intangible cultural heritage and Michelin Guide.
Will the HCMC government be as patient as Singapore? It requires effort and coordination of the tourism and other departments to solve street vending problems and upgrade Vietnamese cuisine, as the Vietnam National Administration of Tourism discussed with Michelin in July 2021.
The issue cannot be solved after a few meetings or campaigns.