There is no excuse to justify the act of repeatedly transferring in and out a small sum 18 times to raise a company's charter capital from an initial VND1.5 billion to VND4,300 billion and then to sell the company's shares for an illegal profit of VND6,400 billion
Legal loopholes
The Enterprise Law, first issued in 1999 and then amended in 2005, 2014, and 2020, specifies that upon establishment of a business, an initial public offering (IPO) can be launched after its charter capital has been registered with a competent business regulator (and stated in the business certificate).
The 1999 Enterprise Law gives shareholders a three-year window after an enterprise's establishment to conduct share transactions. The regulation effectively allows for artificial share transactions to raise as enough capital as registered during that long span of time.
The 2005 Enterprise Law shortens this period to three months. Similar to the 1999 version, the 2005 law specifies that registered capital shall be kept unchanged. For each time of recapitalization, the business would have to register in advance, but the law does not specify a time limit. The non-existent capital stated in the business certificate, if it is the case, can remain as it is.
In reality, there are many cases in which enterprises have little or no capital. Therefore, business owners often find ways to forge share numbers, or virtual capital, to avoid legal complications.
Mending the legal net
The Enterprise Law provides radical changes in the 2014 and 2020 versions in terms of capital registration and share offering. An IPO shall be conducted within a period of three months, and if a certain volume of shares remains unsold, the business will have to revise down their registered capital. This is a new regulation.
In subsequent share offerings, the business can only register to adjust up its charter capital once the proceeds from the share sales have been transferred to its account. As such, the new regulation puts an end to artificial share transactions. Specifically, the charter capital initially registered will hold for three months (and be revised down if present in its bank account), instead of three years or more. Under the law, the additional capital must be real money from share issues.
Therefore, since July 1, 2015, any attempt to maintain or raise the artificial charter capital is deemed a deliberate violation of the law, and the responsibility rests with the company's management or legal representative. One can no longer point the finger at the legal system or the business registration agency like before.
Deliberate violation of the law
The Hochiminh Stock Exchange decided to delist over 567 million ROS shares of the construction joint-stock company FLC Faros (owned by Trinh Van Quyet in reality) from September 5, 2022, for the company's grave violations of information disclosure regulations.
The Ministry of Public Security's Investigation Agency said that Quyet illegally raised FLC Faros' charter capital from VND1.5 billion to VND4,300 billion in 2014-2016 and that Quyet managed to sell shares to pocket over VND6,400 billion. Under Article 174 of the 2015 Penal Code, anyone swindling others of VND500 million or above can be subject to life imprisonment.
An enterprise may have various sources of capital like owner's equity, investment capital, charter capital, mobilized funds, operating capital, and legal capital among others. While it has been suggested by many experts that regulations on charter capital should be abolished as it does not truly mirror the financial capacity of the enterprise, an enterprise should still maintain a certain capital structure as the basis for determining the interests of stakeholders.
The person with absolute power in a company can, as in the case being discussed, have it written in the accounting book that he has paid VND4,300 billion without in fact having contributed a penny. But doing so would be so absurd. The capital is non-existent but the numbers are real. Assets or cash can evaporate, but money in the accounting book cannot move in or out without a reason.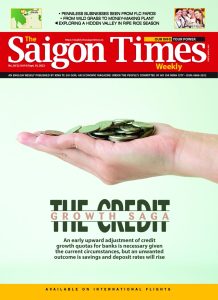 Therefore, tricks are used to manipulate cash flow, with accounting entries proving that a certain sum has been paid in and then lent to shareholders, invested in projects, or transferred to subsidiaries. With these tricks, one can increase charter capital at will. That is the fastest, easiest and simplest way to hand out the blank check for the manipulator to blow up charter capital. Once the tricks are done, it is a matter of time before illegal gains are locked in. If ROS shares had been offloaded when they rose to a record high of VND180,000 per share, gains could have been multiple times higher. Still, after pocketing over VND6,400 billion, the manipulator could transfer back VND4,300 billion to whitewash the manipulation.
However, such tricks can only beat naive investors and common shareholders who have little or no access to information. Practitioners like auditing firms, banks and the stock exchange cannot be blindsided when analyzing a company's finances. A bigger question is how FLC Faros was able to get listed easily or how the company misled the market.
The whole scandal could not have stemmed from legal loopholes. It is the deliberate, gross violation of the law.
(*) Director of ANVI Law Firm, Arbitrator at VIAC