HCMC – An exhibition featuring 50 paintings by disadvantaged children took place at the United Nations Office in Vietnam on December 3, reflecting the optimism and vibrancy of paediatric patients and disadvantaged children across Vietnam during the Covid-19 pandemic.
The "Gratitude" photo exhibition follows the contest, "For a Triumphant Vietnam". The event was jointly held by Mr. Sun, Hope Foundation and the United Nations Children's Fund in Vietnam on the International Day of Persons with Disabilities.
The paintings depicted a pure and faithful perspective on life and expressed the desire and hope for a bright future, for victory over the pandemic.
Through the stories, messages, pictures and thoughts ingrained in each work, viewers were taken on an emotional journey, raising awareness and an understanding of Covid through the children's eyes. 
Participants also had the chance to buy these paintings to raise funds to support the children. All the proceeds from the sale of the paintings will be managed by the Hope Foundation to support children with cancer, disabilities, and from disadvantaged backgrounds.
The exhibition at the United Nations is a stop on the journey that the inspiring paintings and stories will make. They will continue their mission to highlight the inspirational and optimistic spirit of these children with difficulties to the international community through a series of exhibitions scheduled in the United States, Germany and other locations. 
Through the exhibitions, the voices of children will be heard far beyond their own community, reminding the society not to forget or lay waste to their talents, dreams and desire to thrive.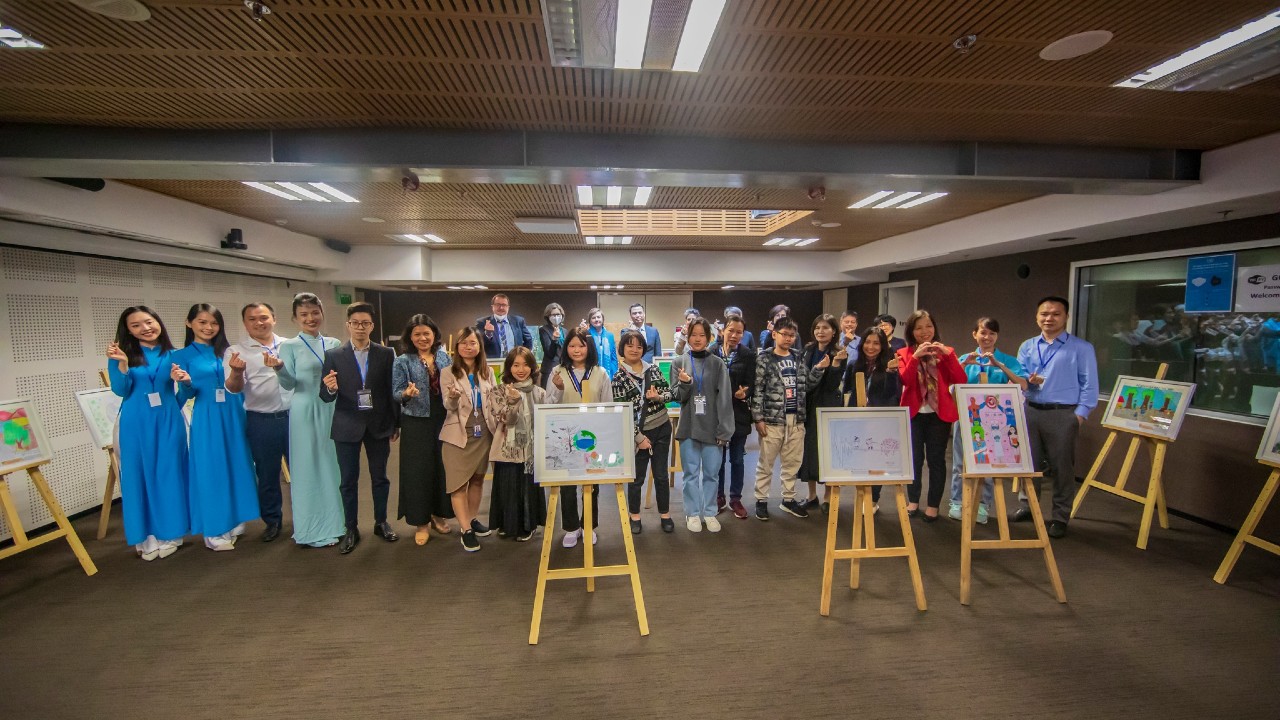 Minh Nhan, representative of For a Triumphant Vietnam, shared that every child wishes to be heard, to show their talents and interests, and have their stories told. This holds even more true for boys and girls who are suffering from cancer, critical diseases, orphans and vulnerable children in general.
While their bodies go through illness and pain, their minds remain loving and optimistic, with many dreams and ambitions. Their spirit is a great inspiration for others to overcome difficulties and keep moving forward. 
"Every adult was a child once, but not all children will have the fortune of a bright future, to be able to grow up and make their dreams a reality," Nhan said.
"Let us listen to, empathize with and accompany them. That is the spirit and mission that we want to convey through our painting and literary contest, 'For a triumphant Vietnam'."
The works had previously been exhibited at the National Museum of Fine Arts from November 18 to 22, attracting more than 1,000 visitors.