Vietnam's population has reached the 100-million mark, making the nation one of the 15 most populous societies in the world. The country's golden population period will become history soon and the population has begun to age.
Research showed that those countries entering into a golden population period could achieve remarkable growth if they successfully made the most of it.
The "Reviving Growth: East Asia and the Pacific Economic Update" report released in April this year by the World Bank (WB) indicated that Vietnam reached its peak working age population in 2014 (when the proportion of people of working age – 15 to 65 – is at its highest).
Many countries had the highest GDP per capita during their golden population periods. The WB report showed nine years have passed since Vietnam reached its golden population period.
Pensions seen accounting for 5% of GDP in future
The WB report said the transition from an aging to aged society is just 23 years in Vietnam. Population aging may impact economic growth due to the fall in the share of the working age population. State budget revenue may edge down as a result and spending on older people may rise. Pressure may increase due to pensions and medical and long-term care costs. The working age population fall will lead contributions to the unemployment and health insurance systems to slide. That Vietnam's pensions are expected to make up 5% of the nation's gross domestic product (GDP) would leave a burden on policymaking. In Japan with an aged society, pension expenses are planned to be under 1% of GDP by 2050. Studying Japan's strategies for the preparation of an aged society will help us come up with models and solutions to avoid using 5% of GDP to pay pensions in the future.
Raising contributions to pension funds and creating jobs for the elderly
The WB warned East Asian and the Pacific countries of increasing current contributions to a level closer to a reasonable insurance calculation rate and encouraging the elderly to work.
To relieve the burden on pension funds, it is necessary to publicize the national pension funds periodically to raise the number of participants in social insurance. The socially insured could know how their contributions are managed. In addition, to enhance voluntary participation in social insurance, the Government should consider supporting residents in making social insurance contributions, namely raising support rates from 30% to 50% for those from poor households, from 25% to 40% for those in near-poor households and increasing it from 10% to 30% for others.
Financial aid could be provided by social insurance agencies, instead of the Ministry of Finance, to prevent losses.
A higher retirement age, together with a proposed reduction of a minimum number of years of social insurance contribution in the draft of the revised law on social insurance, is a solution to increasing the pension funds and the number of residents entitled to pensions. In this regard, Robert Palacios, lead specialist at the World Bank, said that Vietnam's proposal to reduce the minimum number of years of social insurance contribution to 15 is more appropriate than the international practice. "OECD member countries tend to provide a time limit for social insurance contribution from 10 to 15 years," he noted. (*)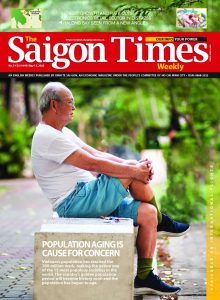 The second idea of encouraging older people to work needs to be considered thoroughly given the increasing unemployment among youth in the country. On April 19, Tuoi Tre newspaper published an article on its first page, titled "Vietnamese sent abroad for guest work in droves". The article said that there was an oversupply of domestic labor and that Vietnamese guest workers abroad just needed a job to earn a living, instead of improving their skills or contributing to the country's development after their returning home, as indicated by Nguyen Gia Liem, deputy director of the Department of Overseas Labor under the Ministry of Labor, Invalids and Social Affairs.
What's more, over 100,000 people are sent abroad for guest work annually but only work there for a couple of years even though their working life is not that short. The question is how to ensure they can land a job after their comeback to the country. Many of them chose to go abroad for work simply because they had no work to do in the country.
Therefore, letting older people continue working should be carefully considered; otherwise, young people might lose their job opportunities. Older people are undoubtedly a source of quality labor, so after their retirement, they may continue to work as advisers, assistants and researchers. Others who are healthy and still want to work could work for companies, household businesses, organizations and industry associations that have job openings. Besides, the minimum income per hour for older people should be lower than that of young people, so enterprises can design jobs suitable for them, thereby handling the population aging issue and helping cut business costs.
(*) https://thoibaotaichinhvietnam.vn/giam-so-nam-dong-bao-hiem-xa-hoi-giup-nhieu-nguoi-co-co-hoi-nhan-luong-huu-126803-126803.html