Although the VN-Index has yet to really exceed the 1,400-point threshold in the long run, there have been signs that money is being pumped into the real estate market as the year is nearing its end.
Many investors and analysts believe the favorable current factors plus new catalysts may put realty stocks in the spotlight from now to the end of the year.
Money poured into realty stocks
The stock price of Development Investment Construction Joint Stock Corporation (DIG) rose more than 42% in only over two weeks. On a course of only three days, from October 20 to 22, it jumped nearly 15% to become one of the biggest gainers on the market. Similarly, Tu Liem Urban Development Joint Stock Company (NTL), Ba Ria-Vung Tau House Development Joint Stock Company (HDC), and Nam Long Investment Corporation (NLG) generated an increase of 35% in their stock prices during the same period.
The impressive growth of the above four stocks paints only a patch of the overall picture representing the breakthrough of realty stocks these days. In fact, although the market was still correcting in recent sessions—in which the VN-Index further became strongly to stand right below the psychological threshold of 1,400 points and occasionally surpassed it—the cash flow has sent out signals for a sharp rise of the realty business.
Among the 10 stocks that contributed the most to the hike of the VN-Index from October 18 to 22, five are of realty developers—namely PDR (+1 point), DIG (+0.7 point), NLG (+0.7 point), NVL (+0.5 point) and KDH (+0.3 point). Besides, two companies, whose real estate has become now an important business, SAM (+0.35 point) and VGC (+0.31 point), have exerted significant influence on the index.
Notably, even technical charts show that the index of the realty stock group, which hit a peak in early July and underwent a correction phase for the three months that followed, started to recover in the beginning of October and officially left the downtrend on October 11. This breakthrough has opened up opportunities for these stocks to grow in the near future.
In fact, in the October 22 session, a host of real estate stocks hit or almost reached the ceiling prices, from those mid-cap stocks mentioned above—such as DIG, NTL, HDC or NLG—to small-cap, low-priced ones, like SCR, SGR, VRC, TEG, TDH, PTL, CEO, etc.
Remarkably, aside from stocks of commercial property firms, those in the industrial segment have also displayed a positive uptrend in recent sessions.
Catalysts
Whereas industrial realty stocks are being supported by the resurgence of foreign investment inflows into Vietnam, especially in the context that countries in the region such as China or India are facing a power crisis risk, commercial property is expected to greatly benefit from infrastructure development projects that are likely to get a boost in the coming time.
According to the Government, one of its measures to be taken to prop up economic growth is to let public investment take the lead and activate public participation in the economy. They include speeding up the work progress of key infrastructure projects as well as commercial and the cultural-social projects, and strengthening inter-regional, regional and international connections, especially for key traffic infrastructure works, such as the eastern part of the north-south expressway, My Thuan-Can Tho expressway, Long Thanh International Airport, and urban railway lines, etc.
Public investment projects will certainly benefit several industries although the degree of impact may vary. Providers of building materials may enjoy a surge in demand, but their operation and production capacity have certain limitations. Construction companies meanwhile are dependent on the progress of each project. Realty firms whose projects relate to or take advantage of such infrastructure may be the biggest beneficiaries as selling prices of their projects/products will probably skyrocket in the coming period.
Furthermore, given the expansionary monetary policy adopted over the past time, especially since the beginning of last year, both investment channels—such as securities—and the real estate business will benefit from cheap money. It is noteworthy that securities and realty are attached to each other in one way or another, as investors gaining big from the stock market tend to shift part of their earnings into the realty channel and push up real estate sales and prices in the process.
However, instead of directly buying land or houses, some investors may now pour money into shares of property companies because the latter have greater liquidity and flexibility in sources of investment capital. In fact, during the time of social distancing although realty firms had enormous difficulty with the launch of their projects, investment in real estate stocks still ensured liquidity.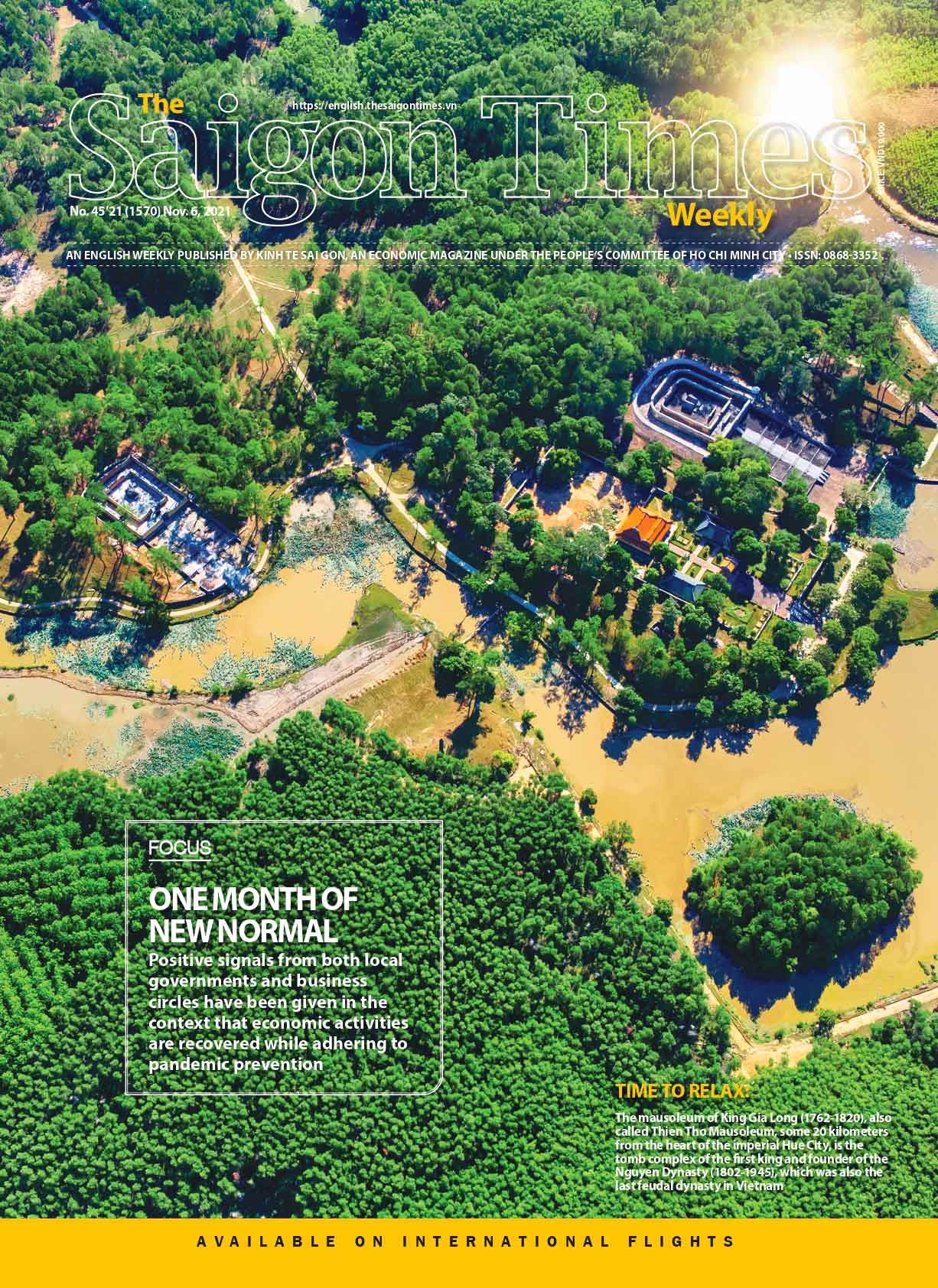 Notable stocks
Many securities firms have forecast that realty will be one of the few sectors that manage to maintain their profit growth in 2021. Another noteworthy point is that quite a few property companies have a habit of accounting sales and profit in the last quarter of the year. That is why quite a few investors tend to pour money into this stock group as the year comes to an end to anticipate profit. Despite this fact, right in the third quarter, a considerable number of realty developers already reported spectacular growth in their profit, in defiance of the effects of social distancing.
One of them was NLG. Although the raging pandemic spelled trouble for the handover of projects, which caused its Q3 net sales to plunge by 76% year-on-year, NLG still posted a net profit of more than VND297 billion for the third quarter alone, 10 times greater than in the same period of last year. That was possible due to the y-o-y growth of 23 times in their financial revenue, totaling nearly VND372 billion, mainly from the merger of Southgate, a joint stock company.
Similarly, HDC announced their Q3 net profit at nearly VND68 billion, twice as much as the year-ago figure, mainly from sales of part of the first phase of The Light City and other projects such as Ngoc Tuoc, West 3/2, and Ecotown Phu My. Overall, HDC's after-tax profit in the first nine months was put at some VND210 billion, up 91% over the same period in 2020 and reaching 82% of their target for this year.
Industrial Urban Development JSC No. 2 (D2D), whose core activity is industrial real estate, registered a net profit of nearly VND86 billion in the third quarter, 2.5 times higher than in the same period of last year, with net revenue worth some VND147 billion, a y-o-y increase of 2.3 times. Specifically, their revenue mainly came from the Loc An Residence project (nearly VND136 billion), whereas the lease of industrial park infrastructure still brought in approximately VND10 billion.
In addition to companies that have announced huge profit and tremendous growth this year, also outstanding are realty firms expected to benefit enormous from their projects which are adjacent to infrastructure projects to be stepped up in the coming time, especially those in satellite cities of HCMC, such as Dong Nai, Binh Duong, Ba Ria-Vung Tau, and Long An. Apart from NLG and HDC which have been mentioned above, the list also includes DIG, KDH, IJC, TDC, NTL, SCR, LDG, and CEO, to name but a few.