Localities across the Mekong Delta have finally come up with a decision to open their doors, ending a patchy opening situation in which some authorities allowed people to travel while other did not due to different anti-pandemic measures during the first weeks of October. The decision has removed obstacles to the distribution of agricultural and fishery products which has been ground to almost a complete halt over the past few months.
Since October 1, 2021, one province in the Mekong Delta after another has eased social distancing rules to give way to goods circulation and support the business circle's efforts to carry out economic recovery. This is particularly true after the Government has issued temporary regulations on effective prevention of Covid-19 in line with Resolution 128. Notably, the circulation of goods among the delta's provinces has been smooth as goods transport no longer has to surmount barriers of procedures as was the case not long ago.
The smooth flow of agricultural products
Duong Tan Hien, vice chairman of the People's Committee of Can Tho City, said the municipal authorities no longer require compulsory testing for people in localities where the pandemic is at level 1 or 2 (the lowest levels of the four-level pandemic scale set by the Ministry of Health). This means that people from other localities in the Mekong Delta may enter Can Tho at ease, because they are all at level 2.
Meanwhile, Nguyen Thi Be Moi, vice chairwoman of the Ben Tre Province People's Committee, said people from localities where the pandemic is at level 1 or 2 as regulated by the Ministry of Health can come to Ben Tre, but they have to fully comply with universal pandemic prevention measures, often referred to as "5K."
Similarly, the Tien Giang Province authorities no longer request people arriving in the province from localities where the pandemic is at level 1 or 2 to have Covid-19 negative test results. Also, the government of Hau Giang Province has put an end to the 12 Covid-19 checkpoints at key transport hubs in the province, allowing people to move freely to and from Hau Giang.
Even, the "hard-line" An Giang Province—whose authorities once insisted that people with an effective Coronavirus negative test certificate given elsewhere had to take test again upon arrival before entering the province—has eased this draconian restriction and allowed people from localities at level 1 or 2 to come to An Giang.
Le Van Ven from Sang Thuy—a limited liability company in Can Tho, which regularly transport farm produce from Can Tho through Vinh Long, Tien Giang and Long An to HCMC—confirmed that good transportation is now much easier than in the time of social distancing.
"Before, they [local authorities] were very strict and procedures were very complicated," he said. "You had to have a negative test certificate, a travel pass from your company, a travel pass from departments of industry and trade, the invoice of the goods being transported and a registration record for the route. However, those regulations have been shelved now, and most of quarantine checkpoints have been removed."
Nguyen Van Thanh, director of Phuoc Thanh IV, a trading and manufacturing company, contended that the removal of the regulations on a 14-day quarantine and Covid-19 test results when traders move from one province to another has helped solve knotty problems in transporting agricultural products in general and rice in particular in the Mekong Delta. "This should have been done without delay, and it has been done," he said.
"The transport of agricultural goods to HCMC for export has been normal now," he said. "All transport vehicles, be it trucks or badges, can move freely if they are in the green line." To prove that one is in the green line takes only five to 10 minutes, Mr. Thanh noted.
He added that some ports in HCMC which had to close because no goods could be exported due to the pandemic and a lack of labor because of social distancing orders have operated again. "But the current headache relates to prohibitively high container lease prices," he explained. "Transport price hikes enfeeble our competitiveness against rivals."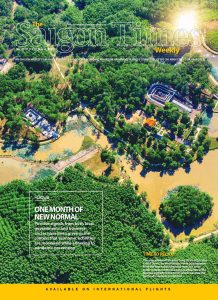 Farm produce prices are higher
After local governments in the Mekong Delta have lifted travel restrictions, which helps goods transport become much more favorable, rice consumption in the delta has moved closer to normality while international buyers are coming back. "Traders have begun to buy goods again and warehouses are now open," said Mr. Thanh. "Therefore, rice prices are on the rise." He predicted that the 2021 autumn-winter rice crop, which is being harvested, will be more promising.
According to Ngo Tuong Vy, vice director of Chanh Thu, a fruit import-export company, the peak season of the fruit business in the Mekong Delta is from October to March in the following year. Therefore, the lift of draconian social distancing measures will substantially facilitate the operation of enterprises, particularly their networks which gather agricultural products in the Mekong Delta.
For example, farmers across the delta's localities, from Can Tho to Hau Giang, Vinh Long, and others, complained in July and August about tens of thousands of tons of unsold longan. Longan prices then dropped to only VND6,500-7,000 per kilogram. Yet at present, the price has soared to VND13,000-15,000.
In Dong Thap Province, where prices of aquatic products plummeted in July and August as stringent lockdowns were in force, traders who buy goods and transport them to wholesale markets in HCMC are busy again now.
A report compiled by Dong Thap Province Department of Agriculture and Rural Development showed that by mid-October, the prices of many agricultural products had been rapidly on the rise. Among them, one kilogram of snakeskin gourami fish rose from VND20,000 to VND35,000-37,000; one kilogram of frog surged from VND12,000-15,000 to VND23,000-26,000; and one kilogram of snakehead fish went up to VND40,000-43,000.
The price of brackish shrimp in the Mekong Delta provinces—such as Bac Lieu, Soc Trang and Tra Vinh—has also surged soon after local governments eased travel restrictions. For example, the price of black tiger shrimp jumped from VND130,000-140,000 per kilogram in August to VND155,000-160,000 currently.
Undoubtedly, the easing of travel and transport restrictions among localities in the Mekong Delta has remarkably helped facilitate the consumption of agricultural and fishery products in the region, which has significantly raised their prices.