HCMC – In Tien Phuoc District, Quang Nam Province, Lo Thung rock pool consists of hundreds of stones in various shapes and sizes. Like many other national scenic spots worldwide, it also has an interesting legend.
Lo Thung rock pool stretching over Tien Canh and Tien An communes of Tien Phuoc District is walled by mountain ranges famous in central Vietnam. The rock pool is on the bank of the Da Giang River, a tributary of the Tien River.
Visitors to the site may hear the following story. According to locals, once upon a time, an ogre carried sand and stones to build Thanh Binh Village, which was adjacent to Lo Thung.
While on his way, the giant dropped the rocks he was carrying to the Da Giang River. The rocks created Lo Thung rock pool. The imprints now seen on these stones were believed to be the ogre's footprints.
In 1964, when a serious flood happened there, locals heard the rumble of thunder as loud as the sound of bombs exploding at midnight. In the morning, they saw many big stones were broken and scattered over the surrounding areas.
To reach the biggest stones at the rock pool, travelers have to wade waist-deep through water.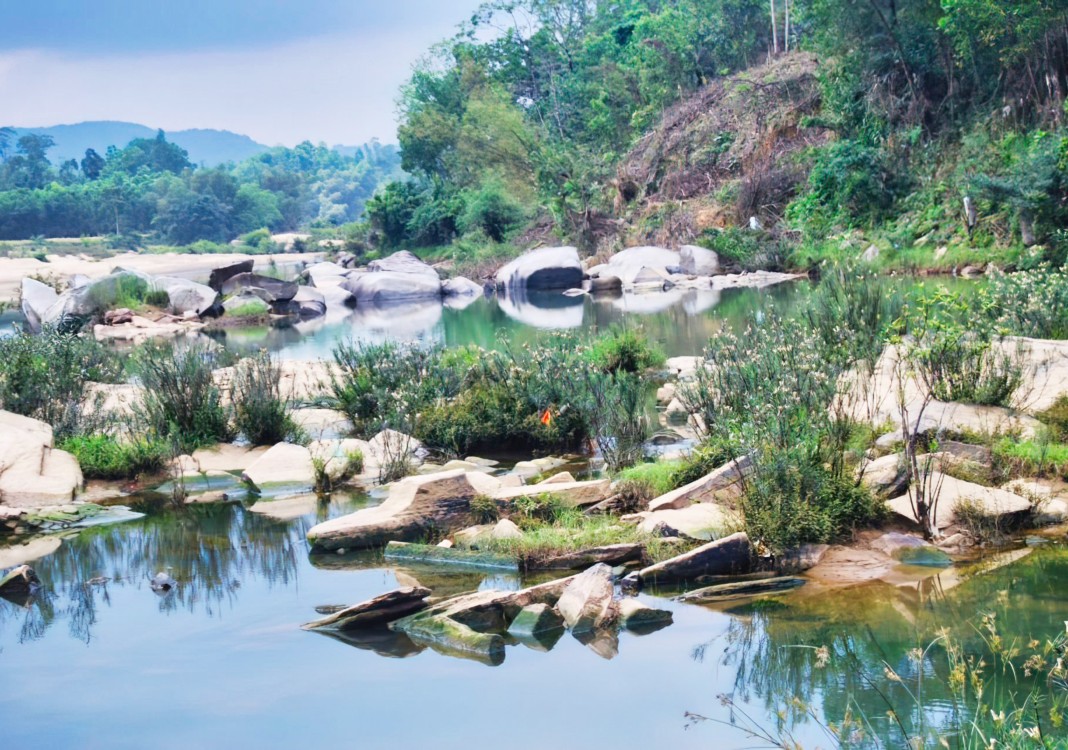 A highlight of Lo Thung is its "water cave," where visitors can watch rocks in different shapes. Some of them stand alone while others stack one on top of another.
Several of the rocks are big enough for a group of tourists to rest on. From there, they can take time to admire charming views of nature where rivers, mountains and the azure sky paint beautiful pictures.
At the rock pool, grass and wild flowers grow well between small stones, and form attractive natural rock gardens.
After swimming in the river, visitors may sit on the yellow sand dunes there to enjoy the pleasure provided by the wild beauty of Lo Thung.
By Huynh Van My