Arsjad Rasjid, chairman of the Indonesian Chamber of Commerce (Kadin Indonesia) and ASEAN Business Advisory Council (ASEAN–BAC), recently visited Vietnam for a roadshow to promote economic development. On this occasion, The Saigon Times had the opportunity to speak with him about bilateral ties between Vietnam and Indonesia.
The Saigon Times: What was discussed during your visit to Vietnam this time?
Arsjad Rasjid: Our roadshow aims to provide business-to-business and business-to-government dialogue and advocacy to gain feedback and insight on each country's economic agenda as well as support from Vietnam businesses and the Government to support ASEAN and the ASEAN-BAC chairmanship.
In Vietnam, we discussed investment opportunities between the two countries including infrastructure development, renewable energy, high technology, and digital transformation.
Indonesia and Vietnam have also set a trade target of US$15 billion by 2028 and have signed an MoU on investment in the energy and mineral resources sector, with a focus on developing solar power plants, hydropower plants and smart grids, to further strengthen ASEAN's position as a center of global growth.
Furthermore, we also discussed opportunities to work together regarding the development of future city development in ASEAN. We met with the Chairman of the People's Committee of Thu Duc City—a city proposed as a smart city under the administration of HCMC, Vietnam.
What is the potential in Thu Duc City that has drawn your attention? Could you tell us more about the investment plan for this city?
Thu Duc City is poised to become a smart city in Vietnam, driving national and regional economic growth. It makes HCMC the third largest city in Vietnam because it contributes one-third of the total metropolitan GDP of HCMC, which is 7% of Vietnam's total GDP and ranks first on the scale of GDP per capita which is around US$22,633 per capita at current prices.
We, at Kadin Indonesia, are also ready to support the development of this city, especially in promoting digital innovation and the advancement of human resources. We are ramping up the promotion of startups from Indonesia to diversify their market in Vietnam.
Property development is among the largest investments made by Indonesia in Vietnam. Hence, Indonesia is also ready to support property and infrastructure development. Especially in green or eco-friendly infrastructure, as many of our property sectors are looking forward to shifting into green development.
Digital talent development is also among our priorities to ensure that the talent pool and exchange between Indonesia and Vietnam continue to be relevant in the digital economy.
What do you think about Vietnam's status in Southeast Asia and the broader regions in terms of expanding ASEAN's position as a key global economic center?
ASEAN's vision of "One Vision, One Identity, One Community" goes beyond being a mere narrative. It is a call to promote economic integration and cooperation to advance ASEAN Centrality, positioning the region as the epicenter of growth.
With the combined economic weight, vitality, and diversity of its 10 economies, ASEAN has the potential to become "the magnet" of investment and economic growth, with Vietnam and Indonesia playing crucial roles in achieving this objective.
Vietnam's participation and driving force in promoting peace, intra-bloc cooperation, and economic development since joining ASEAN has been essential.
It has emerged as one of the fastest-growing economies globally, with an average annual GDP growth rate of over 6% since 1986. Vietnam's growing middle class is driving consumption and attracting foreign investment, and its participation in regional economic integration efforts such as the ASEAN Economic Community and the Regional Comprehensive Economic Partnership has been crucial.
Meanwhile, Indonesia, as the largest economy in ASEAN, possesses rich natural resources and a large and growing domestic market, with a young and expanding workforce.
Both Vietnam's and Indonesia's economic growth and significance are critical to the continued development of the ASEAN region, and their cooperation can promote sustainable and inclusive economic growth while enhancing regional integration.
As such, Indonesia is eager to partner with Vietnam to drive the development of priority sectors such as infrastructure, renewable energy, high technology, and digital transformation, with the goal of showcasing ASEAN as the epicenter of growth and an advancing ASEAN Centrality.
After the Covid-19 pandemic, how have Indonesia and Vietnam addressed shared challenges?
The pandemic has caused many countries to adopt narrow nationalistic mindsets. However, ASEAN power can be achieved through regional integration and cooperation in economy, trade, investment as well as sustainable development. More than ever, Indonesia and Vietnam's economic integration will be able to help us achieve ASEAN Centrality.
The Covid-19 pandemic has propelled our economy towards the digital and green economy of the future. As the digital economy accelerates, Indonesia and Vietnam have enhanced cooperation between Indonesian digital startups and the Vietnamese market, including companies like Gojek, Ruang Guru, and Kienguru.
With ongoing inflation and supply chain issues that originated from the Covid-19 lockdowns which have been exacerbated by the conflict in Ukraine, businesses need to enhance their resilience by reducing exposure to volatile market pricing of commodities and building protective measures into their supply chains to cope with shortages and rising logistical costs.
Thankfully, Vietnam and Indonesia's participation in regional integration schemes such as the ASEAN Economic Community and the Regional Comprehensive Economic Partnership (RCEP) has made it easier for businesses to invest and expand production in the ASEAN region.
In addition, the potential collaboration on ASEAN Business Identity will further strengthen the supply chain and investment connectivity.
In addition, Indonesia and Vietnam have signed partnerships on investment in the energy and mineral resources sector, with a focus on developing solar power plants, hydropower plants and smart grids.
What are some prospects for future collaboration and partnership between Indonesia and Vietnam?
We would like to engage Vietnam businesses and Government to further support our eight legacies in the ASEAN-BAC promoting people-to-people connectivity as well as advancing the micro, small, and medium enterprises (MSMEs) as the main beneficiaries of our legacies.
As for the ASEAN QR code, the system has the potential to greatly improve cross-border payments and regional payment connectivity in the region. Underpinning the concept of Local Currency Settlement (LCS), this QR code will minimize dependency on the dollar currency, improving trade and tourism across regions. The ASEAN Connectivity through ASEAN QR Cross Border Payment has been collaborated between three countries, namely Thailand, Malaysia, and Singapore. It is hoped that Vietnam will be also on-board on this initiative.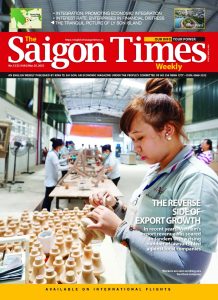 Moreover, the ASEAN Digital Lending Platform represents an effort to provide a lending platform for MSMEs and promote financial inclusivity through financial technology. According to data published by UK-based Merchant Machine in 2021, Vietnam ranks second among the top 10 unbanked nations, with 69 percent of the population still underbanked. This presents an opportunity to expand access to digital lending through a marketplace-lending platform that enhances ASEAN financial inclusivity and supports the region's digital transformation roadmap.
In addition, progress in one country in terms of healthcare services, research and development, or manufacturing has not been utilized by other countries in the region. To build healthcare resilience in ASEAN, we need to encourage more innovation and programs that can integrate the life-science ecosystem in the region. Therefore, the ASEAN-BAC is promoting the One-Shot Campaign as our legacy program, which aims to build a permanent disease prevention program that is "always on" from integrated manufacturing capability and through expanding the scope of regular vaccination from childhood to "life course", focusing on the adult population.
MSMEs have been the backbone of the economy of Vietnam and Indonesia. The ASEAN Wiki Entrepreneurs platform will enable MSMEs-to-MSMEs, and MSMEs-to-corporate connectivity across ASEAN to tap into regional and global markets and improve their readiness to scale.
Another key area of focus for the ASEAN region is industrial decarbonization. Emissions reduction and industry decarbonization present a strategic role for both Indonesia's and Vietnam's economies.
In Vietnam, a program called the Rice Value Chain Enhancement Program (RVCEP) promotes farmers' productivity and the establishment of farmer cooperatives and partnerships with the private sector. By integrating the ASEAN Inclusive Closed Loop System with RVCEP, we can improve food security in ASEAN by promoting sustainable agriculture practices, better market access, and value addition.
We also aim to strengthen intra-ASEAN investment by offering advantages to businesses doing business there, resulting in an interconnected commercial environment among ASEAN nations. Through this integrated identity, we look forward to improving the ease of doing business and investment between the two countries.
Electric vehicles (EVs) have currently been a growing industry in ASEAN. ASEAN has an estimated 30 million tons of nickel reserve, with a growing population of more than 680 million people and a burgeoning middle class. With the vast nickel reserve, the opportunity for EV manufacturing is big.
Indonesia accounts for 30% of the world's known nickel reserves with 21 million tons, while Vietnam has 3.6 million tons of nickel reserves.
Indonesia aims to export 200,000 EVs by 2025, which will comprise almost 20 percent of all its car exports. Meanwhile, Vinfast, the largest private Vietnamese conglomerate, has its own EV manufacturing facility within the country with the capacity to build around 950,000 EVs annually and is also rapidly expanding abroad. Indonesia and Vietnam could have the potential to lead EV development in the ASEAN.
On the occasion of the 10th year of strategic partnership between Indonesia and Vietnam, do you have any expectations for this collaboration?
We look forward to being able to work with Vietnam on the ASEAN QR Code and also other legacies of ASEAN-BAC. We're hoping that some of them can be implemented by September 2023. Further, we look forward to working with Vietnam in the areas of renewable energy development and EV industries.
Reported by The Ky