Ly Son Island, also called the "Kingdom of Garlic" of Quang Ngai Province, has become a favorite destination thanks to its peaceful atmosphere, unspoiled wilderness and nature, and clear blue sea.
From HCMC or Hanoi, tourists can fly to Chu Lai Airport in Quang Nam Province, then take a bus or taxi to Sa Ky Port in neighboring Quang Ngai Province, which is about 42 kilometers from the airport. From Sa Ky Port, tourists can travel by speedboat to Ly Son Island, arriving in about 30 minutes. They can book boat tickets from 1 – 2 days in advance at a cost of VND300,000 – VND340,000 per round trip.
Although Ly Son Island is relatively small, it still retains its wild features. The island is known to many people as a paradise in the middle of the vast ocean. It offers wonderful beaches with fine white sand. It has also been formed by volcanoes and surrounded by magnificent lava cliffs and reefs.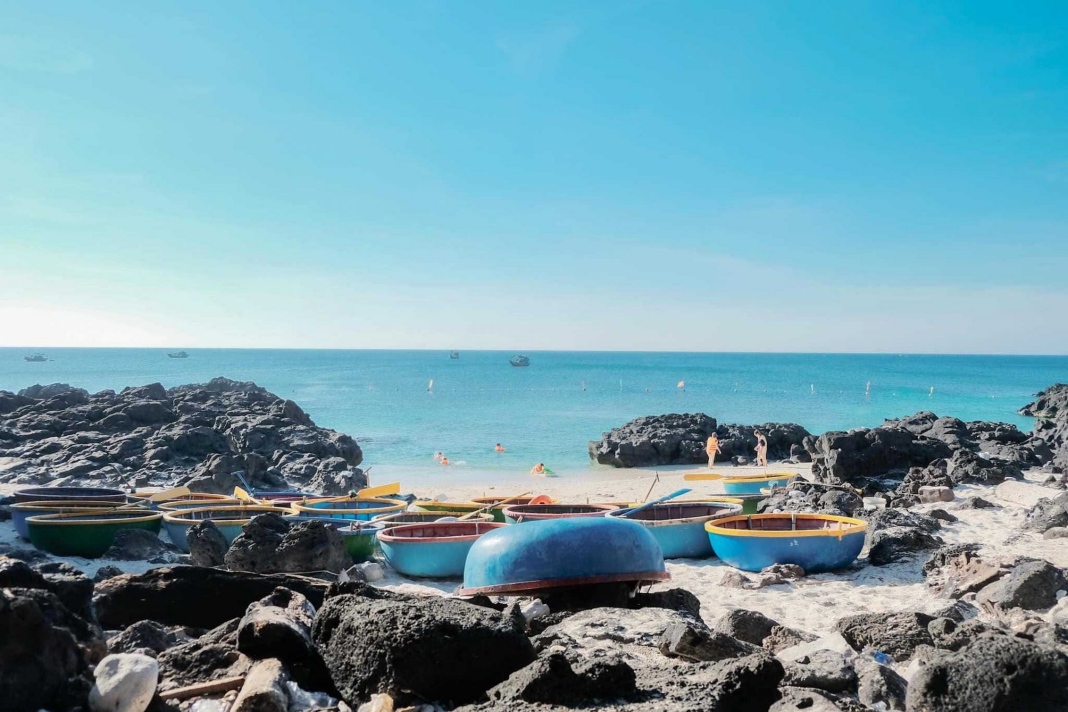 The economical travel cost is one of the reasons why Ly Son Island is a tourist destination chosen by many visitors. Accommodation on the island is reasonably priced, ranging from VND200,000 – VND400,000 per night. Tourists can choose to stay at hotels, motels, or homestays. Moreover, there are green coconut groves along the shore where travelers can camp overnight.
Coming to Ly Son, resting in the crystal-clear sea water, enjoying swimming and snorkeling while gazing at coral reefs, and immersing themselves in magnificent pristine nature, are unforgettable experiences for visitors.
In addition, the island is famous for seafood, fresh seaweed, and garlic. Seafood is incredibly fresh and affordable on the island. Also, Ly Son garlic has become the symbol of the island, as it has a gentle aroma and more tender taste than normal garlic. Therefore, tourists can see endless garlic fields when visiting the island.
Hang Pagoda, To Vo Gate, Thoi Loi Peak, Cau Cave, and Ly Son Lighthouse are some of the sites that tourists should not miss when visiting Ly Son Island.
The most beautiful time for visiting Ly Son Island is from April to August. The sun is mild and warm, with blue skies and white clouds. From September to December, the island sees more rains and rough seas, so visitors should check the time of year before traveling to the island.