A paradox has persisted, for decades, in the education sector: university graduates for the most part often find it hard to look for jobs in the fields of their studies, while enterprises struggle to recruit people with skills aligned to their requirements and in many instances have to rely on imported labor. For long years, the Government has called on closer institution-industry collaboration to bridge the labor gap, and many enterprises have committed themselves to this approach.
PetroVietnam Technical Services Corporation, or PTSC, has proved itself an outstanding pioneer in this approach, furthering its engagement in the past couple of months with many universities in the country to develop a generation of job-ready students.
Valuable support for students
With an aim to bolster scientific research and develop a high-quality technical workforce for the oil and gas industry in particular and the country in general, PTSC has recently reached agreements with several universities to this effect.
On August 15, PTSC cut a deal with the University of Transport of HCMC under which the two sides will strengthen cooperation in areas of scientific research, technology transfer, training, and human resource development.
PTSC President and CEO Le Manh Cuong told the signing ceremony that "the cooperation will mark the beginning of a program to train fresh graduates well equipped with both academic knowledge and practical skills and hands-on experiences." He added that PTSC will consult with the university in joint training programs and single out qualified students meeting the company's requirements.
Right after the signing event, PTSC and its member companies will work with the university to conduct interviews with students, and will start providing financial support for the chosen ones in the 2023-2024 school year.
One week after the signing event, PTSC on August 23 reached agreements with two other universities, Hanoi University of Civil Engineering and Hanoi University of Mining and Geology.
Tran Hoai Nam, deputy CEO of PTSC, said at the signing ceremony that PTSC has implemented hundreds of projects at home and abroad, and in the coming time, the company will develop highly-potential offshore wind power projects and the cooperation with the two universities will help PTSC prepare manpower for a new development stage. He added that PTSC would also provide financial support and practical training to students, thus opening up new job opportunities for graduates.
PTSC will also work with the universities to organize career orientation workshops to help students comprehend the practical work environment at PTSC. Qualified students can apply for internships at the corporation and its member companies as well.
In the following weeks, more similar agreements between PTSC and universities have been signed, with similar purposes.
The corporation signed an agreement with the Vietnam Maritime University in Ba Ria-Vung Tau Province on September 6 to tighten cooperation in human resource development, scientific research, and technology transfer for the 2023-2026 period; and six days later, PTSC cut a new deal with the University of Technology under the Vietnam National University HCMC, with similar terms and provisions.
In fact, PTSC has for several years entered into cooperation with many universities, including the above-mentioned institutions. However, the new agreements deepened the industry-institution collaboration, with stronger commitments from the corporation to engage in joint training programs and financial support for students, helping them to be more job-ready upon graduation.
PTSC Board Chairman Phan Thanh Tung appreciated the traditional cooperation with the Vietnam Maritime University, saying that by leveling up the cooperation this time, both sides will be able to make higher achievements.
Addressing the signing ceremony at the University of Technology in HCMC on September 12, President and CEO Le Manh Cuong stressed that facilities at the corporation and its member companies are sufficient for the university's students and lecturers to conduct scientific and technological studies which will greatly improve students' practical capacity and experiences.
The collaboration between PTSC and universities can be seen to hold great community values, since such agreements ensure financial support for many students to pursue their studies on one hand, and enhance their skills for jobs and improve the quality of the domestic manpower on the other.
Other CSR projects
PTSC this year has also conducted many other corporate social responsibility projects for the society's welfare, especially in the areas of healthcare and education.
On August 13, the corporation inaugurated a dining room for a semi-boarding kindergarten in Truong Son Commune, Duc Tho District, Ha Tinh Province, replacing the old dining room that had deteriorated.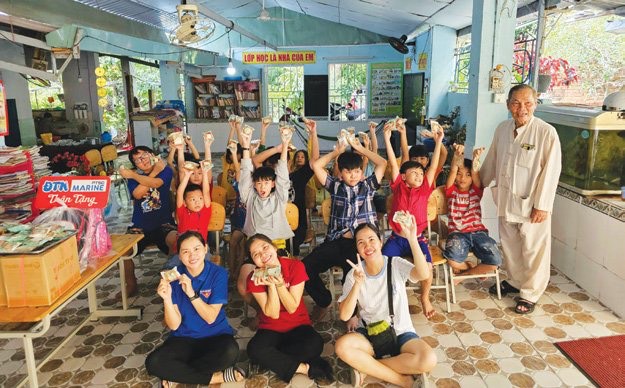 On August 27, PTSC cooperated with the HCMC University of Medicine and Pharmacy to provide free medical examinations and free medicine to 500 people with difficult backgrounds in Long Hai Town, Ba Ria-Vung Tau Province. The beneficiaries, after their medical checks, also got gifts comprising sugar, milk and soya sauce.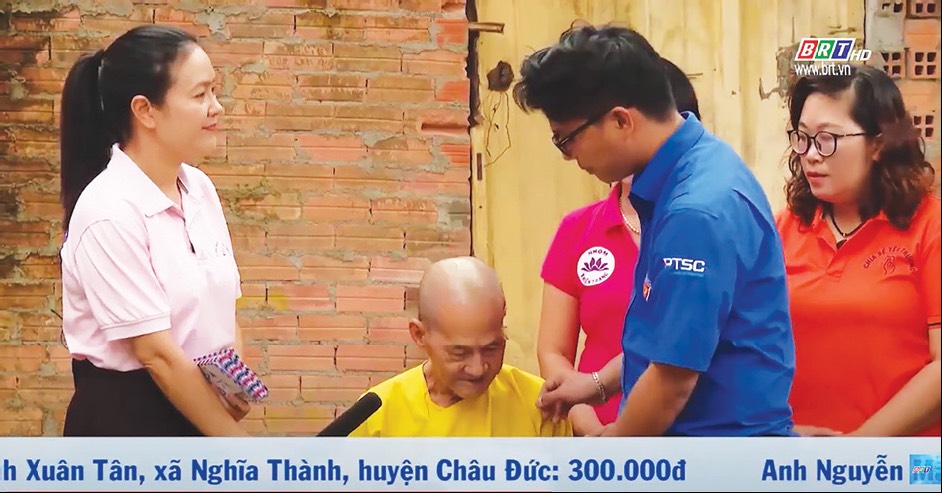 PTSC said the health examination event is part of the 2023 social welfare program between the corporation and the university, with similar events organized elsewhere.
In fact, another free health examination round took place a fortnight later in Chu Prong District in the Central Highlands province of Gia Lai on September 9, where 500 poor people were also given health checks and medicine.
Since 2019, PTSC has accompanied the HCMC University of Medicine and Pharmacy to conduct numerous free health checks for poor people across the country, donated gifts and built houses for the disadvantaged with a total cost of over VND10 billion.