Any hope for improving business conditions by midyear has faded due to dismal demand in main markets and macroeconomic instability.
New orders plunge
In its first-quarter consolidated financial statement, Century Synthetic Fiber Corporation (HOSE: STK) posted net revenue of VND288 billion, plummeting 55% over the same period last year. Its gross profit margin also dropped to 6% from 17%.
The steep decrease was due to the steep decline in new orders as cuts in financial, selling and administrative expenses could not offset the plunge in revenue. This led to a year-on-year dip of 98% in net profit in the quarter, at VND1.6 billion.
Speaking at the firm's annual general meeting in late March, its general director, Dang Trieu Hoa, said the business recovery process was slower than planned, hence the poor performance in the year's first three months. However, improvements may begin in the third quarter, and the company should return to its normal operations in the final quarter.
STK looks to obtain VND2,149 billion in revenue and VND253 billion in profit after tax this year, up 2% and 5% over 2022, respectively. The firm accomplished 13% of the revenue plan and a mere 0.6% of the profit plan by the end of the first quarter.
Unfavorable business conditions put other textile firms nationwide in the same situation as STK. Pham Van Viet, general director of Viet Thang Jean Company, said escalating inflation and falling demand in the European Union had caused the company's exports to the market in the first quarter to dip by half over the same period in 2022.
Data from the General Statistics Office showed that the plunge in new orders led to massive layoffs nationwide, with around 150,000 people becoming unemployed between January and March. Of the total, 55.2% were workers in apparel firms.
A rocky ride for the apparel sector
According to the General Department of Vietnam Customs, the nation's export value in the first quarter dropped 17.7% over the year-ago period to US$7.17 billion, with exports to key markets such as the U.S. and Europe dipping by 30% and 11.3% year-on-year, respectively.
Business prospects have not improved in the second quarter, given that rising inflation and possible recession threaten the global economy. Meanwhile, demand from the key importers of Vietnamese apparel, such as the U.S. and Europe, weakened further as they employed a tight monetary policy.
The chairman of the Association of Garments, Textiles, Embroidery and Knitting (AGTEK), Pham Xuan Hong, said that the sector might not bounce back soon, as AGTEK's members saw their new orders in the second quarter slumping around 30-40% against the same period last year.
"Normally, apparel manufacturers would ramp up production as their clients placed new orders for the second and the third quarters, but things are different this year," Hong said. So far, no businesses have received orders for the third quarter yet.
Le Tien Truong, board chairman of the Vietnam National Textile and Garment Group (Vinatex), predicted that the flagging demand would continue through 2023 and 2024 due to the high inventory caused by enormous spending on clothing in early 2022.
Vietnamese apparel manufacturers would face a rocky road ahead, as competition heightened when China reopened its doors to the world. Besides, the Vietnamese dong strengthened by 1% against other currencies, coupled with a high-interest rate environment, presenting more challenges to exporters.
Given the current circumstances, Hong said it would be difficult for apparel exports to bring in as much as in 2022, at US$44.5 billion.
Preparing for the worst is over
Apart from fewer new orders, stringent requirements on product quality, recyclable materials and sustainability in the production process from buyers placed more strains on Vietnamese garment enterprises.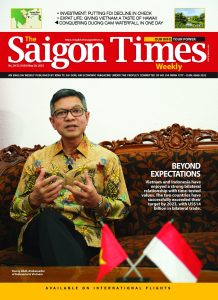 Given the modest demand and rising competition, Hong suggested businesses focus on enhancing productivity and product quality, closely monitor market developments and employ a flexible policy. They should restructure their business, minimize expenses, invest in machinery and equipment, and upskill their staff to boost their competitiveness.
Perceiving that hardships may linger on, Vinatex has promoted its knitted fabric production chain to secure raw material supply for textile and garment factories, reduce inventories, add value to its products and be oriented toward sustainable and green production. The firm said it took such actions to maintain operations, stabilize labor resources, ensure cash flow and prepare for when business conditions improve.
According to analysts, the Government should develop mechanisms and policies that facilitate favorable business conditions by cutting lending rates, fees and taxes and revising total working hours.
Challenges for the textile and garment industry may continue through the fourth quarter of 2023. It is hoped that the year-end festive season could spur demand and motivate businesses.