HCMC – Prime Minister Pham Minh Chinh had a brief meeting with President of Ukraine Volodymyr Zelensky during the "Towards a Peaceful, Stable, and Prosperous World" session as part of the expanded G7 Hiroshima Summit on May 21.
PM Chinh emphasized Vietnam's commitment to valuing the long-standing friendship and cooperation between the two countries.
Regarding the conflict between Russia and Ukraine, PM Chinh affirmed that Vietnam's consistent stance is to respect the United Nations Charter and international law, especially the principles of respecting independence, sovereignty, territorial integrity, and sovereignty, non-interference in internal affairs, refraining from the use or threat of force, and advocating for the peaceful resolution of all disputes.
Vietnam appreciated the value of peace as it also had a long history of war, Chinh said.
The country has provided support to the Ukrainian people and is willing to assist in seeking a peaceful solution based on international law and respecting the interests of the parties involved.
The Vietnamese leader also said thanks to Volodymyr Zelensky for supporting the Vietnamese community in Ukraine.
At the session themed "Towards a Peaceful, Stable and Prosperous World", PM Chinh affirmed that Vietnam will do its best to contribute to global peace, stability, and sustainable development.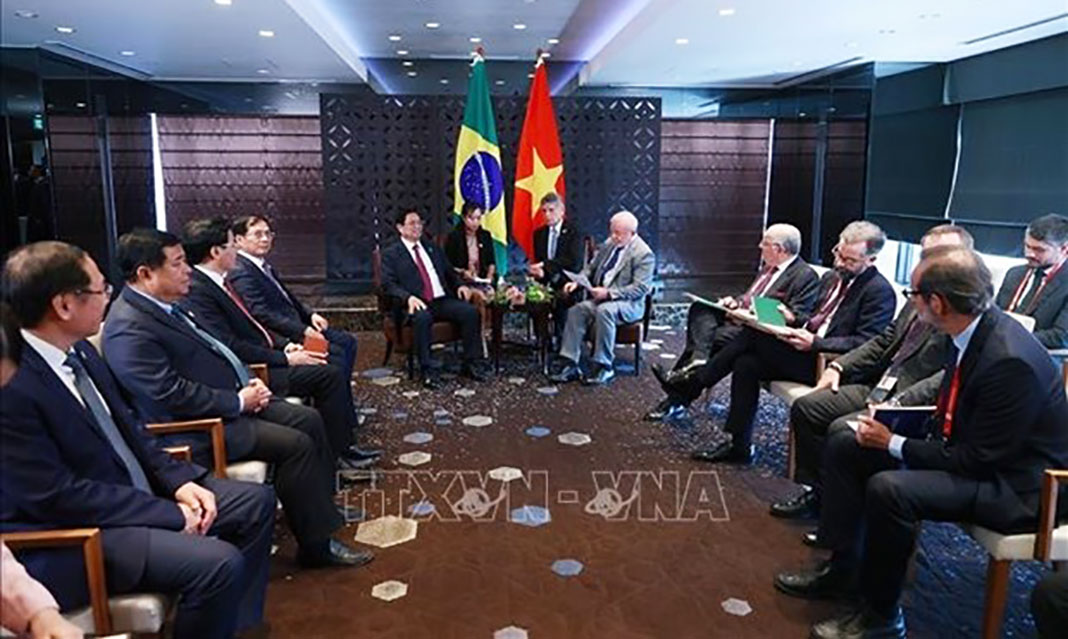 PM Chinh on the same day met with Brazilian President Luiz Inácio Lula da Silva, who was attending the expanded G7 Hiroshima Summit.
The two leaders said they were pleased that bilateral relations had grown over the years. Brazil has been Vietnam's largest trading partner in Latin America, with two-way trade in 2022 reaching a record US$6.78 billion.
Vietnam called on Brazil to support and promote the early start of negotiations for a free trade agreement between Vietnam and the South American Common Market (MERCOSUR).