A delegation from the HCMC Computer Association visited the U.S. from March 18 to March 27, 2023, as part of the program, "Creativity in Startups and Collaboration in Education's Development". During the trip, Ph.D. Nguyen Thanh Hai, a renowned expert and leader in the STEM THRIVE education project at the University of Missouri, shared his insights based on his 10-year work experience in the U.S.
When it comes to education, people usually talk about how to make preparations for the youth in the future. Most schools in Vietnam follow the slogan: "For the sake of ten years, we must plant trees, for the sake of 100 years, we should cultivate people".
So what will future generations need? What should they prepare for? Those questions are difficult to answer without carefully considering their core values, scientific analysis and computational models.
Science, Technology, Engineering and Mathematics (STEM) education has been brought up recently. Simply put, it is to equip learners with the necessary abilities in science, technology, engineering and mathematics in order to adapt to the demands of future jobs.
It is not a specialized or vocational program that only trains engineers or doctors but a preparation for all new global citizens. Whatever profession citizens work in, they still need to know the basics of STEM, the impact of STEM on the economy and the applications of STEM at work and in daily life.
Why is STEM so important? Based on statistics and forecasts, three basic reasons have been pointed out. First, a competent STEM workforce will be essential for an economy to stay competitive among many countries worldwide in the future. Second, STEM-related occupations have higher average incomes compared to non-STEM occupations. Third, STEM encourages other professions in society to develop toward technology application and digital transformation.
When drafting a book about STEM education five years ago, I wanted people to understand the concept of STEM education. The book pointed out seven common misconceptions about STEM, one I still often encounter in discussions at many schools: "STEM education is only an extracurricular activity or a passing trend". That is completely not true. In fact, STEM education has already become an important term in the economic development policies of many countries, including the U.S., the UK, Australia, Canada, South Korea, and Singapore.
Science and technology are of great importance to society. They serve as a driving force for economic development, offer tangible values in daily life and play a crucial role in addressing global challenges. We rely on technology daily, from chip-based identity cards, food safety, healthcare and medicine, to solutions for climate change and alternative energy sources. These elements are integral to both current and future life, as science and technology have become deeply ingrained in every aspect of human society.
The stories of attaching identification codes to coconuts, digitizing artworks with blockchain technology, and shopping online are not uncommon. They are all the direct result of advances in STEM research.
Certainly, it requires knowledge and experience from other fields, such as sales, marketing, and management, to turn an invention into a product and bring it to the market. Nothing is unique, but some things serve as motivation and the starting point for change.
Given the demand for a knowledge-based, green and sustainable economy in Vietnam, STEM education must be considered a priority. It does not mean focusing on textbooks but investing in teachers who can effectively teach STEM subjects.
Delaying education by one year would lead to many years of economic backwardness in the future. Instead of mitigating the consequences, let's prepare for positive changes.
During the trip to Plug and Play, the world's largest startup accelerator in Silicon Valley, where over 30 companies valued at over US$1 billion were born and raised, we heard a story about investing in innovative ideas based on technology rather than investing in real estate.
To foster innovative changes, we should start by creating an educational environment that encourages creativity. When visiting an elementary school in Downey, Los Angeles County, California, we saw students learning through games and engaging in science exploration and engineering design projects. Their teachers talked about the curriculum instead of textbooks. They encouraged students to come up with new ideas and design creative learning activities themselves.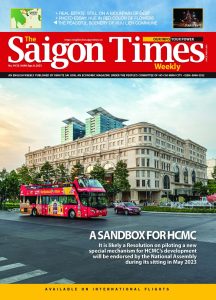 In those schools, the student's roles are both as subjects of learning and as co-authors of the curriculum. Students are empowered to come up with new experiential activities and ideas. Teachers discuss those raw ideas with professional learning communities, align them with standards (NGSS, Common Core Standards), create relevant educational ideas, and seek funding from local educational institutions or business communities to bring them to life.
The high school curriculum there not only adheres to the state's standards but also provides necessary flexibility for students and teachers to actively cultivate their creativity skills. By empowering both groups to propose and execute new experiential activities, the fundamental pillars of STEM education in the modern era, including Autonomy, Adaptivity, and Entrepreneurship, are being fully leveraged.
What have we done to encourage a genuinely creative educational environment in Vietnam? This is an open-ended question seeking appropriate responses from education leaders in the country.
(*) Ph.D. Nguyen Thanh Hai is currently the head of the STEM THRIVE education research team at the University of Missouri, U.S. He is also the founder and CEO of Searinet Education Consulting Company, U.S. He received a VEF scholarship and was one of the first Vietnamese to earn a Ph.D. in STEM education.