In January, the apartment market in Hanoi saw a surge in demand in terms of both sales and rentals. Given the current short supply, many buyers have to compete for a home.
High demand versus limited supply 
According to the local property tracking site Batdongsan.com.vn, customers have shown strong attention to apartments in terms of both sales and rents. The domestic demand for apartments has climbed by 64% over 2022, while the apartment renting demand has surged by 139%. Local searches of apartments for rent and for sale in Hanoi were up 112% and 57% year-on-year, respectively.
With the demand rising by 97% over January 2022, homes valued at VND55 million per square meter and higher have captured the strongest interest, followed by apartments priced at below VND35 million per square meter and those in the price range of VND35 million and VND55 million per square meter. The tendency may be traced back to last year's severe lack of affordable homes on the market. Over half of the supply was in the high-end segment, while the mid-end segment accounted for some 44%.
There has been a dramatic decrease in the number of housing advertisements on the local property site, despite the rising number of individuals seeking homes. Apartment listings dropped by 37% compared to the same period last year, highlighting a significant shortage of apartments in the primary market, according to Batdongsan.com.vn analysts.
The number of housing supply in Hanoi reached 15,100 units in 2022, falling by 12.3% year-on-year, according to the Vietnam Real Estate Market Outlook in 2023 by CBRE, an international commercial real estate service and investment firm. The prolonged shortfall is likely to continue throughout this year, with supply perhaps falling slightly or staying around 14,000 to 16,000 units.
Fierce house hunting
For now, local homebuyers are having difficulty finding a desirable property following the Lunar New Year holiday, given the supply-demand mismatch in the marketplace.
In the week after Tet, many customers visited the Hanoi Melody Residences project in the southwest of Linh Dam-Hoang Mai urban area to learn more about the apartments for sale there. Buyers with deep pockets have been rushing to cut deals given the limited number of available units. As for others, it was not unusual when they had to change their choices twice or thrice as their preferred options had been already taken.
"While I was here last week, I made up my mind over an apartment," local buyer Nguyen Hoang said, "But the house had been sold when I returned, after talking it over with my wife and securing more money."
"This time, we tried to buy it as quickly as possible. Any hesitation may risk missing the chance," Hoang said, adding that his family had purchased a two-bedroom flat in the Hanoi Melody Residences.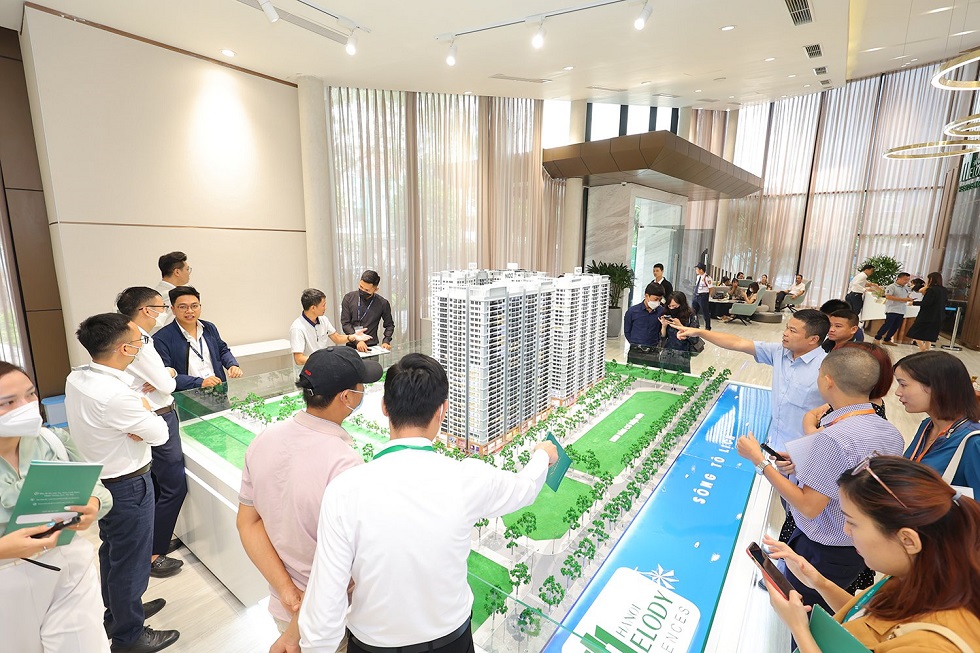 As many forecasts have painted a gloomy outlook over the property market supply this year, Hoang made his purchase just after Tet. The property is deemed to be in a desirable location, boasts high-quality construction and convenient facilities, all at a surprisingly low cost.
"I have been keeping a close eye on the project's progress, but based on the advice of others, I have decided to wait until the price drops further before clinching the deal," Hoang said.
"But it is now or never," he added, citing rising costs and dwindling housing supply.
For the Hanoi Melody Residences homebuyers, the project is one of a few housing developments situated in the city's center, southwest of Hanoi. It has a well-developed traffic system connecting to the Old Quarter and the neighboring provinces. In other words, the city's high-end office spaces, shopping centers, hospitals and educational institutions may be reached in 10 to 20 minutes.
The project is expected to create a well-ventilated living space with a variety of facilities, including an 800-square-meter pool, a multi-purpose sports area, a kindergarten, podium shophouses for varied commercial businesses and a three-floor smart parking system underground, among others.
Arguably, the Hanoi Melody Residences project is priced competitively considering its potential to meet the city's high living standards, in addition to the flexible payment policies and additional customer incentives offered.
Given the rising demand and a limited supply, Hanoi's real estate prices are likely to rise further. In the eyes of market savvy clients, there seems to be a fierce competition when it comes to the available supply of urban housing.
For more information, visit https://hanoimelodyresidences.com.vn/