Affordable housing is dire need in HCMC. Instead of awaiting big projects, the city authorities should build social housing units of varying sizes in different locations and offer preferential interest rates for those homebuyers paying by installments.
Developing social housing is not only a good policy to develop the city but also an effective way to retain factory workers following the fourth wave of the Covid pandemic. Nothing is better than getting state support to meet one's housing needs and improve their living standards. The HCMC government should regulate the real estate market, instead of letting it focus on commercial housing development.
According to statistics, HCMC had some nine million residents nearly three years ago but the number would reach more than 13 million if people from other parts of the country who were living and working in the city were included. The population has steadily grown fast over the years, by around 200,000 people a year.
The housing problem facing low-income workers has remained a major topic of discussion for years. The city authorities have called for real estate businesses to get involved in social housing projects, but almost in vain.
In 2016-2020, HCMC built a mere 15,000 social housing units, or 3,000 units per year. They were enough for around 12,000 families. In 2020, only 18,000 social housing units were made available, below the target of 20,000 units.
According to the media, some real estate firms are joining hands to introduce a new type of affordable housing which costs VND20 million per sq.m. An apartment unit measuring 50 sq.m is priced at VND1 billion, a price tag which low-income workers can hardly afford.
To develop social housing, the city government needs to cope with problems with land use, investment capital, and administrative procedures. The prevailing rules require property developers to set aside part of the total floor space in their projects to create social homes but some investors find ways to avoid meeting this requirement. They prefer paying money rather than using part of the projects to build social homes. Therefore, to make up for this, they often choose to develop mid- and high-end homes to gain as much profit as possible.
As a result, many expensive housing projects have sprung up in the past couple of years, while social housing has remained in short supply.
Prices of commercial homes are prohibitively high for a majority of residents. For instance, an apartment building project in Truong Tho Ward, Thu Duc City was offered in 2015 at around VND16 million per sq.m, so a unit of 50 sq.m cost VND800 million. And the price soared to VND25-28 million per sq.m in 2019, VND30-35 million in 2020, and now, more than VND40 million.
Residential projects in Tam Binh, Linh Dong, and Hiep Binh Chanh wards in Thu Duc City are also up for sale at over VND42 million per sq.m. This means an apartment unit there costs around VND2 billion. Projects in other places have also increased in price.
Measures should be taken to prioritize social housing projects to increase the supply of affordable homes for low-income people.
Social homes should come with different sizes and a price tag of VND300-800 million each. Workers who earn VND5-10 million per month cannot afford a home priced at over VND1 billion.
A couple that earns VND16 million a month, including overtime pay, can afford to pay for accommodation, electricity, food, childcare and the like. They can save less than VND2 million a month, or around VND24 million a year. If they want to buy a VND1 billion home funded by a bank loan equivalent to 70% of the home value, they would have to save money for 14 years to pay for the other 30%.
The city can learn from the way affordable homes are being built in neighboring Binh Duong Province. In mid-March 2022, Becamex IDC Corporation started work on a number of social housing projects in areas having a large number of workers, such as Ben Cat, Tan Uyen and Bau Bang.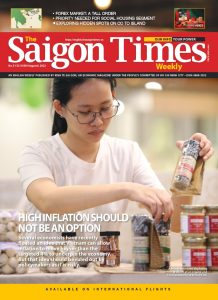 From now until 2023, Becamex IDC is expected to invest around VND9.5 trillion to build around 20,000 social homes. The price ranges from VND120 million to VND280 million per unit, and from VND200 million to VND500 million per unit of higher quality. The monthly rent is around VND750,000 per unit. In previous years, the province got many social housing projects done.
The city needs more social homes to meet the demand of a majority of residents. Large projects, which cover more than 10 hectares each, should set aside 20% of their land to build social housing while the city authorities should develop low-cost homes of varying sizes in different locations and offer cheap credit for homebuyers.
Social housing projects for low-income and poor people should have community values, schools, hospitals and markets. In outlying areas, there is mainly agricultural land, which the city should convert into residential land to carry out affordable housing projects.
The population of Binh Chanh District increases by 30,000 people a year. The large size of the land area allows the authorities to change the land use from agricultural purposes to social housing construction. Another ideal place is Cu Chi District, with an area of around 500km2, nearly one-quarter of the total area of the city (2,100km2).
It is necessary to simplify the procedures and make sure everything is publicly announced so that investors can carry out their projects without a glitch.
A residential project backed by preferential policy, available land, a clear road map, and a suitable profit margin can attract investors on the national bidding network. Although profits are not high, there are some investors willing to contribute to society.
The planning of industrial and export processing zones should be reconsidered to reserve land to build homes for workers, facilitate transportation and improve the road traffic network. Moreover, investors should be encouraged to switch from commercial housing projects whose sales are slow now to social housing ones.
Some regulations should be amended to compel investors to use 20% of their land for social housing construction, instead of allowing them to pay money. Currently, there are a huge number of unoccupied apartments in HCMC. As they are left unused for a long time, these apartments will deteriorate fast and require huge repair and maintenance costs. They should be converted into social homes, either for rent or sale.
Long-term loans are necessary for low-income earners to buy homes. Currently, the HCMC housing development fund just provides loans for civil servants and those who receive salaries from the state budget. If low-income workers can gain access to this source of funding, they may have the opportunity to own a home.
Low-income workers with indefinite employment contracts should be given a chance to get a home loan. A low-interest loan will make it possible to make the down payment. Although the amount of money they pay each month is higher than their monthly rent, they already possess an apartment.
HCMC has announced a plan for building one million homes in 2021-2030, with 93,000 of them for low-income people and workers. The plan will develop an additional 107.5 million square meters of housing, thus raising the average housing area per person to 26.5 square meters. Therefore, 5,239 hectares of land will be needed for the plan. The needed capital is nearly VND567 trillion in 2025 and VND956.9 trillion in 2030, with VND12.4 trillion for social housing development.
The number of social homes and the construction cost of these homes account for around 10% of what is required for the housing development program in the 2021-2030 period. Some 70,000 out of 93,000 social homes belong to 33-34 commercial housing projects with a land area of over 10 hectares each. However, only 13 projects have completed land clearance.