On March 24th, 2023, The Investor Club Association under the Thailand Board of Investment (BOI) visited Duy Tan Plastics Company.
Duy Tan Plastics Company (Duy Tan Long An Factory) is honored to become the meeting hub for information sharing between Thai and foreign investors. This is considered a good opportunity for both parties to update their knowledge about plastic production processes, machinery, raw materials, etc. In addition, in this visit, Duy Tan is also very pleased to welcome members from the SCG Group in Thailand.
During the visit, Duy Tan had the chance to greet and invite the visitors to the factory, its PET workshop, Injection workshop, warehouse, and showroom in Long An to introduce the production process from preparation to production and finished products.
Besides, the experts also had a meeting with Duy Tan's Board of Directors for an exchange about the economic and investment situation in Vietnam and Thailand, as well as in the world in general, especially the exchange of information on investment priorities between Thailand and Vietnam. Topics such as applying knowledge and information to improve the services of the IC and BOI, building networks with related organizations in Vietnam, researching and monitoring innovations, new technologies, etc. were also discussed during the meeting.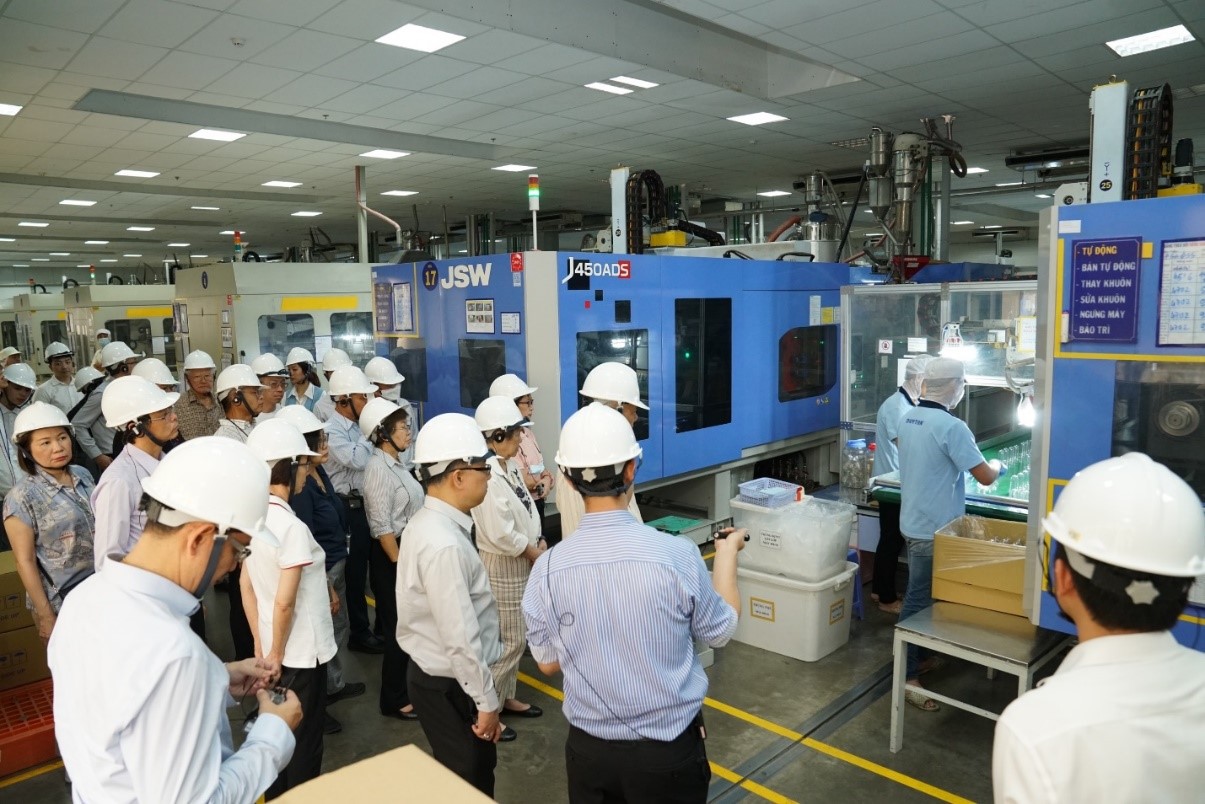 Duy Tan Long An is the largest factory of Duy Tan Plastics with an area of up to 181,000 square meters. Towards green and environmentally friendly production, in 2020, the factory put into operation a solar energy system to replace the grid electricity to serve the production process and will release the full capacity of the electricity investment projects in the future to ensure safe and continuous electricity supply. As of 2023, Duy Tan Plastics has gone through 36 years of development, continuously achieving the High-Quality Vietnamese Goods title voted by consumers for 27 consecutive years and receiving many awards and sustainable development certifications such as ISCC Plus. With the vision of becoming the leading plastics manufacturer in ASEAN, in 2021, Duy Tan Plastics signed a strategic cooperation agreement with and transferred a stake of 70% to SCGP – a company belonging to the SCG Group from Thailand.
In addition to consistently applying creativity and innovation to develop high-quality products with the best possible functionality and aesthetic appeal, Duy Tan Plastics also builds its connections, absorbs knowledge from foreign experts, and keeps up with the most recent technological advancements in order to maintain the supply chain, enhance the production process, and develop a contemporary, environmentally friendly production process.