Mother Elephant Rock Mountain (Voi Me Rock Mountain), also known as the biggest monolith in Vietnam, appears as a back of a giant elephant lying in the middle of the Central Highlands.
Mother Elephant Rock Mountain along with Father Elephant Rock Mountain are the pair of Yang Tao Elephant Rock Mountains which appear majestically in the middle of mountains and forests of the Central Highlands. Located in Yang Tao Commune, Lak District, the rock is about 40 kilometers from Buon Ma Thuot City along National Highway 27.
Lying at the foot of Chu Yang Sin Range, the rock has a length of about 200 meters and is over 30 meters in height, covering an area of thousands of square meters. It takes tourists about 15 minutes to get to the peak of Mother Elephant Rock. Standing on top of the rock, tourists can see a panoramic view of majestic scenic spots such as Yang Reh Lake and Chu Yang Sin Range – the roof of the Central Highlands.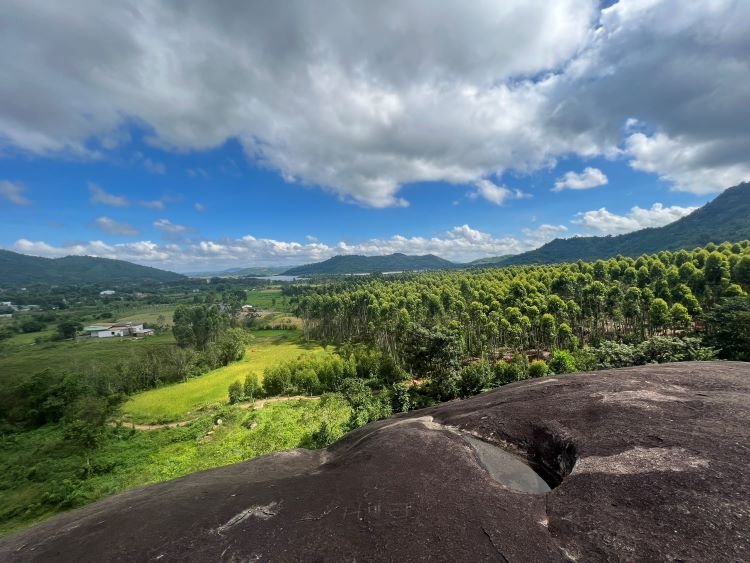 Father Elephant Rock Mountain is about five kilometers from Mother Elephant Rock Mountain. This rock is smaller than Mother Elephant Rock at about 70 meters in length, and has a circumference of about 180 meters.
To climb to the top of the Mother Elephant Rock Mountain, tourists need to have good physical fitness. They must be very cautious as the rock has few places to cling on to for support. Moreover, tourists must find a specific schedule to have a favorable trip. In summer, the surface temperature of the rock can reach 60-70 degrees Celsius. On a day with strong wind or in humid weather, it is risky to climb to the rock as it gets slippery.
Tourists often hear the legend about Mother Elephant Rock Mountain narrated by the elderly in the village. At first, the rock was located in the north of the Central Highlands. But one night, it suddenly "walked" right next to Chu Yang Sin Range, lying in the middle of the vast Yang Tao valley. Originally, the rock was very soft, and then it became harder, as it is now.
In addition, many local people believe that the rock is the god of love. Couples who love each other often meet and date on the back of the rock. They offer vows and pray to Mother Elephant to protect their love, that it will last forever. People also often come there wishing for love. They confide their feelings with the rock, and believe that the rock will bless their wishes to come true.