The number of current account savings accounts (CASA) held by individuals has declined though it had been projected to increase on fast online payment growth which would lead to cash payments dipping
CASAs plunge
The past two years saw strong growth in CASAs thanks to banks pushing for electronic payments, especially when Covid-19 impacted the economy. However, the use of CASAs has begun to slow down in recent months.
Techcombank continues to take the lead in the CASA ratio in the banking system, despite some slight declines. Its CASA ratio stood at 50.5% early this year, then ebbed to 47.5% in the second quarter, and ended at 46.5% in late September, a drop of four percentage points in nine months.
MBBank also posted the same fall of CASA, from 45.6% last December to 41.6% at the end of the third quarter this year.
KienLongBank's CASA fell to 9.2% from 15.5%, the lowest in the banking sector, followed by VietA Bank, with a drop of 6% from 11.9% to 5.9%. TPBank's CASA also declined to 17.3% from 23.3%, despite its successes in digital transformation in recent years.
Among 28 banks that have announced their financial reports for the third quarter, 70% have a lower CASA ratio, with an average decrease of 0.8 percentage point, from 17.8% in the first quarter to 16.9%. Meanwhile, MSB, Vietcombank, VietinBank, PGBank, SeAbank, and BacA Bank recorded higher CASA ratios.
The decreases in the CASA ratio outlined the financial picture of the banking system. Figures released by the central bank showed that checkable deposits slid to VND970,100 billion by late June, after peaking at VND1,040,000 billion at the end of the first quarter, despite bank accounts rising to around 123,776,000 from 118,645,000. With the CASA rates declining, bank deposits were likely to taper off.
Reasons for the fall
Some experts said the drop in the CASA ratio was caused by the current credit crunch, which forced depositors to withdraw their cash to maintain business operations and production, or to invest. However, all transactions were made through bank transfers, so the money was simply channeled to a different account. In other words, cash is still kept in banks. Thus, this is not the cause for the decline in using CASAs.
On the other hand, it may result from the recent poor liquidity in the system. Some enterprises prefer keeping their cash to putting it in banks, while others were facing financial woes and the liquidity risk posed by interest and exchange rate volatility, lengthening the cash cycle. It is also possible that the money has been converted to other currencies and piled up outside of the banking system or flowed to developed countries, as the article "Where has all the cash gone?" pointed out.
Another factor is that investors have given up hopes of the securities and real estate markets rebounding anytime soon, so they turn non-term deposits into time deposits to enjoy higher interest rates.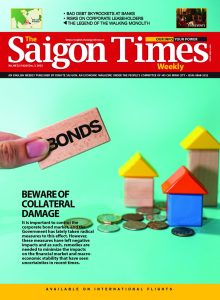 Clients who usually put their money in current accounts for an indefinite term have also been wooed with interest hikes in recent months, widening the gap between non-term deposits, short-term deposits, and long-term deposits.
Meanwhile, Circular 04/2022, which was issued by the central bank and came into effect on August 1, allows depositors to prematurely withdraw a part of their money, while the remainder enjoys initial interest rates.
Meanwhile, banks have deployed products that align with the circular. That, coupled with higher rates, has piqued the interest of clients, encouraging them to switch to time deposits. Earlier, depositors had to maintain a certain amount of cash in their checkable accounts to satisfy their payment needs. However, they now can put all of their money into time deposit accounts and withdraw cash when needed. Meanwhile, many banks enable online deposits with higher rates than traditional ones, making it easier for clients to switch to time deposits.