The western region of Quang Tri Province is renowned for its array of potential tourist destinations that still preserve their hidden natural allure. Among them, Ta Puong Waterfall stands out with its towering waterfall system and expansive lakes, offering an unforgettable experience for travelers.
Ta Puong Waterfall is located in Trang Village, Huong Viet Commune, Huong Hoa District, Quang Tri Province. It takes tourists over 100 kilometers to reach the heart of Huong Viet Commune from Dong Ha City, followed by a few more kilometers to arrive in Trang Village. This route is famous for its scenic mountain landscapes. From Trang Village, visitors must embark on a 20-minute trek through pristine forests to reach Ta Puong Waterfall 1.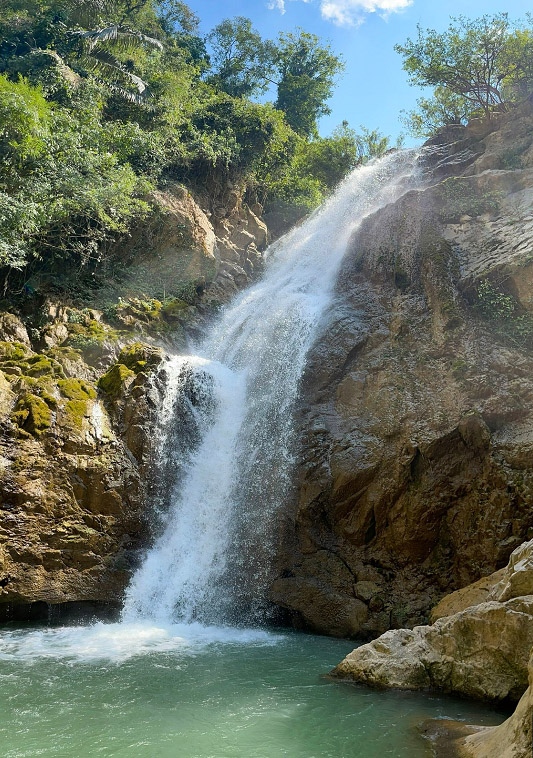 Nestled within a vast forest, the waterfall cascades down from a height of 20 meters, carving its way through steep cliffs. Beneath the waterfall, visitors will find large, flat rocks scattered around the lakes, providing a perfect spot to rest and admire the refreshing, cool air and the grandeur of the landscape. The waterfall maintains a steady flow of water throughout the year, creating a system of lakes of various sizes.
Continuing along the forest path for approximately 20 minutes from Ta Puong Waterfall 1, travelers will reach Ta Puong Waterfall 2. Although slightly shorter at 15 meters, Ta Puong Waterfall 2 boasts a larger lake spanning an area of 5,000 square meters. Here, visitors can enjoy swimming and diving to escape the summer heat. Additionally, rowing a boat to the center of the lake offers a chance to admire the captivating scenery.
Due to minimal human impact, Ta Puong retains its wild and mysterious allure. With its unique potential, the waterfall has become an appealing destination for young people and photographers.
Moreover, organizing a camping trip to experience the rugged and majestic nature, along with immersing in the unique cultural features of the local ethnic minorities, guarantees unforgettable memories for tourists.