The recent improvements in trading volume may aid the VN-Index, the benchmark stock index, in breaking the resistance zone of 1,080-1,100 points and continuing its rise in June. This indicates the resurgence of institutional investors, hedge funds, and private equity firms in the stock market.
Supporting factors
On June 2, the main index closed at 1,090 points, a 2.5% increase compared to May and a 6.7% increase since January. A recent report by securities firm VNDirect highlights two main factors supporting this winning momentum.
Firstly, the fresh policies by the Government and the State Bank of Vietnam (SBV) have addressed economic concerns and restored investor confidence.
In terms of monetary policy, the central bank has reduced key interest rates by 100 basis points since the beginning of the year, with three consecutive rate cuts. The discount rate now stands at 3.5% per year. The refinancing rate, as well as the interest rate cap for priority sectors and tenors ranging from one to six months, has decreased to an annual rate of 5%. The rate cap for loans with terms below one month has been reduced to 0.5% per year.
Regarding fiscal policy, the Government has implemented an expansionary fiscal policy with a focus on accelerating public investment. With the implementation of Decree 12/2023, businesses and households can extend their tax and land rent payment deadlines to supplement short-term operating capital. This has relieved pressure on fundraising, reduced financial costs and interest expenses, and mitigated difficulties in accessing bank loans or obtaining funding from corporate bond sales and the stock market.
Furthermore, the National Assembly issued a resolution providing further support to enterprises and individuals. Resolution 43/2022/QH15 of the NA lowers the value-added tax from 10% to 8% for specific goods and services.
Secondly, domestic cash flow has started to return to the stock market due to declining deposit rates. In May, 12-month deposits at state-owned banks fell by 0.4 percentage point to 6.8% annually, and private banks experienced a decrease of 0.37 percentage point to 7.2% annually. Private banks such as TCB, VPB, STB, ACB, and OCB recorded the sharpest drop in deposit rates, ranging from 0.4% to 0.6%.
Despite negative revenue growth across sectors in the first quarter of the year, the VN-Index's earnings per share ratio dipped to 8% in May. Combined with an average dividend yield of 1.7%, this creates a difference of 2.7% between the earning yield and deposit rates.
Although not as attractive as the figures observed last October and November, which triggered an inflow of funds into the stock market, the market profit forecast may improve in the second half of 2023. Therefore, the stock market is anticipated to continue attracting cash flow, provided that deposit rates decrease by another 0.3-0.5 percentage point. Based on these assumptions, investors may consider purchasing more stocks at the present time.
Potential sectors
VNDirect suggests that supportive policies have set the stock market on a bullish trajectory, with major securities players returning and liquidity improving. The VN-Index is expected to surpass the resistance area of 1,080-1,100 points and rise further in June.
Investors can leverage market corrections to acquire more stocks, focusing on growth stocks that benefit from the aforementioned policies and anticipated interest rate cuts. Sectors such as securities, banking, infrastructure, and energy hold promise.
Infrastructure stocks are likely to shine throughout 2023. In the first quarter of the year, public investment disbursement grew by 18.1% year-on-year, reaching VND91.5 trillion, surpassing the 12.3% year-on-year growth recorded in 2022.
The Government has urged localities to commence infrastructure projects before June 30, which may further expedite public investment disbursement. These projects include the Chau Doc-Can Tho-Soc Trang, Bien Hoa-Vung Tau, and Khanh Hoa-Buon Ma Thuot expressways, Beltway No. 4 in Hanoi, and Beltway No. 3 in HCMC.
Moreover, low public debt and a substantial decrease in government bond coupons ensure an ample budget for public investment projects. Furthermore, declining inflation will facilitate the implementation of the expansionary fiscal policy with minimal risk.
Interest rate reductions have also benefitted several sectors beyond public investment. The SBV's decision to lower key interest rates prompted banks to reduce lending rates by 0.3-0.5 percentage point for existing customers.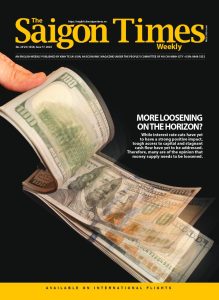 Lower lending rates enable businesses to reduce capital costs, particularly in industries with high net debt such as electricity, infrastructure construction, iron and steel, cement, real estate, and securities. Among these sectors, the securities industry stands to gain the most from lower input costs, improved market liquidity, and increased demand for margin lending as interest rates decline.
The recently approved National Power Development Plan VIII, which came into effect in mid-May, will significantly impact electricity stocks. Companies like PC1, FCN, and TV2 are expected to experience early benefits due to increased electrical construction and installation activities.
Renewable energy companies in leading positions are likely to have an advantage in the next phase of development in the electricity industry. Stocks such as POW, PGV, and TV2 are expected to attract investor interest.