After 40 years of its effort to become the "national brand" of multiple generations of Vietnamese customers, Thien Long has aimed to be a billion-dollar enterprise with corporate comprehensive digitalization.
Pen vendor's dream of producing made-in-Vietnam ballpoint pens
Talking about the history of the much-sought-after "National ballpoint pen", Co Gia Tho, founder and chairman of Thien Long Group, recalls that over 40 years ago, most ballpoint pens in Vietnam were imported from Thailand. Ballpoint pens were so scarce that many people refilled pens with ink for reuse. It was high time for a pen vendor like Co Gia Tho to pursue his dream of producing a made-in-Vietnam ballpoint pen at a small factory in District 6 in HCMC in 1981.
Years later, despite the brand gaining popularity, not all shops in HCMC sold Vietnamese products. They much preferred to sell imported items. As such, Tho and his partners took their made-in-Vietnam ballpoint pens to all provinces and cities in the Mekong Delta region, the central and northern regions for marketing. It was not until 1997 that the Thien Long brand dominated the ballpoint pen market thanks to its affordable prices, high quality and eye-catching designs.
Blue, black and red ballpoint pens with white stripes always lie in school bags of girls and boys across the country, becoming an indispensable icon when referring to the schoolhood.
Starting with ballpoint pens, Thien Long always tries to make positive changes and take the lead for new products in the local market. In 1994, Thien Long set up a team of engineers and experts for product research and development. In 2000, product innovation activities cost 3%-5% of the group's total revenue.
In 2020, in spite of the impact of the Covid-19 pandemic, Thien Long still reported a gross profit margin of 38.4%, higher than the average level in the 2016-2019 period. During the first half of 2021, the group's total revenue amounted to over VND1.4 trillion, up 27% year-on-year, while its after-tax profit reached VND176 billion, a tenfold increase from the same period last year, meeting 63% of its full-year target. The positive figures came from the group's efforts in business restructuring and digitalization that Thien Long has planned for several years and started to take action in 2020.
Digitalization to "reach out to the big sea"
Chairman Co Gia Tho says that what created strength for Thien Long Group to survive the Covid pandemic was manpower and systematic management strategy. Over the past few years, the group has also focused on the investment in production systems to form a great ecosystem to serve its operations.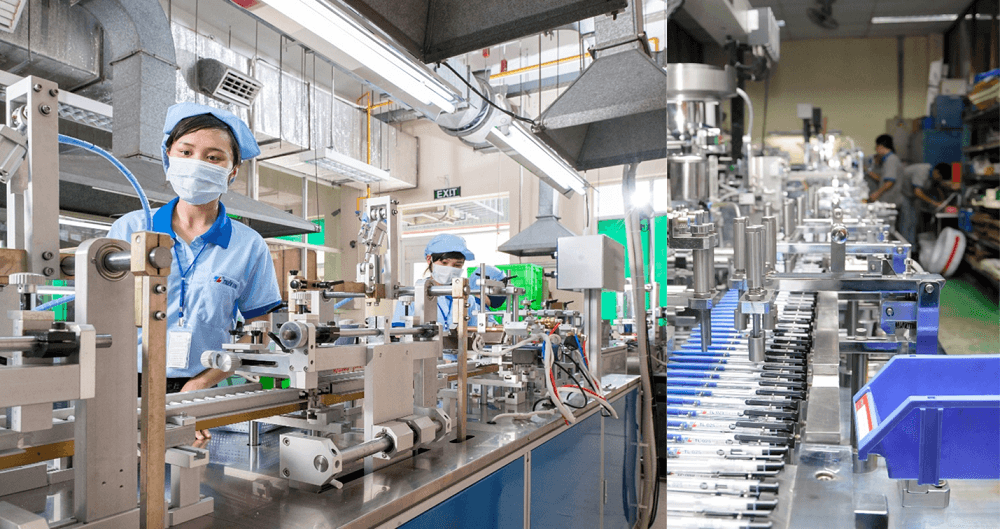 Aside from the strength of manpower, Thien Long has manufactured numerous machines and equipment to serve its production operations and boost design activities to replace imported ones and lower prices of products to improve competitiveness. As a result, Thien Long products, with various designs and meeting diverse purposes, are always sold at a reasonable price, thereby being considered as the "national brand."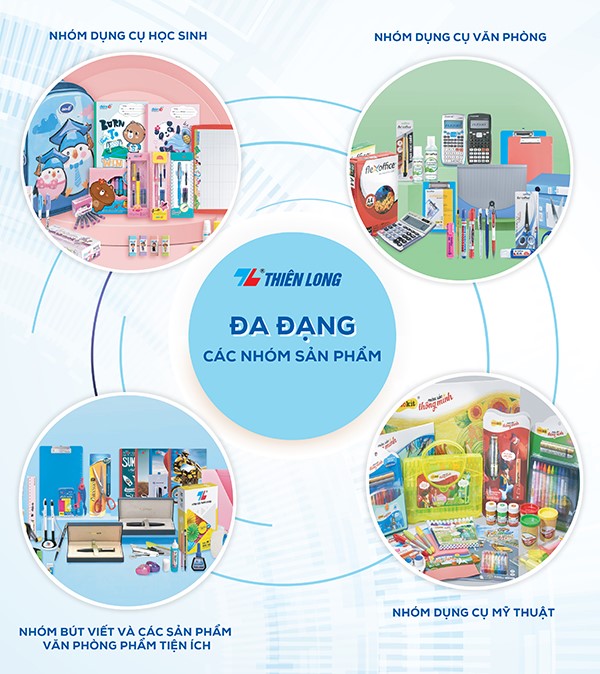 The "comprehensive digitalization," with an aim for the rapid and sustainable development in the new normal, has been concretized by Thien Long with a roadmap called "Comprehensive Digitalization in 2021 with a vision towards 2025" built by FPT Group, based on the FPT Digital Kaizen methodology, technology solution ecosystems, experience in digital transformation and experienced staff.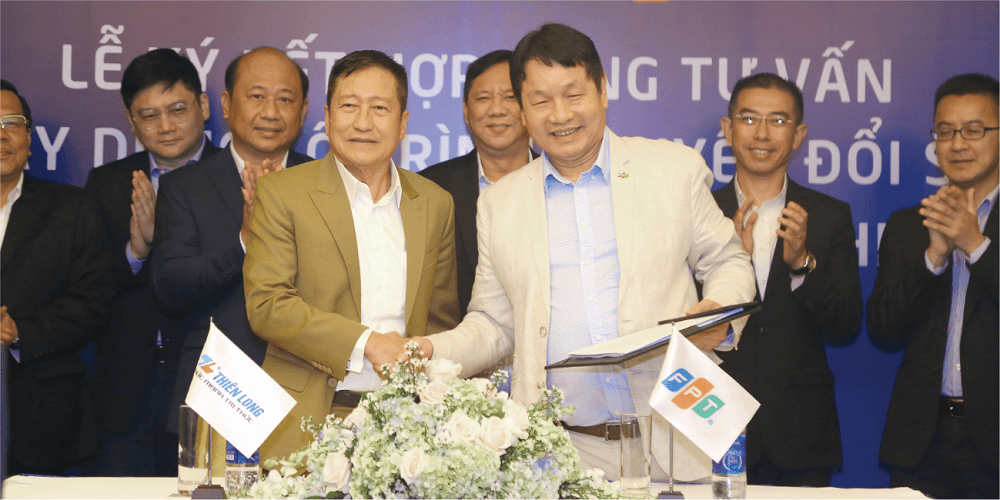 "The group has set a challenging target of VND10 trillion in revenue in the next five years. To achieve the target, Thien Long Group will take into account multiple factors, especially information technology. Technology capacity, practical experience and dynamic and highly-skilled employees are major factors in the decision to select FPT as its partner during the path to digitalization," says the Thien Long chairman.
At Thien Long Group, the digital transformation is also applied to social activities, including the Exam Season Support program, to provide candidates with practical support. The application of technology to the program also promotes the value of knowledge and digitalization of the group.
40 years old – the peak of Thien Long's "career"
A person, at the age of 40, certainly attains maturity and a solid position in society and money that makes many others admire. Four decades passed, and until now, the brand has got "mature" and "molted" to become a "giant" in the stationery industry, and an icon of ballpoint pen products.
Apart from conquering the local market, Thien Long has marked its milestone in its "outbound" journey. With hopes of bringing the crystallization of Vietnamese wisdom to the world, the group has stepped up export and expanded its reach to 67 nations, including all Southeast Asian countries and choosy markets such as the United States, Europe and Japan.
The good quality of its products and the brand's significant achievements are the result of dedication and clear development strategy that Thien Long Group is pursuing. Consistent with the stationery industry, Thien Long Group will continue its long-term journey to serve Vietnamese consumers.