VCCI has just announced Thien Long Group as one of the 100 sustainable businesses in Vietnam in 2021, marking the sixth consecutive year that Vietnam's leading stationery group has appeared in this prestigious list.
The "Corporates Sustainability Index" in Vietnam (referred to as CSI Program for short) is an annual activity organized by the Vietnam Chamber of Commerce and Industry (VCCI) in association with the Ministry of Labor, War Invalids and Social Affairs, the Ministry of Natural Resources and Environment, and the Vietnam General Confederation of Labor. 2021 is the 6th time the CSI Program takes place, and Thien Long Group has always been on this list ever since.
Despite the complicated pandemic situation, the CSI 2021 Program still attracted 600 applications from corporations of various scales and economic sectors. In the top 100, domestic enterprises accounted for 63% and foreign enterprises the balance. The organizers assessed that this shows the readiness, transformation and business adaptation in a sustainable direction of Vietnamese enterprises.
The Top 100 sustainable enterprises were selected for satisfying the CSI Index set by VCCI since 2014. According to the organizers, the CSI 2021 has 119 indicators including measurement of business performance, indicators on governance processes, indicators on environmental protection, and indicators on society.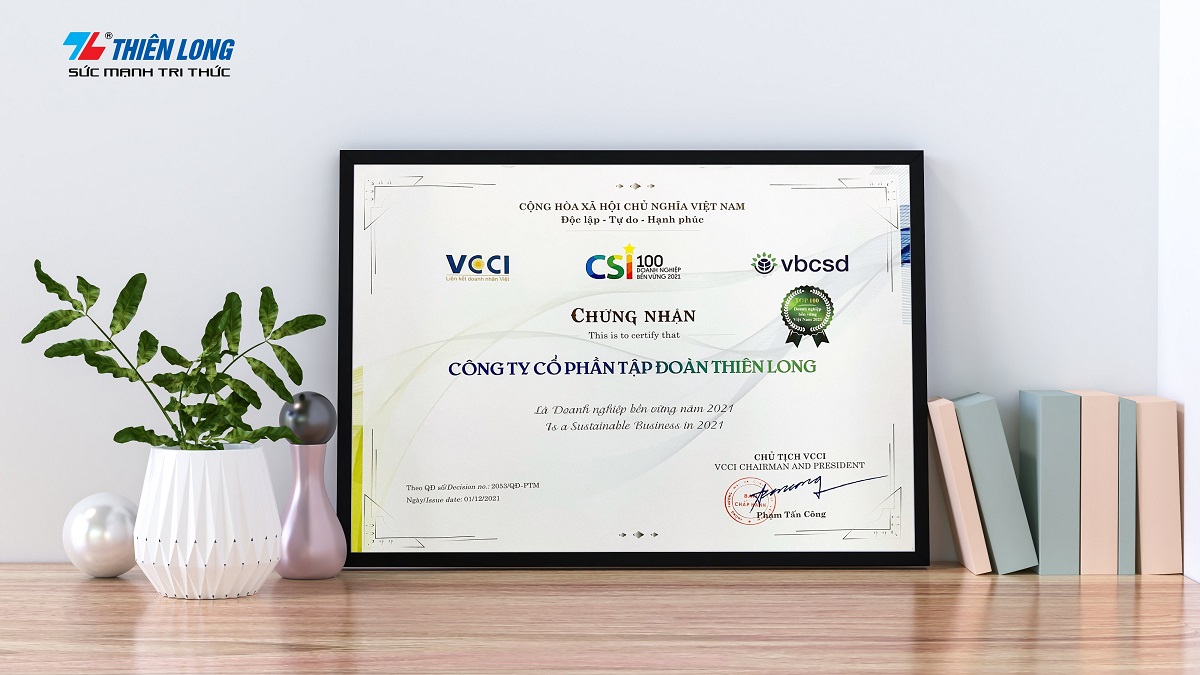 After many years of implementation, enterprises have considered the CSI as a set of tools to guide and measure business performance and compliance with the law in order to create conditions for them to manage risks and enhance their resilience as well as alignment with international practices.
In his keynote address at the Forum to encourage sustainable businesses in 2021, Deputy Prime Minister Vu Duc Dam affirmed that sustainable development has become an inevitable, irreversible trend and the business community plays an important role in the implementation of sustainable development strategies. The State and Government of Vietnam have integrated all sustainable development goals in strategies and action plans.
The representative of Thien Long said that being in the Top 100 sustainable enterprises in Vietnam in 2021 is the worthy recognition for Thien Long's efforts to pursue a comprehensive sustainable development strategy. For this 40-year-old stationery group, business growth goals cannot be separated from the sustainable development strategy. This group has concretized the important strategy with many effective actions.
In terms of governance, Thien Long is operating a comprehensive management integration system according to international standards to ensure the effectiveness and safety of products for all customers. Thien Long's product quality review process is highly strict at each stage before products are distributed to consumers.
Thien Long's products meet the world's advanced safety standards, including American standards like ASTM D4236, ASTM F-953, CPSIA, TPCH, and AP Seal; European standards such as REACH, CE Marking (EN71/ 1,2,3); and Vietnamese safety standards such as QCVN 03:2019/BKHCN.
This stationery group complies with the law on environmental protection and effectively applies an environmental management system according to international standards ISO 14001:2004. To protect the environment with specific actions, Thien Long implements many synchronous solutions to reuse materials, increase the use of friendly materials, control and treat waste and wastewater, monitor environmental protection, and invest in energy-saving technology among others.
Since 2018, Thien Long has invested in a solar energy system to reduce electricity costs, estimated to reduce about 220 tons of CO2 emitted into the environment.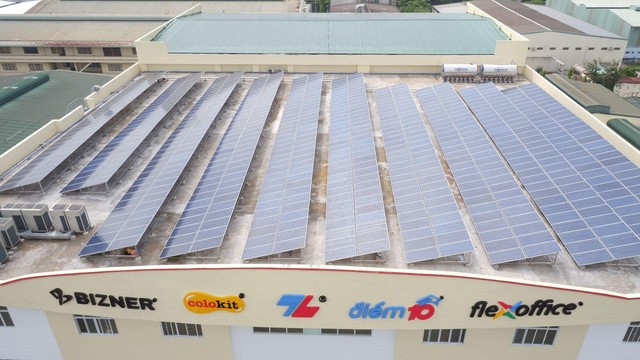 Thien Long also focuses on investing in human resources with a competitive welfare policy, and building a friendly and efficient working environment for more than 3,000 employees. At Thien Long, each employee is encouraged to "train themselves" as well as participate in many internal training courses to improve work efficiency.
The highlight of Thien Long's sustainable development strategy is its diligent journey to organize effective social programs and make practical contributions to the education sector. Every year since 2015, Thien Long has regularly organized three major social programs aimed at supporting the education sector, including Youth Knowledge for Education, Sharing with Teachers, and Exam Season Support. In 2020, for the first time, Thien Long organized the program "For Green Shades at School" to raise awareness about waste treatment – recycling for students.
Thanks to practical contributions to social programs, in November, Thien Long received the Third-class Labor Medal awarded by the State on the occasion of its 40th anniversary.
Thien Long Group was established in 1981 and has become the leading stationery group in Vietnam with five product lines serving a wide range of consumers and for export to 65 countries around the world.