HCMC – Tiki has been making the most of its advanced e-commerce technology to not only help farmers put Vietnamese farm produce on its e-commerce platform, targeting doing sustainable business, but also partly reduce costs for both sellers and buyers in the context that Covid-19 still exists while the cost of living is rising.
Digital transformation to support farm produce distribution
Putting Mekong Delta's farm produce on its e-commerce platform under the "From farm to fork" program and selling agricultural products without profits, paving the way for creating a sustainable digital distribution channel and improving incomes for farmers are some of outstanding programs that e-commerce business player Tiki has run to accompany farmers over the past years.
Specifically, in May 2021, the "From farm to fork" program, in collaboration with the HCMC Department of Industry and Trade, was kicked off, with sales of Ri6 durians and ST25 rice being livestreamed. The program quickly received lots of positive feedback from users. On the first day of the program, the e-commerce platform recorded the consumption of more than 2.5 tons of durians and two tons of rice, accounting for nearly 75% of the total orders via TikiNGON – Tiki's food unit.
Following that success, Tiki has then organized direct purchases of farm produce for sale through its retail unit Tiki Trading. This helped both cut down on the intermediary channels and optimize benefits for farmers. This was also the good way to support the distribution of agricultural products that was disrupted during the recent period of social distancing induced by Covid-19.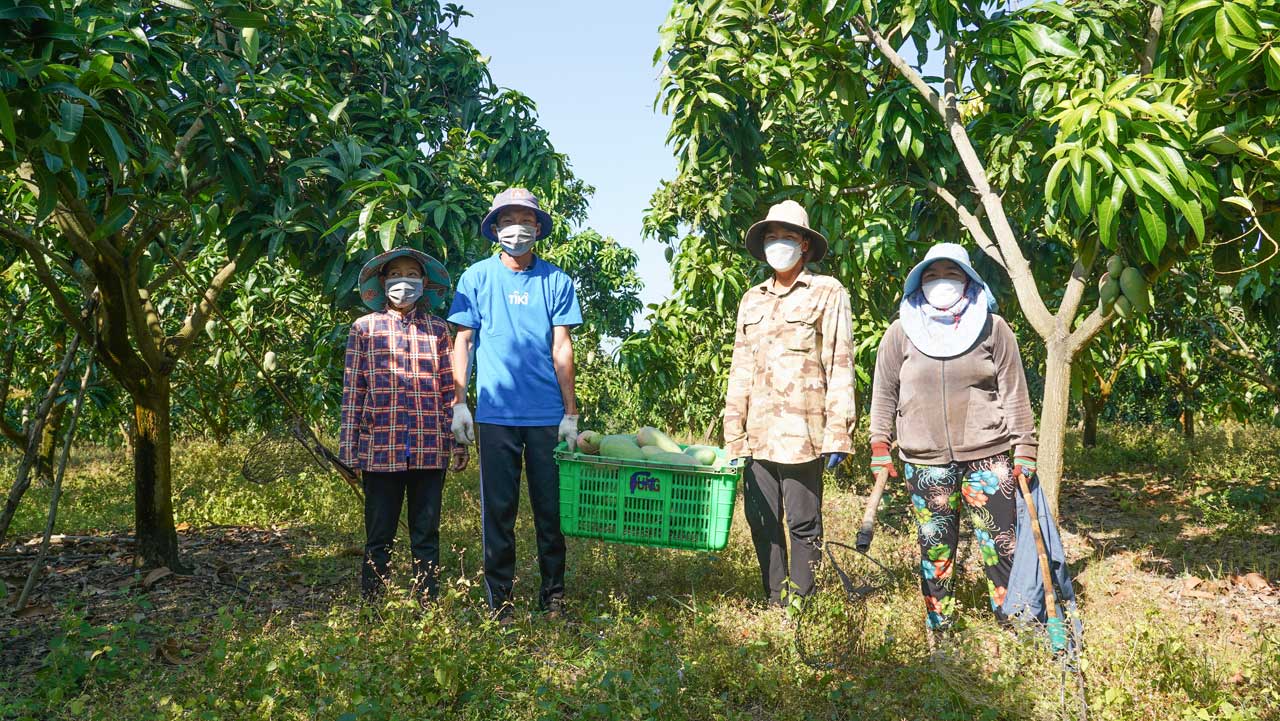 Earlier this year, Tiki also cooperated with the HCMC Department of Industry and Trade to implement another project to support local farmers. Under the program, titled A Warm Tet with Farmers, Tiki directly bought produce at the farm and committed to the nonprofit pricing policy when distributing products to consumers.
Statistics show that two days after launching the program, nearly eight tons of agricultural products were sold; and in total, 100 tons of fruits were consumed during the period of implementing the program.
"To Tiki, we realize that the 'rescue' of agricultural products is just a short-term solution. It is hard to completely solve the problem. Therefore, we are making efforts to accompany Vietnamese farmers in a sustainable manner. We believe that Vietnam's agricultural industry still has a lot of potential for development while Vietnamese people are also very open to domestic farm produce," said Nguyen Quach Nhi, Head of Tiki's consumer food unit.
Talking about this program, Bui Ta Hoang Vu, director of the HCMC Department of Industry and Trade, hopes that in the future, Tiki and the department can cooperate more closely to build up a sustainable digital distribution platform for farmers to stabilize the domestic farm produce market, creating positive effects on the country's agriculture.
Benefiting consumers through e-commerce
In addition to solutions to help farmers distribute agricultural products effectively, Tiki also makes use of its strength, e-commerce, to help reduce costs for sellers, buyers and consumers.
Since March, the Russia-Ukraine conflict has caused the prices of gasoline and many other commodities to surge, resulting in high inflationary pressure. In this situation, Tiki decided to cut delivery fees by 40%.
Nguyen Phuc Trong, Tiki's Data Analytics manager, said: "We are always managing to realize that commitment via annual investment worth tens of millions of dollars into the logistics system, technology and human resources."
Trong added that in the context of high fuel prices putting pressure on customers and partners and sellers, Tiki hopes that the decrease of delivery fees can partly help ease that burden, stabilize market prices and bring practical values ​​to Vietnamese consumers.
In April, the Tiki e-commerce platform updated the new sale fee schedules aimed at accompanying sellers, boosting sales, stimulating shopping and optimizing profits for stakeholders. Accordingly, the platform has adjusted the discount fees down by 30-70%.
Nguyen Thi Phuong Thao, Tiki's senior e-commerce platform operations manager, said that Tiki has so far continuously developed the system supporting sellers to help them operate more efficiently.
In addition to helping sellers and buyers cut costs, Tiki had previously applied e-commerce technology to help locals during the pandemic.
Specifically, last July, Tiki cooperated with the HCMC Department of Industry and Trade to run the program namely "Support Saigon, Tiki gives fresh products," committing to the supply of food and essential goods at stable prices. Hundreds of essential items including food, vegetables, fruits and necessities are on offer on the Tiki e-commerce platform at stable prices alongside other incentives such as free delivery, discount coupons and same-day fast delivery, applicable to some locations in HCMC.
"Besides helping ease the burden on the locals due to Covid-19 outbreak, Tiki hoped to join hands with the community to overcome that difficult time. This is also the mission that Tiki has always been striving for. That is using our platform to create more values for the community, improving the quality of life of Vietnamese people," said Vu Thi Nhat Linh, deputy general director of Tiki.
In the coming time, Tiki is expected to introduce more changes in operation to accompany corporate partners. The platform also pins a high hope that sellers will continue to support Tiki in the upcoming journey enhancing the customer service on its e-commerce platform.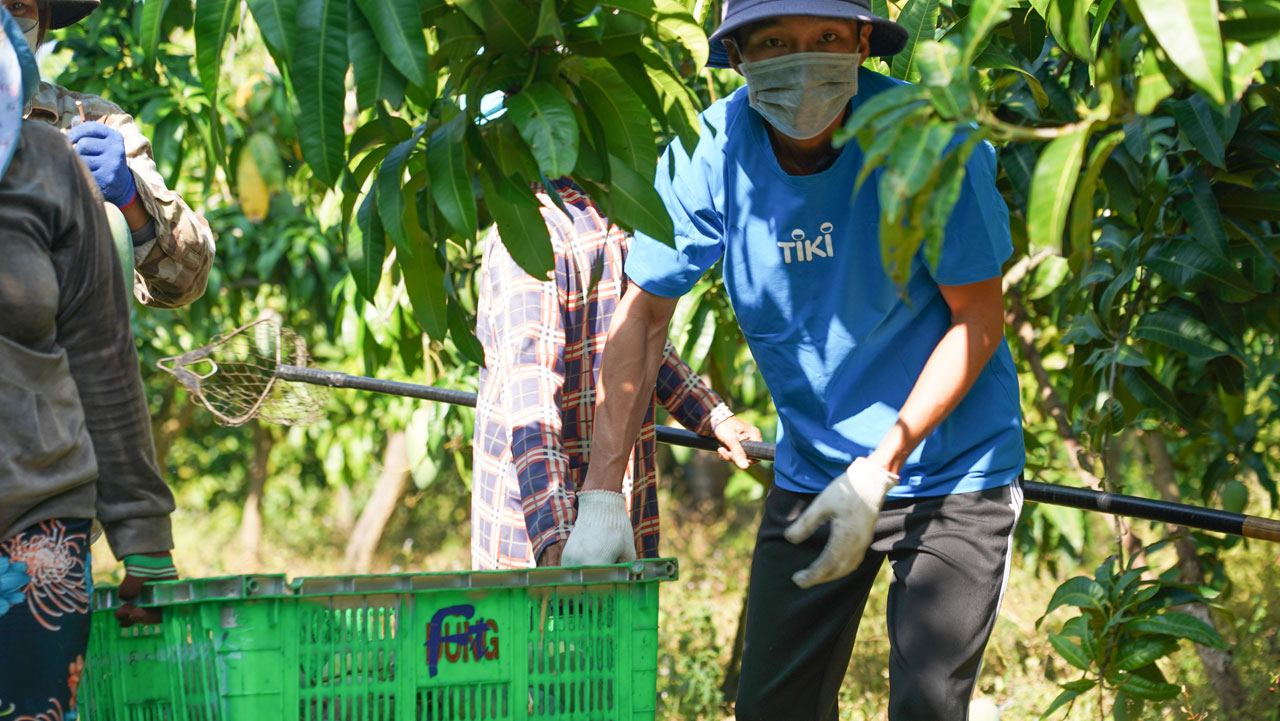 Tiki Hacking Trail 2022
From May to July, Tiki organized the Tiki Hackathon 2022 programming event to promote cutting-edge technology ideas, offering solutions to solve social problems with e-commerce technology. Tiki Hacking Trail 2022 is the tournament's main highlight.Overcoming some 100 teams, the BeanOi team with the project "Support to order food according to the desired timeframe" has officially become the new champion of the Tiki Hacking Trail 2022, winning the prize of more than VND200 million.Tran Ngoc Thai Son, CEO and founder of Tiki, said that the costs of technology development and operation are obstacles for businesses in digital development. That's why Tiki develops Tiki App to provide solutions, helping partners reduce costs when developing applications and services so that they can easily and quickly reach users.