Among an array of dedicated corporate social responsibility (CSR) programs that TNI King Coffee has implemented, the company attaches special importance to supporting women to build their own businesses, especially in the coffee industry.
The company has collaborated with the Vietnam Women's Union to carry out the entrepreneurship project "Women Can Do", aimed at assisting women who need to do business themselves.
According to Le Hoang Diep Thao, CEO of TNI King Coffee, "Women Can Do" is a 4.0 ecosystem in which women are enabled to exchange experiences and knowledge and learn from each other. The project is expected to connect 22 million women and support 100,000 women in starting their own businesses by 2025.
"The goal of setting up 100,000 small and medium enterprises after the Covid-19 crisis is considered the best solution for an early economic recovery and will create new jobs and reduce unemployment. The female participants will be starting with us from the smallest steps, and gradually we will grow and become bigger together," Thao said.
Through the project, the women will be able to receive financial support and specific guidance and be involved in a community to help each other.
Sharing about the motivation to launch "Women Can Do", Thao said: "I have thought long and hard about what I can contribute to the community, especially the women. I think of a livelihood for them to actively earn money, an opportunity to gain financial knowledge."
The CEO wants to inspire women to be strong and brave enough to step out of their own comfort zones to learn how to do business and to actively manage their finance.
"Over the past 20 years, I have traveled to many countries around the world, attended many international seminars, met with friends and partners domestically and internationally. I have found that everyone praises Vietnamese women as beautiful and excellent. I hope the roles they have played will be recognized and affirmed in a worthy way in the society," Thao shared.
Economic improvement is the most visible goal of this project. The project not only helps the women's family have a stable income, but also creates more resources for the society.
According to Thao, the most important thing for women to start up with coffee is that they have a passion for it. "Only with such a passion would you have the motivation that helps you surmount all obstacles in your way because the first step is the hardest. Cultivate yourself, dare to make a dream and share it together – that's all I expect from you when participating in this project," she said.
Besides "Women Can Do", TNI King Coffee has carried out many other CSR programs to contribute to the prosperity and sustainable development of the community.
In August 2021, TNI King Coffee launched the "Happy Farmers" project, with the mission to improve the living standards of Vietnamese farmers, stabilize their incomes and create more jobs for the farmers.
Happy Farmers is a project cherished by Diep Thao since she was very young, at just over 20 years old, with the desire for Vietnamese farmers to have better lives.
"Happy Farmers" was launched in response to the challenges brought about by drought, floods and Covid during the 2019-2020 harvest season. Farmers also suffered relatively low coffee prices, another issue this initiative aims to reverse.
"The project encompasses our desire to help the people of the Central Highlands learn new techniques in production, stabilize farming and ensure social security, subsidize the purchase prices, and increase the economic benefits of the coffee farming segment," Thao said.
Moreover, TNI King Coffee has provided clothes for underprivileged children in remote areas of the Central Highlands, donated coffee products, face masks, personal protective equipment and medical supplies to medical facilities, quarantine centers and field hospitals during the Covid pandemic, and granted scholarships to poor students.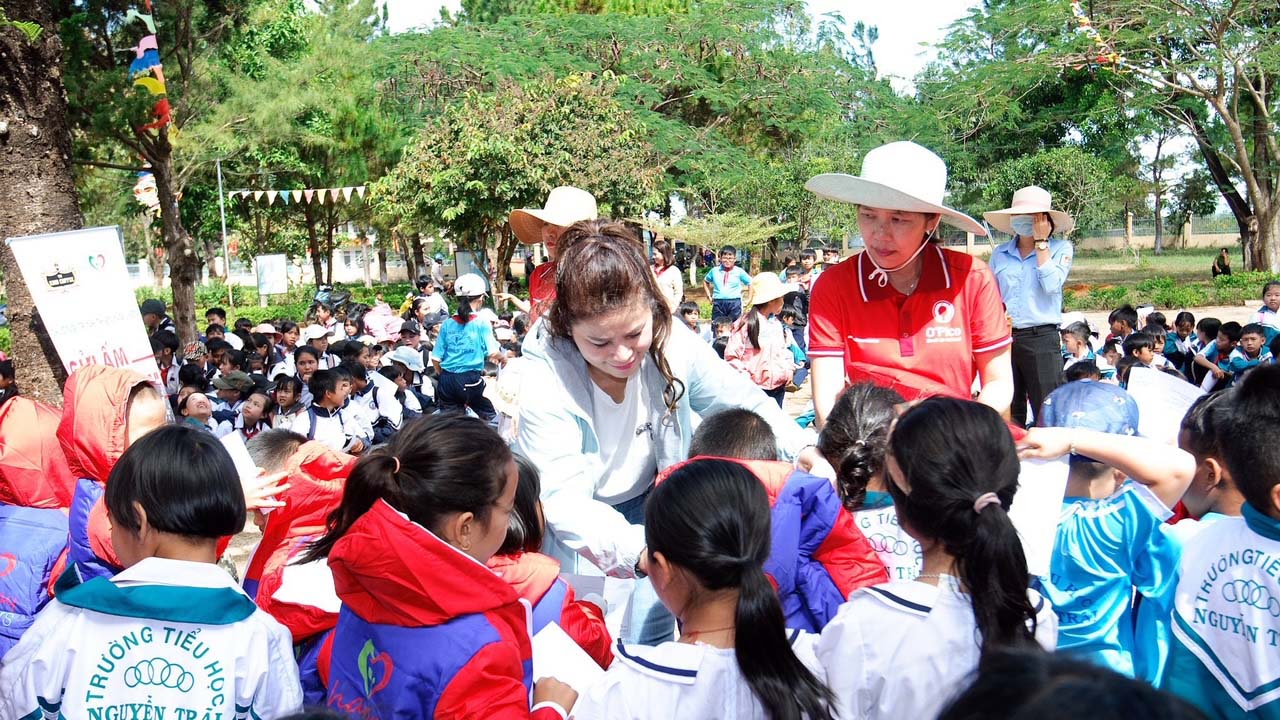 "Creating sustainable social and economic values for the community is the goal that TNI King Coffee will head towards in the coming years. Our company expects to collaborate with partners and organizations to carry out more CSR programs and bring about more benefits for the society," Diep Thao said.