HCMC – The United Nations Population Fund (UNFPA) on December 15 handed over medical supplies and personal protective equipment worth a total of US$450,000 to 21 Vietnamese localities, including Hanoi and HCMC, to assist them in the fight against the Covid-19 pandemic.
Beneficiaries include health facilities, medical staff, voluntary caregivers, and the community Covid prevention task forces to protect pregnant women, older persons and women and girls at risk of domestic violence.
The medical supplies aim at ensuring the rights and safety of vulnerable population groups in the country and the continuous delivery of quality services on sexual and reproductive health, elderly care and gender-based violence amid Covid.
According to Naomi Kitahara, UNFPA Representative in Vietnam, the Covid pandemic has turned disastrous for women and children facing violence and discrimination.
She cited a study of the UNFPA as showing that nearly two-thirds (62.9%) of women in Vietnam experienced at least one or more types of violence in their lifetime by their husbands.
In the context of the complicated developments of the Covid pandemic, the situation has become even worse as the number of calls reporting domestic violence cases to the UNFPA-supported hotline has doubled.
"UNFPA's aid demonstrates its commitment to accompanying the Vietnamese Government and providing services vital to reproductive health, sexual health and social support, as well as preventing and responding to gender-based violence," Kitahara said.
According to Dinh Anh Tuan, deputy director of the Department of Maternal and Child Health under the Ministry of Health, this is the fifth donation by the UNFPA to support Vietnam in maternal and child health amid the Covid pandemic, with total donations amounting to nearly US$1 million.
The UNFPA has also supported the Directorate of Vocational Education and Training under the Ministry of Labor, Invalids and Social Affairs to develop online comprehensive sexuality education for students at vocational education and training institutions, officially launched on December 16.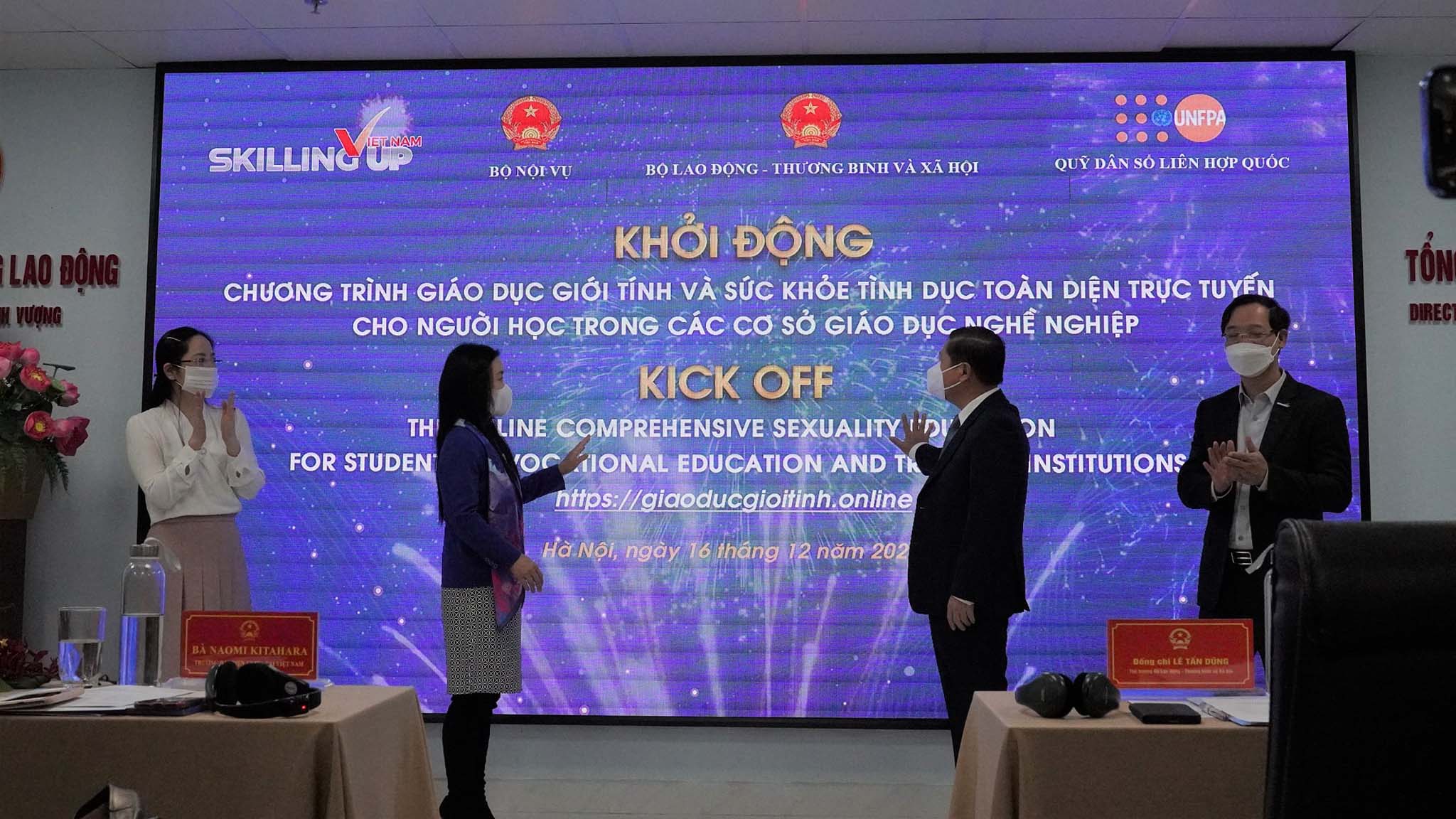 Available at giaoducgioitinh.online, this self-learning program is composed of 50 sessions and has been designed to increase young people's access to essential information and knowledge about sexual and reproductive health, prevention of sexually transmitted infections, as well as gender equality and the prevention of gender-based violence.
"UNFPA is confident that the online self-learning program with essential information and knowledge on sexuality and reproductive health and life skills will benefit not only young vocational learners, but all young people in Vietnam," UNFPA Representative in Vietnam Naomi Kitahara said at the launch ceremony of the program.
"Equipping young people with essential knowledge is to empower them, and to shape their lives in the way they want. That means we can reduce the risk of adolescents and youth developing harmful behaviors, while promoting positive, protective actions and attitudes."
Le Tan Dung, Deputy Minister of Labor, Invalids and Social Affairs, said, "It is extremely important to equip students of vocational education and training facilities with information and knowledge about sexual and reproductive health, life skills and HIV/AIDS."