Businesses are striving in the "race to zero", which aims at no pollutants such as greenhouse gases and plastic waste to be discharged into the environment. This not only means corporate responsibilities for the environment and society, but also underpins the long-term development of the business itself.
Unilever is one of the pioneers in this "race to zero" in Vietnam.
In 2020, the business set out the target of net zero carbon emissions value chain by 2039 to tackle climate change.
On this journey, Unilever has conducted a specific action plan for each and every year. In 2023, the business continues to maintain the net zero carbon emissions operations through green energies like biomass, solar power, etc., as well as influence and support their partners in the value chain to build capacity to work on zero emissions commitment.
Besides GHG reduction, Unilever Vietnam also contributes to "positive carbon" through the tree planting program by OMO. Each year, OMO will plant 200,000 trees towards the goal of one million trees by 2025.
Additionally, the FMCG company aims at the goal of net zero plastic waste in the environment by recycling 75% of packaging in 2023, reducing virgin plastic use by 87% plus post-consumer recycled (PCR) plastic inclusion, and collecting and processing more plastic than that used for their products sold onto the market.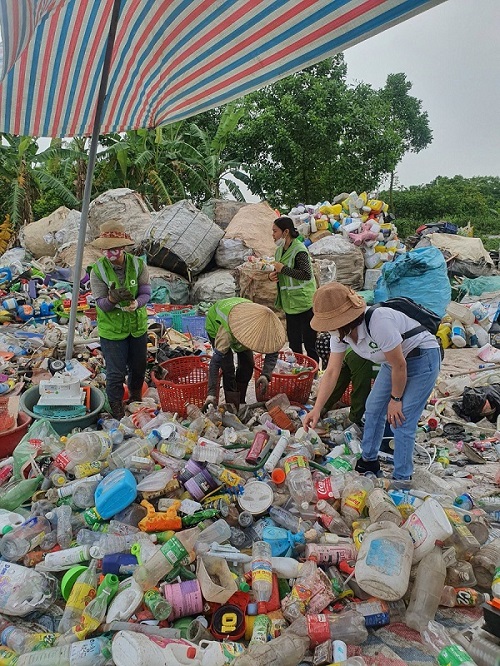 The Circular Economy model will be the key driver for the company's determination to bring plastic back to its cycle. A practical Waste Segregation at Source, and education and communications program to change behavior among the community with larger scale plays a crucial role for plastic waste collection and recycling to facilitate the post-consumer recycled plastic inclusion in Unilever Vietnam's product packaging. This model requires the collaboration from their business units and like-minded partners.
Unilever Vietnam Head of Communications and Corporate Affairs shared about the role of sustainable business model: "Consumers have an intention of advocating and purchasing products from brands that create a positive impact on the society and the environment. Working towards the sustainable development motivates our business to drive product innovation for not only sustainability but the product quality and value as well. Additionally, in the long term, it is cost saving that businesses can benefit from the sustainable business model, particularly the energy cost reduction. And a business adopting the sustainable development more motivates and retains trust of their employees, as well as proves advantageous in the talent war as high-quality talent – particularly for the young one – are seeking employment with purpose-led companies where they can have a positive impact on issues related to the environment, society, and people that they care about."