The prolonged pandemic has greatly affected the wellbeing and mental health of the people living in Ho Chi Minh City, including children of school age. Understanding this, in the past two weeks, Vietnam Australia International School (VAS) has organized 11 online sharing sessions for more than 6,000 students in grades 3-12 with the participation of VAS education experts, and social activists discussing about the topic "Renovation based on true values".
The talks gave students a new perspective on life in reality, and at the same time suggested solutions to help them flexibly improvise and overcome challenges to continue pursuing their goals with their own values.
The concerns of the young generation
Surprisingly, more than 70% of the questions posed by students aged 8-18 during the talks are about the impact of the pandemic on themselves, the world around them and recovery solutions. "I'm really impressed with the depth of their sharing. Sometimes, while talking to the children, I forgot that we were discussing such topics like how the world would recover from Covid-19, the fuel crisis in the world today, how to "live in every moment" to figure out our passion… when they're only 9-10 years old," said Nguyen Da Quyen, co-founder of Lại Đây Refill Station, a familiar speaker of VAS Talks.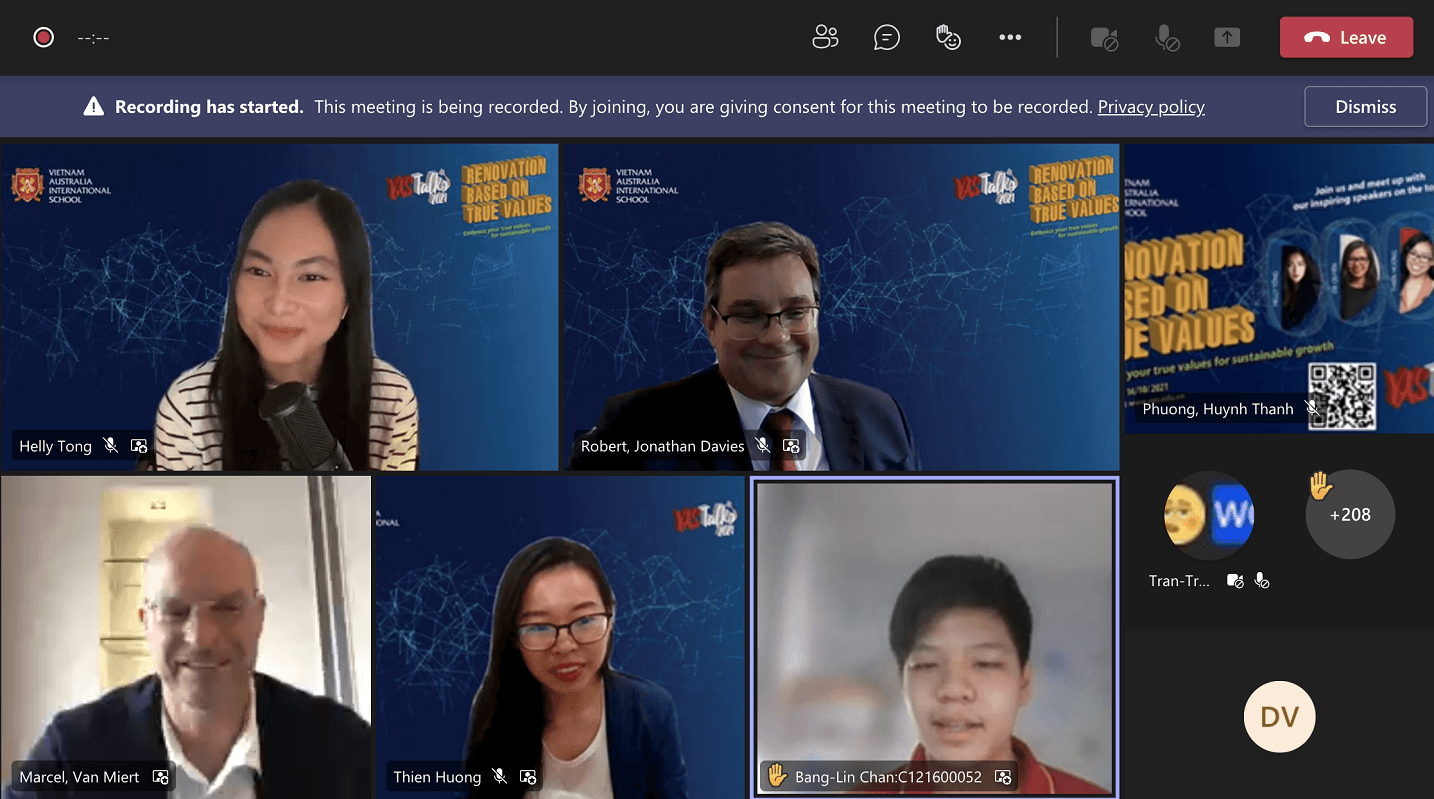 In particular, many students talked about the effects of Covid-19 on their lives and mentality, especially the feelings of being isolated and confused after 4 months of social distancing. Marcel van Miert, Executive Chairman of VAS, responded: "It is during this difficult period that children need to stay connected with themselves, with family, friends and with reality. Be well aware that you are not isolated in your oasis and abandoned from the outside world. Take the time to have in-depth conversations with families or friends, teachers… about reality, about what to do, about future plans. It's a way of keeping us close together and connected to life."
A compass to find our true values
Besides education experts who are senior managers of VAS system and campuses, VAS Talks 2021 also has the participation of Ms. Nguyen Da Quyen, co-founder of Lai Day Refill station, Ms. Le Nguyen Thien Huong, co-founder of Save Son Doong, Ms. Helly Tong, founder of The Yen Concept, and MC Hieu Vo. The speakers are all familiar faces who have been sharing with VAS students for the past 3 years, from the theme "Green School Year" to "Sustainable Development", and now "Renovation based on true values".
In response to the questions and concerns of the students, this year's topic was shared at the right time considered by the speakers. "It is like a compass to help students navigate and find out their own direction, cultivating the alpha-gen Z students with simple but useful tools to apply in the current "multi-dimensional" world which is full of fluctuations, uncertainties, complexity, and ambiguity," Ms. Da Quyen said.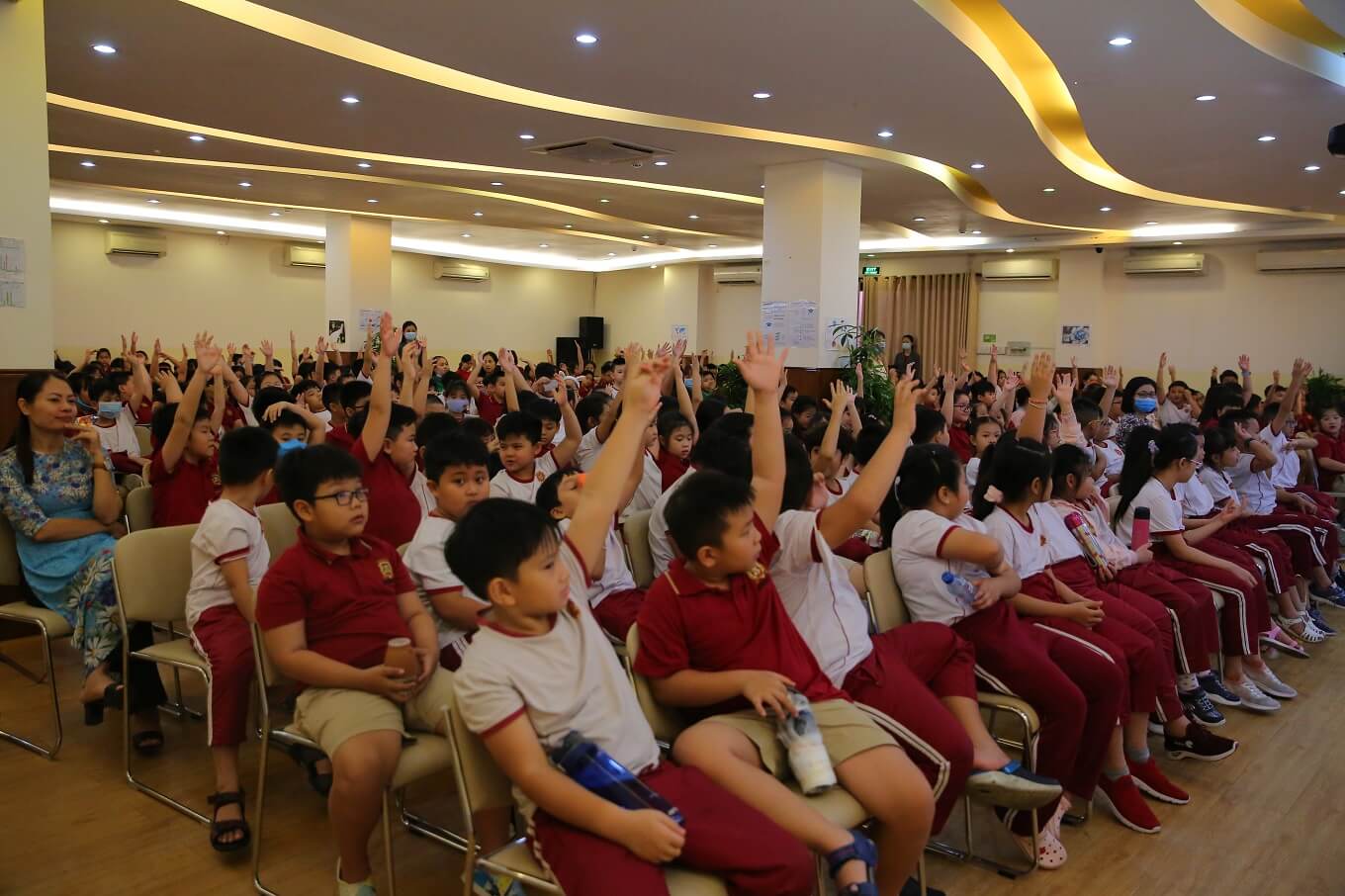 Renovating themselves at an early age also helps students to locate their behaviors and make choices that are coming from their true values, helping them come closer and closer to their "truth-goodness", and have a clearer, more confident voice in the future. "At the same time, in situations with many turning points on the journey of self-study, understanding your values ​​early on will help you have an overview of why it is necessary to renovate, and innovate to live up to your own mission, in any context, society, or where you live," said Ms. Helly Tong.
Empowering and having faith in the young generation
Also said Ms. Helly Tong: "Regarding the social contributions or solutions, in the current century, the age matter and age gap seems to be blurred. So in addition to creating an environment to help children access the information about social issues in early ages, I believe that modern education reform, as VAS has brought in this event as an example, this has left many open doors for students. By doing so, we are creating a firm foundation for students to discover their curiosity, encouraging them to be part of the solution for personal voices and changes."
In addition, perhaps each of us adults also needs to "renovate" our relationship with the children, and start right from respecting them and listening carefully to things they may not know how to put into words concisely. Each generation, each age will have different core values, and the best thing we can do is respect the differences, and absolutely do not impose them. In this way, they will soon find "true value" for themselves, be their original self and be brave "pilots" who can face reality, flexibly adapt to overcome the storms and challenges in life, and persevere in the journey to be happy, loved, positive, kind and living a valuable life, Ms. Da Quyen concluded.
VAS is still continuing to enroll students for the 2021-2022 school year in 3 learning pathways of Intensive English programme (CEP), Bilingual programme (CAP) and Fully Integrated programme (CAPI). Find out more about international education programs and enrollment incentives at VAS at https://www.vas.edu.vn or via hotline 0911 26 77 55.