Three awards of "Top in the World" and "Top in Vietnam" from Cambridge, 1,256 awards at all levels, nearly VND60 billion in study abroad scholarships… are the impressive achievements of students at Vietnam Australia International School (VAS) in the school year 2022-2023.
The school of Outstanding Cambridge Learner Awards

In 2022, VAS students were honored with a "Top in the world" award as well as two "Top in Vietnam" awards by Cambridge Assessment International Education (CAIE) for achieving the highest score globally in Mathematics, and the highest score in Vietnam in Business and "English as a Second Language" in the IGCSE exam.
These prestigious awards are designed to celebrate and recognise exceptional learner achievement across the globe, as well as in individual countries, in the annual Cambridge examinations that are uniformly organized across 13,000 Cambridge international schools in 170 countries worldwide.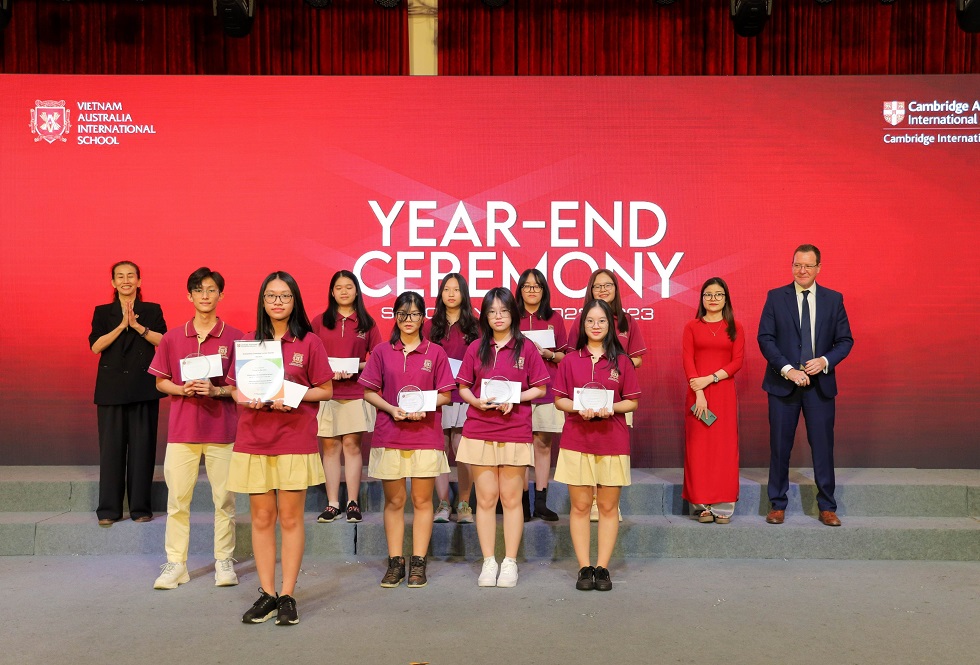 VAS students concluded the academic year with impressive results in the Cambridge programme across all learning pathways. In the Cambridge Academic Programme (CAP) and Cambridge Academic Programme International (CAPI) pathways, between 25% to 41% of students attained 3 to 4 A-A* grades (Good to Excellence score), depending on each level of education. 38% of students in grades 2-12 achieved A-A* grades in English in the Cambridge English Programme (CEP) pathway. Additionally, 61% of grade 11 and 12 students earned a score of 6.0 or higher in the IELTS exam. Significantly, all these accomplishments were superior to the previous year's achievements, with a notable 11% increase in students achieving 4 A-A* grades in IGCSE subjects.
This is a strong foundation for nearly 1,600 VAS students to continue to maintain their leading position in the next 2023 Cambridge academic exams, including Primary/Secondary Checkpoint, IGCSE and AS/A Level exams.
Having over a decade of experience in implementing the Cambridge international education programme in Vietnam, VAS is currently one of the leading international schools in HCMC in terms of the number of students taking part in the annual Cambridge academic exams.
Nearly VND60 billion in study abroad scholarships and "secrets" to the success of VAS students
By the end of May 2023, VAS had nearly 30 students who won over 65 international study abroad scholarships worth nearly VND60 billion from prestigious universities in the UK, the U.S., Australia, the Netherlands, Switzerland and Vietnam. The number of scholarships increased by 30% compared to the 2021-2022 school year and is still increasing.
It is worth noting that several VAS students received multiple scholarships, with Nguyen Ngoc Minh Thao (Grade 12, VAS Riverside) securing an impressive 10 scholarships. Many other students also deserve recognition for obtaining 3-5 scholarships. Furthermore, several Grades 8-11 students also earned valuable scholarships, such as Nguyen Hai Dang (Grade 8, VAS Sala) who obtained 5 scholarships, Nguyen Duc Vinh (Grade 10, VAS Garden Hills), and Tran Do Minh Uyen (Grade 11, VAS Ba Thang Hai).
"Having high IGCSE and A Level score, as well as participating in extracurricular activities, are important factors," Hoang Thao Nhi (Grade 12, VAS Ba Thang Hai) shared the secret to winning four U.S. scholarships worth US$183,000 and achieving impressive results with an IELTS score of 8.5 and an SAT score of 1520/1600 on the first try.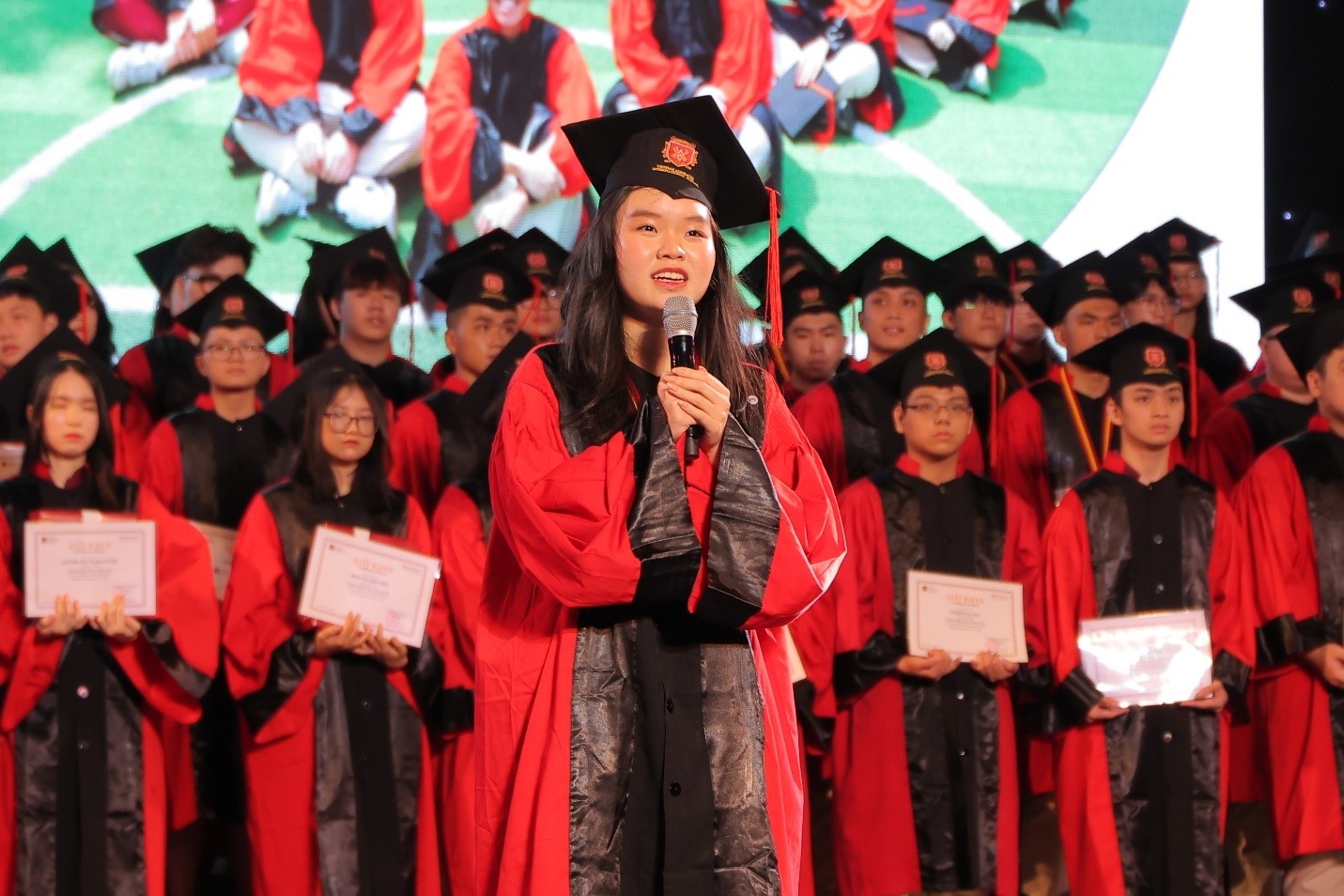 Nhi stated that certain subjects, such as English as a first language and Further Maths in the IGCSE and A-Level programs, have provided her with significant advantages. "Furthermore, spending a lot of time communicating with foreign teachers at school has also helped me achieve a high score in the IELTS exam," said Nhi.
Nguyen Binh Minh Tri (VAS Ba Thang Hai), a grade-12 student who was awarded two scholarships to study in Australia, stressed the importance of extracurricular activities in a student's profile. "Not only does VAS offer a beneficial learning environment, but it also provides avenues for me to gain valuable experience and develop skills needed to be a global citizen," noted Tri. Additionally, he emphasized that these opportunities have helped him better himself and become eligible for various scholarships.
VAS Parents: Surprised that their children excel not only in English
In the school year 2022-2023, VAS students also received a total of 1,256 awards in academic and talent competitions at all levels, more than 2.6 times higher than last year. These included 102 international awards, 326 national awards, 327 city-level awards, and 502 district-level awards, all of which were 2-3 times higher than in 2021-2022.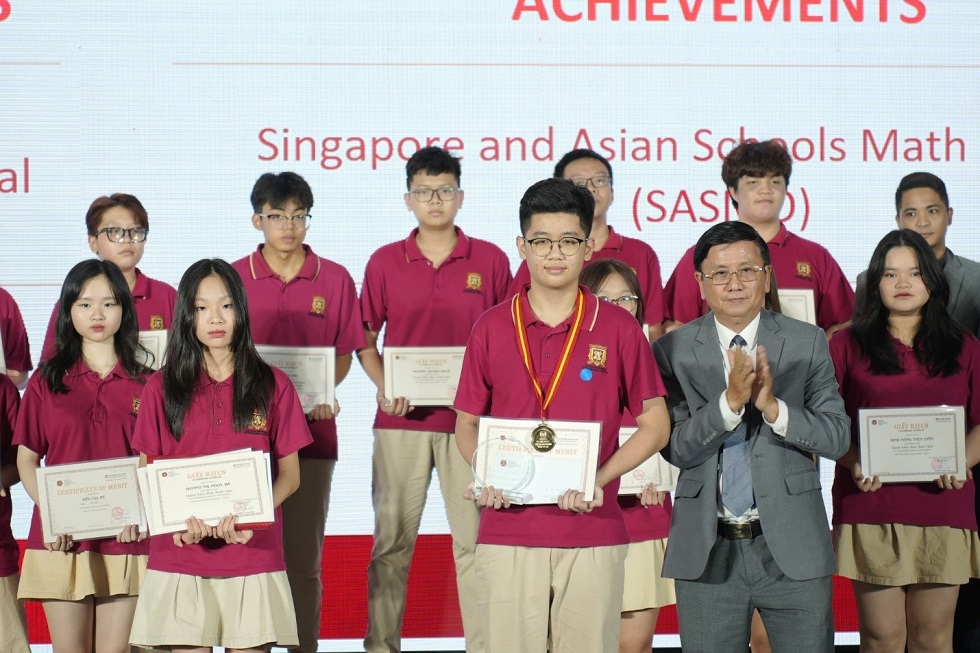 "Our family was very surprised when Gia Hung won the second prize in Chemistry at the city level, because people often think that students in international schools do not follow the national education curriculum. This award shows that VAS not only teaches English and life skills for children well but also teaches Vietnamese subjects very well. We are very happy and satisfied," said Chau Luong Xuan, mother of Nguyen Gia Hung (Grade 9) and Nguyen Gia Toan (Grade 7), sharing her emotions during VAS's graduation ceremony.
Mr. Nguyen Ngoc Truong, the father of both boys, also expressed his delight upon hearing that Gia Hung achieved an impressive score of 8.0 on the IELTS exam, while Gia Toan participated in the World Scholar's Cup and won several awards as part of his team. He added that his family was excited about their children's holistic development, not only in academics but also in their physical and mental growth. "They are becoming more compassionate towards others, developing social skills, and displaying a greater appreciation for their community," he said.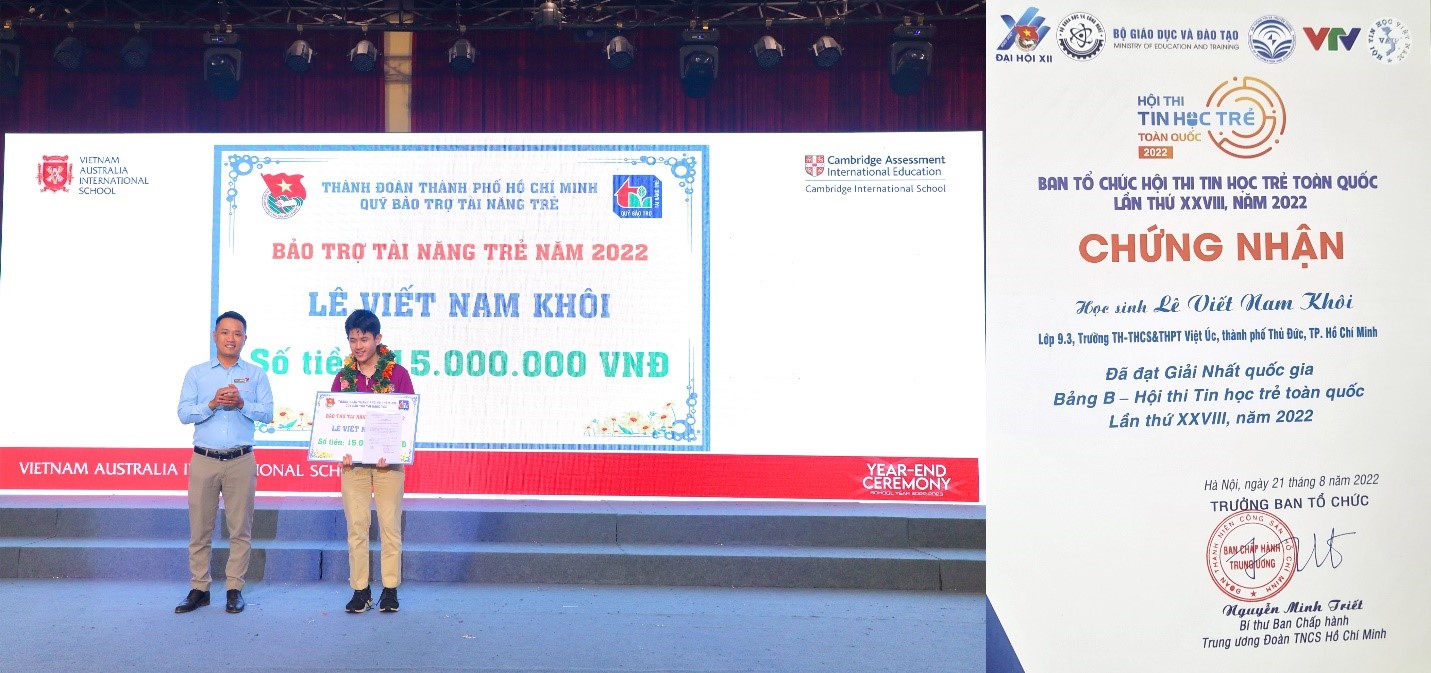 Learn about the Cambridge international academic pathways, VAS international school fees, and receive enrollment incentives up to VND30 million at: www.vas.edu.vn or 0911 26 77 55.