HCMC – Vietnamese leaders today, September 29, met with Cuban Prime Minister Manuel Marrero Cruz, who is in Vietnam for an official friendship visit at the invitation of Prime Minister Pham Minh Chinh, reported the Vietnam News Agency.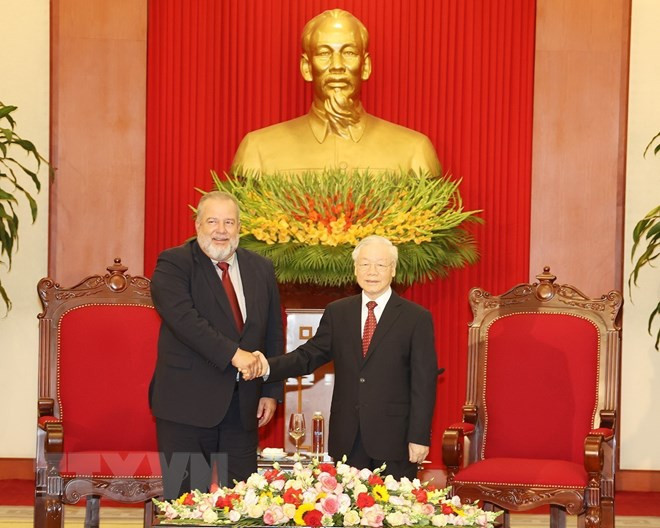 Prime Minister Pham Minh Chinh hosted an official welcome ceremony for his Cuban counterpart Manuel Marrero Cruz.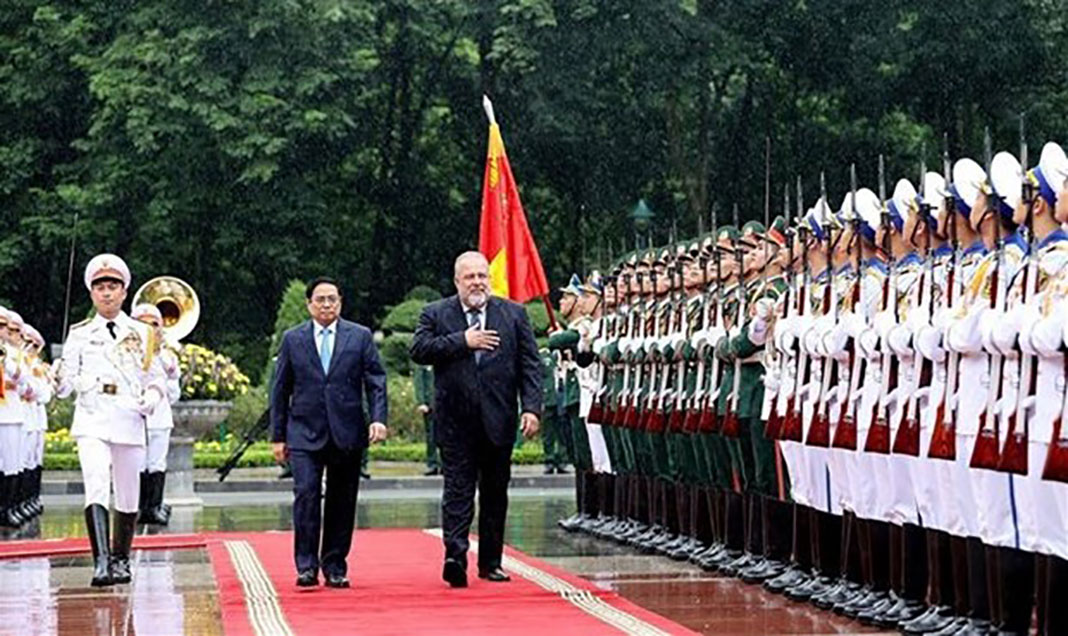 The visit will help promote the implementation of the agreements reached by the two countries' leaders and develop Vietnam-Cuba special ties, manifesting the determination to further tighten the loyal friendship and solidarity, mutual trust and comprehensive cooperation between the two Parties, States, Governments and peoples.
Today the Cuban PM witnessed the signing of cooperation agreements between the two countries, and will fly to HCMC for a visit.
This is Manuel Marrero Cruz's first visit to a country outside Latin America since he took office in December 2019, and also the first to Vietnam by a Cuban leader since 2018.
Welcoming Prime Minister Manuel Marrero Cruz and the Cuban government delegation at the Party Central Committee headquarters, Party General Secretary Nguyen Phu Trong said that his Vietnam visit will contribute to deepening the special traditional friendship between the two nations.
Expressing his admiration for the great achievements Vietnam has made over the years, the Cuban PM said the achievements and experiences of Vietnam are an important source of encouragement and reference for Cuba.
On the same day, President Nguyen Xuan Phuc received PM Manuel Marrero Cruz.
President Phuc expressed his sympathy with Cuba over the recent fuel-depot fire that caused great losses for the country. Vietnam will continue to support Cuba within its capacity, said the President.
Phuc suggested that the two countries coordinate in implementing dialogue and cooperation mechanisms between the two Parties and States; promoting people-to-people exchanges; and that Cuba create favorable conditions for Vietnamese investors in the country.
At the National Assembly headquarters, National Assembly Chairman Vuong Dinh Hue warmly welcomed PM Manuel Marrero Cruz.
Chairman Hue affirmed that the National Assembly and people of Vietnam attached great importance to the special cooperative relationship between the two countries.