Viettel will accelerate its mobile coverage over MerryLand Quy Nhon and Hai Giang Peninsula, including the onshore section, in order to ensure optimum connectivity for residents, tourists and clients of the project.
On August 12, representatives of Viettel Group's management board paid a working visit to Hung Thinh Corporation's MerryLand Quy Nhon and projects which Hung Thinh is implementing on Hai Giang Peninsula and Nhon Hoi economic zone in Quy Nhon, Binh Dinh.
Joining the visit were Lieutenant General Nguyen Thanh Nam, Secretary of the military-run group's Party Committee cum Deputy General Director, and the general directors of affiliated companies of Viettel Group.
During the visit, the Viettel Group leaders expressed their impression on the scale and the future development of MerryLand Quy Nhon peninsula city.
These days, tourists and clients are flocking in droves to projects and musical fountain square, which shows the attraction of MerryLand Quy Nhon in particular and the beautiful beach city in general. Quy Nhon is tapping its high potential to become a new destination of Vietnam and the world.
In order to satisfy the rapid development demand of the local tourism and ensure the optimum connectivity for tourists and clients to MerryLand Quy Nhon, Viettel Group together with its affiliates will accelerate 4G-mobile coverage over the entire project, at the same time expanding the coverage over surrounding areas on Hai Giang Peninsula, including onshore areas surrounding MerryLand Quy Nhon to help tourists, clients and residents get connected around the clock.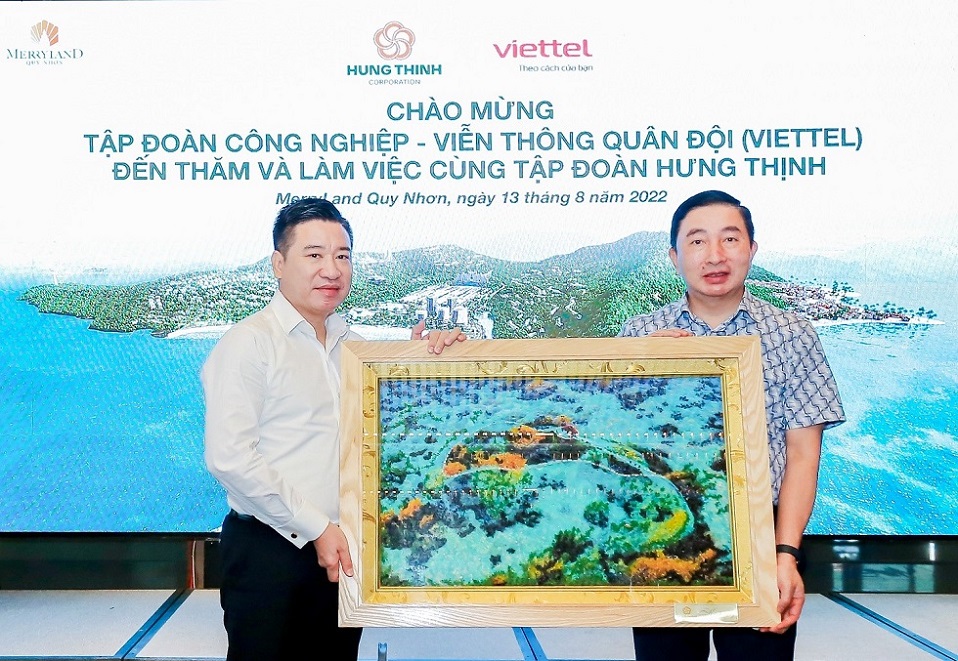 In the coming time, Hung Thinh Group and Viettel Group will coordinate to install base transceiver stations at MerryLand Quy Nhon and to implement Smart Home, Smart City solutions in order to maximize the benefits for clients at MerryLand Quy Nhon and at the same time create more added values for the project.
In the future, Viettel is expected to research and develop 5G network coverage over Quy Nhon. With ultra-high speed, low latency and extremely high connection density, the new-generation mobile network will create a great mobile infrastructure foundation and strong leap for socio-economic development of Quy Nhon.
On the basis of the strategic cooperation agreement between Hung Thinh and Viettel Group signed on May 25, 2022, the two parties are realizing cooperation contents in many fields, including the construction of telecommunications infrastructure and technology of Smart Home, Smart City for MerryLand Quy Nhon before expanding their cooperation into other fields which Quy Nhon has huge advantages to develop in the future.