Despite the adverse effects caused by the Covid-19 pandemic, export sales of Vietnam's woodwork industry have climbed. Presently, enterprises in this sector are stepping up their production pace to fulfill year-end orders already signed for the last months of this year and the first half of 2022. However, the remaining challenges are still tough.
Statistics obtained from the Vietnam Timber and Forest Product Association (Viforest) show that during the first nine months of this year, Vietnam's woodwork production earned US$10.76 billion, a surge of 30.5% from the year-earlier period. Of this amount, the American market accounted for more than a half of the industry's total export value, reaching US$6.5 billion and posting a 40.5% growth rate. It was followed by other markets whose growth was high, such as China (reaching US$1.13 billion and a growth rate of 23.4%) and Japan (more than US$1 billion and a growth rate of 11.7%). Some other markets also saw a two-digit surge, like the European Union, South Korea, Britain and Canada.
The pandemic has changed how the people work and live. According to corporate leaders, consumers have actively shopped for furniture and equipment so that they can maintain their work from home and the current life. The new situation has enabled the wood processing and manufacturing industry—particularly woodwork products used for offices, living rooms and dining rooms—to generate high growth.
Notably, the U.S. market has sustained a high growth rate because American households taking advantage of low interest rates have built new houses or repaired their residences.
Over the past few months, many countries have step by step removed social distancing measures and lockdowns to resume production. As a result, many woodwork enterprises in the furniture sector have boosted their production for export.
To execute export contracts, enterprises in the field have accumulated materials in order to meet the new conditions in production models and transactions.
Nguyen Minh Nhat, director of Nhat Nam, a company whose main business is to produce plywood, says prior to the lockdown imposed during the fourth wave of Covid-19, his company had built a contingency plan to ensure production. For instance, the company outsourced the transportation phase so that it could be isolated from the factory. Nhat Nam also stored enough materials for production lasting from three to five months, said Mr. Nhat.
According to Nguyen Chanh Phuong, vice chairman of the Handicraft and Wood Industry Association of HCMC (HAWA), almost all its members are currently clinching orders which help them sustain production until March of 2022 or even next June. Of the more than HAWA 600 members, some 95% have resumed operations to ensure timely deliveries.
Likewise, Dien Quang Hiep, chairman of the Binh Duong Furniture Association (BIFA), says the majority of woodwork enterprises in the province have resumed production. Mr. Hiep adds that prior to the lockdown, they had built plans for a comeback as many orders were placed.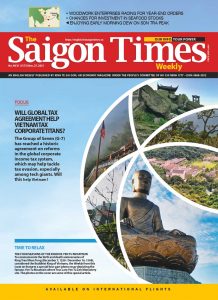 Difficulties still abound
Not all is rosy, though. There are also tough challenges. To woodwork businesses, the first to contend with is the price hike of materials and accessories, which have been on the rise since the second half of 2020. Furthermore, exorbitant transportation fees and the acute shortage of empty containers have become significant hurdles in the logistics of the woodwork industry.
Many players in the field say the inadequate input of wood materials and rising prices are the hardest nuts to crack although orders from the U.S. and Japan keep coming in.
Le Minh Thien, chairman of the Binh Dinh Wood and Forestry Product Association, maintains that production of the province's woodwork enterprises may remain stable till the end of this year. That said, materials and accessories continue to be formidable challenges as prices are soaring, he says. As many of the firms have signed contracts which will last until March or April of next year, they have to bear the rising costs.
Yet some have come up with solutions to the problem of prohibitive prices of materials and accessories. For instance, Square Roots has formulated a price strategy to help customers be aware of the reasons why its offers have been at higher prices. Meanwhile, Nhat Nam company tries its best to retain its current prices but requests customers to pay for their orders as soon as possible to share the burden.
Another challenge: labor shortage
Woodwork enterprises also face another problem. They are lacking workers, especially highly skilled technicians and experienced staff members. Surveys show that the labor force in the woodwork sector has been reduced by 18% after the lockdown. Up to 43% of the respondents in polls said they faced difficulties in recruiting workers.
At Nhat Nam, says Nguyen Minh Nhat, 60% of its previous work force have returned but the company needs more. In addition to urgent recruitments of new workers, Nhat Nam has provided support for returning employees. To boost production, the company has bought more equipment and machinery in order to raise productivity and quality. The production line has also been grouped into teams so that they can be tackled easily should infections occur.
Justin Wheatcroft, director of Square Roots, says some 85% of the company's work force has returned to the factory, and 5% will come back after they have obtained their vaccine certificates. The missing part of 10% will be recruited.
Meanwhile, Dien Quang Hiep from BIFA says he is worried pandemic fighting efforts in localities may adversely affect the return of workers.
Le Xuan Quang, chairman of the Handicraft and Wood Industry Association of Dong Nai Province, agrees to what Mr. Hiep says. According to Mr. Quang, the recent massive homecoming of migrant workers has exposed shortcomings in currently effective social welfare policies in Vietnam's economic hubs. "There are many cases in which workers who have worked here in urban centers or industrial parks for more than a decade and they still have to stay in rented houses," he explains.
The situation, contends Mr. Quang, means in the planning for industrial parks, aside from the area for factories and warehouses, both local authorities and corporate leaders should pay more attention to housing, which will inspire workers to stay.
Representatives of woodwork enterprises have also petitioned that the healthcare sectors as well as local governments should be more consistent with their procedures for handling emergency, including infections. More support from local authorities is needed, such as the establishment of labor exchanges and better and more feasible social welfare policies.