There is still a long way to go before the Vietnamese economy can expect a significant rebound, according to HSBC experts.
While the economy showed some weaknesses, Vietnam's services sector emerged as a bright spot, partially offsetting the overall situation. Retail sales in May increased by 11.5% compared to the previous year, raising hopes for a resurgence in domestic consumption.
The performance of the economy continued to rely heavily on tourism-related activities, with accommodation, food, and beverage sales experiencing a surge of 12.1% compared to the same period in 2022. The arrival of approximately 916,000 foreign visitors in May, accounting for 70% of the pre-pandemic levels seen in 2019, has boosted optimism. In the first five months of the year, international arrivals reached around 4.6 million, representing 60% of the full-year target of eight million.
Between January and April, inbound tourism revenues amounted to VND196,600 billion, with South Korea leading as the largest source market with one million tourist arrivals during this period. The United States and China followed closely in second and third place, with Thailand, Taiwan, Japan, Malaysia, Cambodia, Australia, and India also contributing to the numbers.
Notably, the influx of Chinese travelers has provided momentum for the recovery of Vietnam's tourism industry, with 147,000 tourist arrivals from China in May alone. This increase is attributed to Vietnamese authorities' efforts in restoring direct flights with China, reaching nearly half the level recorded in 2019.
In the upcoming summer holidays, the tourism industry is expected to gain further traction with potential easing of Vietnam's visa regulations. The proposal currently under consideration by the ongoing National Assembly's fifth sitting includes extending the validity of e-visas to 90 days (from the current 30 days) with single or multiple entries, as well as increasing the duration of visa-free stays for international tourists from 15 days to 45 days. Additionally, Vietnam plans to expand the list of countries and territories eligible for e-visa issuance, aiming to attract more international guests.
However, the sluggish manufacturing sector has cast a shadow over the country's growth outlook, with the index of industrial production falling by 19.4% year-on-year. Imports experienced a significant decline of 18.3% compared to May 2022, while exports fell by 5.8% year-on-year due to ongoing challenges across various sectors.
The major industries such as electronics, machinery, textiles and footwear, and wooden furniture did not witness a notable rebound. Although the decline was than in previous months, export obstacles continue to hinder Vietnam's growth prospects. As of April 2023, Vietnam has experienced substantial declines in shipments to its three largest exporting markets: the U.S., China, and the European Union. Economists have expressed concerns about potential risks to Vietnam's economic resilience due to a recession in the U.S.
Nevertheless, these results have been somewhat beneficial to Vietnam's trade surplus, which reached US$2.2 billion in May. The improving trade balance has contributed to the stability of the Vietnamese dong currency, despite the recent strong rally of the U.S. dollar.
Experts have warned, however, of a sluggish rebound in future exports. Given Vietnam's import-intensive manufacturing sector, the current trade surplus may mask the challenges posed by shrinking import activities, which have become more apparent in recent months.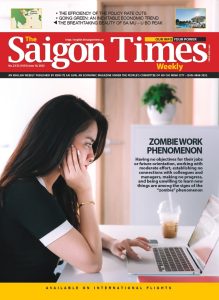 On a positive note, inflation has been falling. Headline inflation remained relatively stable in May, hovering at 2.4% compared to the same period last year. This stability played a key role in the State Bank of Vietnam's (SBV) recent rate cuts. Although housing and building materials costs increased by 1% from April due to rising energy prices, a 3% reduction in transportation costs helped mitigate the risks of persistent inflation.
Experts have observed that while inflation has consistently moderated thanks to lower oil prices, core inflation remains high and persistent. The index representing long-term pricing changes has already reached the SBV's 2023 ceiling of 4.5% year-on-year.
Analysts suggest that Vietnam has yet to hit bottom amid intensifying external challenges. Therefore, a close watch is needed as sluggish external conditions continue to be the pressing issue affecting Vietnam's economic growth in the coming months.