In the branded residence market with extraordinary growth rate of 230% over the past 10 years, YOO Inspired by Starck – under the creative direction of Philippe Starck – takes the top position.
Perhaps the best-known and most influential of contemporary designers, Philippe Starck is driven by his concern for the planet and his vision of a better world. He believes that creation – in whatever form it takes – must improve the lives of as many people as possible. A free spirit, he is renowned for the depth and breadth of this talent.
With over 10,000 creations – completed or yet to come – from speakers to chandeliers, motorcycles to mega-yachts, Starck seems to have done it all. The hotels he has designed have attained a cult-like status. His everyday objects are, in their way, no less spectacular than his fabulous interiors.
Consistent with the mission of bringing a better life, the products created by Philippe Starck have always been a desire of the global public. Starck designs houses, hotels and restaurants like the same way directors make movies. He develops a script that takes people away from the monotony of daily life into the world of creativity and imagination.
A true market leader
With his unlimited creative and design talents, Starck teamed up with leading real estate developer John Hitchcox to form the YOO brand in 1999. After more than 20 years of development, YOO has become the largest residential and hotel design brand in the world with more than 85 projects in 36 countries.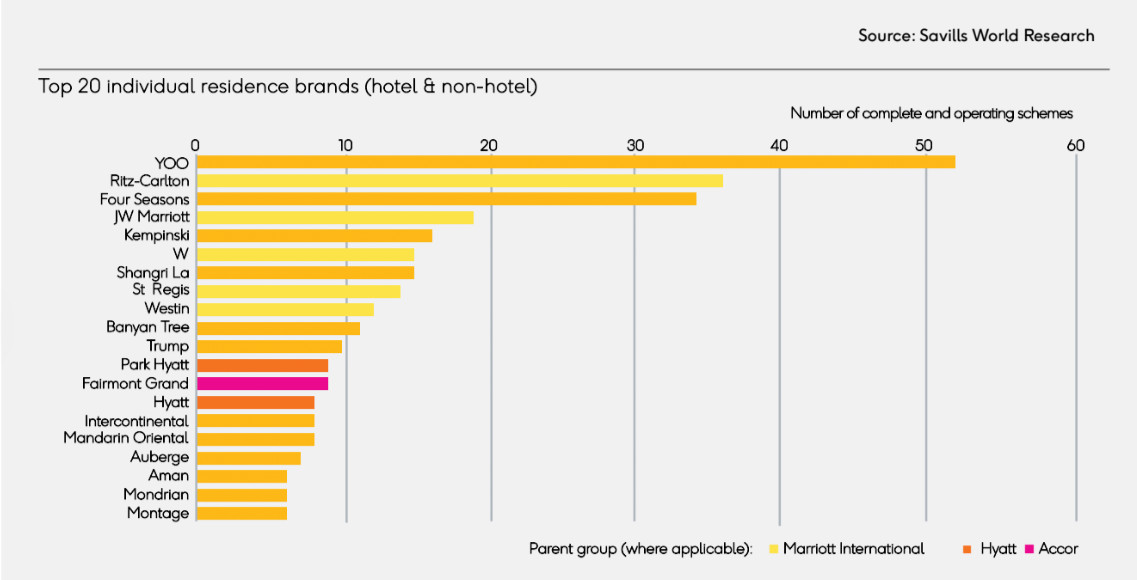 Particularly in the global "non-hotelier" branded residence sector, YOO is the pioneering brand and accounts for the largest market share, with 72% of complete schemes. While many new "non-hotelier" brands are continuously entering, which made the total market share rise from 16% in 2010 to 28% in 2020, and is expected to reach 40% in 2025, YOO is still in the leading position.
Accounting for nearly half of the projects at YOO, YOO Inspired by Starck is always favored by customers seeking creative, timeless and elegant offering, such as: Khun by YOO (Thailand), YOO Cumbayá (Ecuador), G By YOO (Istanbul, Turkey), YOO Montreal (Canada), YOO Berlin (Germany), YOO Pune (India), YOO NW8 (London, UK), YOO Punta Del Este (Uruguay), Icon Vallarta (Mexico)…
In 2021, surpassing famous names in "non-hotelier" branded residences such as Trump, Falrmont, Six Senses… YOO Inspired by Starck along with The Ritz-Carlton and Four Seasons took the Top 3 (according to Savills report). In an earlier announcement also by Savills, YOO Inspired by Starck was in the first position in 2020 with a high number of completed and pipeline schemes outstanding from other brands. YOO Inspired by Starck is the top favorite brand in Europe, Latin America and Asia Pacific.
YOO Inspired by Starck's first design project in Vietnam
Marking first appearance in the Vietnamese market, YOO Inspired by Starck has chosen to cooperate with a fantastic development partner – Hung Thinh Corporation. The collection of artistic villas in the Hollywood Hills subdivision of MerryLand Quy Nhon (Quy Nhon, Binh Dinh) will be the next project to be proudly featured in YOO's portfolio.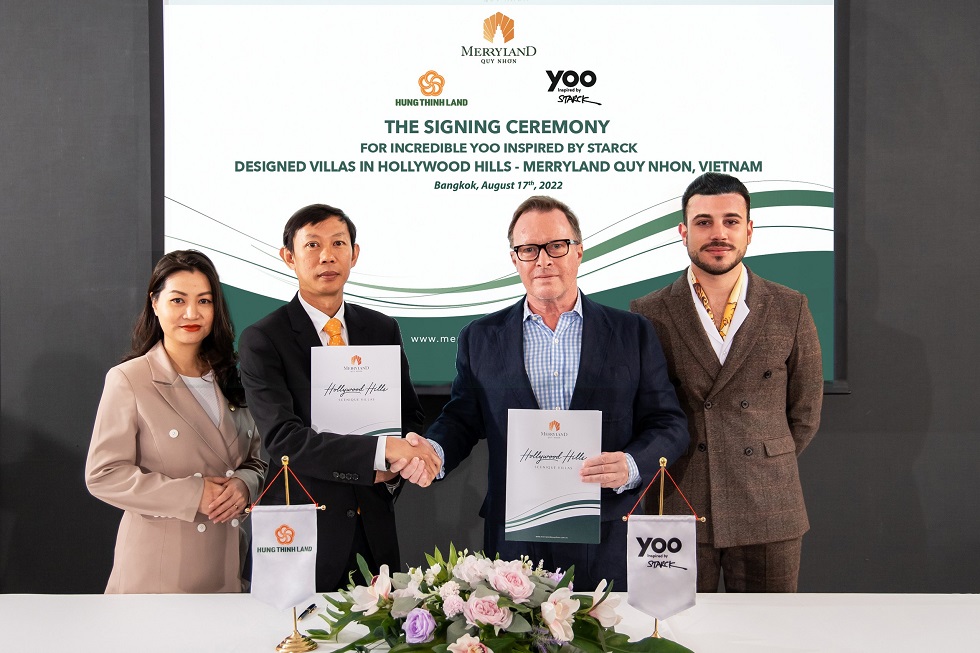 Rich Millar, Vice President of Business Development Asia Pacific for YOO, said: "Starck loves Vietnam very much. When we introduced the project to Starck and showed him what could be done on this beautiful hillside, Starck fully agreed. Exquisite villas with stunning ocean views will be the perfect greetings from YOO Inspired by Starck to Vietnamese investors. I think they gonna be shocked, surprised and delighted."

The elegant and sophistcated villa collection from YOO Inspired by Starck will "extend" the portfolio of masterpieces in MerryLand Quy Nhon, worthy of being a legacy that represents outstanding values and a new high standard of living in Vietnam.