On March 19, the HCMC Youth Union held a ceremony to launch the Green Sunday campaign for 2023 and implement the "Saigon – the river of my city" program to clean up this river, starting with dredging Rach Lang 2 (a canal section of Xuyen Tam Canal) and cleaning up the section of the North-South Railway in HCMC's Binh Thanh and Go Vap districts.
Over 1,000 members of the youth unions of Binh Thanh and Go Vap districts and young volunteers have registered to dredge Rach Lang 2. After the launching ceremony, hundreds of young people began dredging the canal section that runs 1.5 kilometers through Ward 5 (Go Vap District) and Ward 13 (Binh Thanh District) and was seriously polluted for years.
Young men raked trash and common water hyacinth from the canal onto the bank for young women to cut them into pieces, put them in bags or tie them into bundles to be carried to dumpsites.
As part of the Green Sunday campaign, the city's Youth Union members also planted 1,000 trees and cleaned up the section in Binh Thanh and Go Vap districts of the trans-Viet railway. The youth unions of HCMC's Thu Duc City and 21 districts also dredged polluted canals and tidied up 22 places filled with waste around the city on this day, reported thanhnien.vn.
Renting house to welcome homeless people
In an attempt to help old, homeless people, last year, Thanh Hai, a teacher, Minh Son and Vuong Anh, who are both university students, rented a four-story house in an alley in Dong Da District, Hanoi, as a shelter for such needy people.
Hai told vnexpress.net that after many times supplying free meals to homeless people around the capital city, he realized that what these people really need is a home to come back in the evening, especially on cold, rainy days.
Learning about Hai's intention to offer a shelter for those in need, Son and Anh wanted to lend a hand to materialize this project. In end-2022, they spent all their savings renting the house and asked for used furniture, mats, blankets and so on from donors to open a shelter for old, homeless people on the condition that they had to quit begging and had to return to the shelter before 11 p.m.
The trio have to spend some VND10 million a month paying the house rental, power and water charges, and rice and food for three old men living there. To have the money, Hai works for a ride-hailing firm in his spare time, while Son and Anh do part-time jobs out of their school time.
From waste to unique and valuable models
Lai Minh Tri, a 31-year-old resident of Can Tho City, is widely known for creating unique and valuable models with scrap.
The idea of using cans to make eco-friendly toys came up when he was in middle school. He switched from mechanical engineering at Can Tho Vocational College to graphic design to pursue his passion and started making toys from cans in 2019.
"The Vespa and Mobylette models were my first products, but they took me quite a lot of time to complete," he told the news site thanhnien.vn.
After four years of diligent research, Tri created over 50 toy models with prices ranging from VND50,000 to VND400,000 or even tens of millions of Vietnamese dongs. 
One of his most impressive products is the model of the Hanoi Opera House. It was meticulously crafted and closely resembled the actual building in size, ornamentation and architecture.
A silent launderette in Dong Nai Province
Situated in a small alley on Vo Thi Sau Street, Bien Hoa City, the three-story launderette opened by Tran Nguyen Thao Mai, 29, has left a lasting impression on customers as its staff is deaf and mute.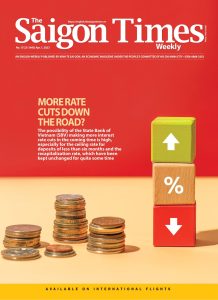 "We communicate with each other through sign language – hand gestures, eye contact, smiles and nods," Mai said in an interview with vnexpress.net.
She started running her first special launderette in Hanoi in September 2022 and opened the second one in Dong Nai. 
The staff members received specialized training on cleaning and restoring branded shoes and bags for a month and got used to their jobs in three months. 
At first, customers were quite hesitant when they discovered the cleaning workers were deaf and mute. Some even refused to use the service or sat and watched the workers perform their job. However, over 70% of customers returned to the shop after getting familiar with the staff. Some customers even used body language, gestures and movements to communicate with the staff.