As the global plastics industry is gradually shifting toward sustainable production, another revolution is taking place among plastic businesses – the "green" revolution. The rapid transition to eco-friendly products along with green production and consumption promotion policies is motivating global plastic manufacturers to map out their development strategies for the future.
As a leading plastic group in Vietnam with an ecosystem of 15 member companies closely following the core business of plastic, An Phat Holdings (ticker symbol, or stock code: APH) has found a new direction with a strategic move: Building Southeast Asia's largest green material manufacturing plant.
In an exclusive interview recently, Mr. Dinh Xuan Cuong, Vice Chairman and Chief Executive Officer of An Phat Holdings, has shared APH's development strategy.
From the decision to launch a key project in "the COVID Year"…
Why did APH choose 2021 – a difficult time for the Vietnamese and global economies – to build this large-scale plant? Is this considered a risky "move" of APH?
– The green development trend has been emerging for years and is increasingly popular in many countries with policies to protect the environment, reduce plastic waste, and prioritize the development of green and clean materials. Right now, we realize that the global green material market is in a flourishing phase although there is a shortage in supply compared to actual demand. However, it is expected that in the next 3-5 years, environmentally friendly products will dominate the market and gradually replace traditional products.
Besides, when embarking on any new project, we carefully consider 3 basic factors: Firstly, identifying the sector and products which are trendy and potential; secondly, a substantial profit must be estimated; thirdly, the market size should be large enough. At present, APH's management board and I realize that this project is satisfying the three above factors, so there is no reason for us to delay. I understand that in this project, APH will be the pioneer in Vietnam, so there will certainly be many challenges, but in return, the chance of success is also greater.
Is this the reason why APH decided to increase the scale of the PBAT material manufacturing plant from a capacity of 20,000 tons to 30,000 tons?
– Currently, APH is providing the market with more than 100,000 tons of products per year. In 2019, we exported green products to 5 countries, and by 2020 this number has quadrupled. In Vietnam alone, we believe that if only a part of the traditional packaging product market is converted to biodegradable resins (polybutylene adipate terephthalate- PBAT), the upcoming plant will be just enough to meet domestic production needs. With an output of 30,000 tons, the market will be able to consume all of APH's output after the plant comes into operation for one year.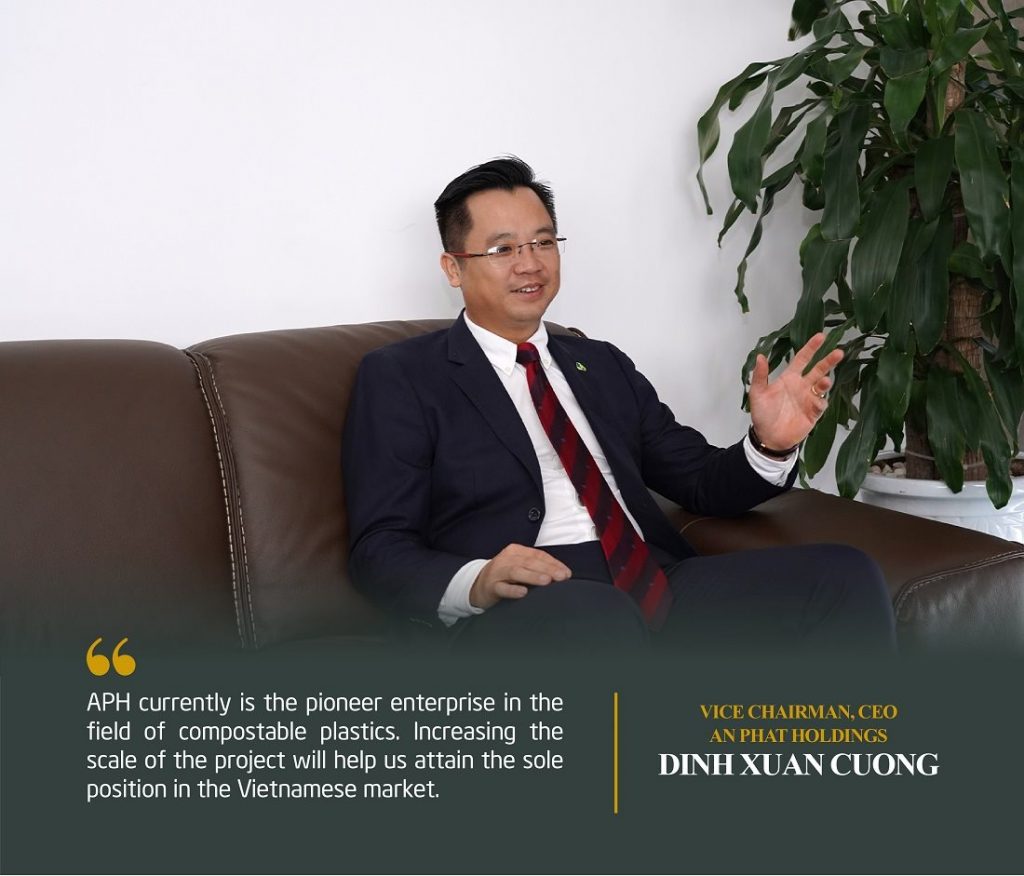 Why should it be PBAT but not another material in the bioplastics industry?
– The cost and applicability of the product are the reason we choose to invest in PBAT. Firstly, compostable products from PBAT compounds will have production costs and prices closer to traditional plastic products because the price gap between these two products is the lowest compared to other bio-materials. Secondly, PBAT is a material that can be industrially produced, capable of being widely used in the production of compostable products that are environmentally friendly, such as knives, spoons, forks, packaging, etc. Besides, packaging product is our competitive advantage and core business for the past nearly 20 years. Thirdly, PBAT is forecasted to have the fastest growing rate among compostable materials, equivalent to a compounded annual growth rate (CAGR) of 18.3%. PBAT is also the material accounting for the largest proportion (17%) in bioplastics.
Can the upcoming manufacturing plant solve the material problem for APH in the near future, sir?
– Currently, the production of APH mainly relies on imported materials. In the context of the global trade being affected severely by the Covid-19 pandemic, having to import 95% of raw materials from abroad will pose great risks to APH's production activities. Also, our member company – AnKor Bioplastics in Korea – only meets 1/10 of APH's demand for compostable materials. Therefore, the construction of the plant will solve the problem of input materials and product prices. When the price barrier is removed, the price gap between the single-used plastic products and the compostable products will narrow, and the environmental-conscious users are ready to switch to eco-friendly products.
… To the goals of joining the global green supply chain
In the current global scenario still challenged by Covid-19 which is hard to control in the near future, in your opinion, is it difficult to find outlets for green material products?
– In my opinion, the Covid-19 pandemic has never slowed the global green transformation. On the contrary, practical policies to overcome environmental pollution and policies to promote the production and consumption of green products have been implemented. In APH's traditional markets such as Europe, the US, Japan, and South Korea, the green transition has been speeding up. That is also APH's target market in the coming time when the plant is completed.
In Vietnam, with policies to reduce, replace and restrict the use of single-use plastic bags to shift to more environmentally friendly products, the market potential is huge. Vietnam is also the market where APH can assert its sole position in the supply of green materials.
In your opinion, how will APH's decision to invest and expand production of green materials affect the Group's business and the material market in Vietnam?
– From my point of view, businesses today are facing challenges of either catching up with the world's trend or lagging behind and getting out of the race. Thus, building a green material manufacturing plant is a strategic step that ensures APH's sustainable growth for at least 20 more years. At present, many domestic and foreign enterprises have also worked with us on the supply of raw materials to produce environmentally friendly products. Thanks to the construction of the first green manufacturing plant in Southeast Asia, APH will change its position from a material-dependent manufacturer to a proactive player while promoting the development of eco-friendly product manufacturing industries in the coming years.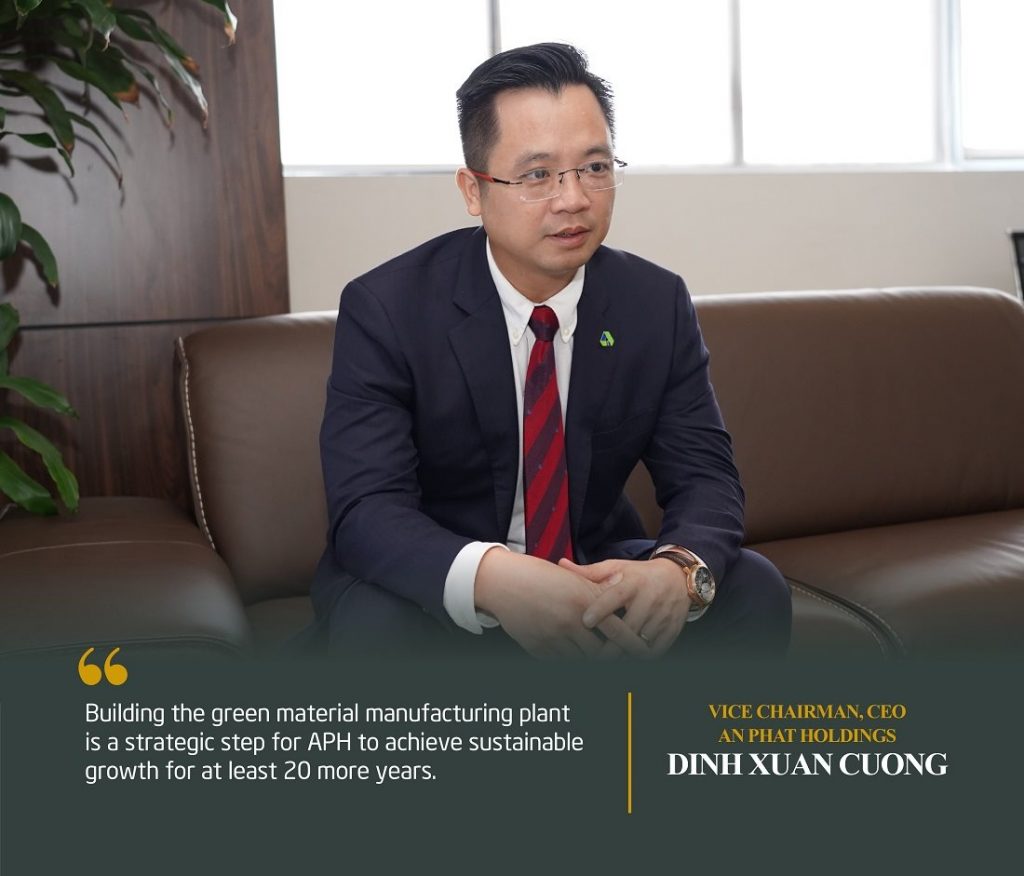 What has APH prepared to ensure the success of the project from construction to operation?
– There are 3 critical factors that will determine the success or failure of the project: People, technology, and finance.
Our advantage is that we have nearly 20 years of experience in this industry and the global customer network. However, to ensure the project to run smoothly from construction to operation, we must take up the challenges of the forerunner. Fortunately, we have leaders who have many years of experience in the marketplace, as well as young leaders with creative ideas and a team of enthusiastic staffs.
In terms of technology, after acquiring and having ownership of the company in Korea since 2018, APH has become the only Vietnamese enterprise to hold the patent for compostable materials. In addition, we also have exclusive production technology from Germany, the formula for production is researched by leading experts in the field of compostable plastics at AnKor Bioplastics factory (Korea) and registration for patent protection in Vietnam. Regarding finance security, APH has prepared comprehensively to ensure that its financial resources will not be depleted during the project's implementation. In addition to listing on the stock exchange to raise capital, APH's Board of Directors recently approved the plan to change the project structure from APH's plant to a subsidiary's plant. This will help open up opportunities for cooperation with investors who want to participate directly in the project, especially in the current context that many foreign financial investors have expressed their interest and desire to invest in the project that APH is implementing.
The first step is to increase the scale of the green material manufacturing plant in Vietnam, and after that is the plan to build a manufacturing plant in the United States. What is APH planning?
– After researching the market and expanding the supply of eco-friendly products in the US market, we see that the scale and growth rate of this market will be the fastest in the world. That's why we have formed a human resource team, built brand image, and established relationships with customers and partners in this market.
Recently, many investors have proposed to cooperate with APH to build factories in the United States, but we prioritize building factories in Vietnam first while continuing to sound out investment opportunities and chance to set up a factory in the US with partners. Meanwhile, our member companies – An Phat International or AFC Ecoplastics – have been established in the US to promote green product trade and begin preparation to enter these potential markets in the next 2-3 years.
APH at the forefront of radical transformation in 2021
As the first Vietnamese enterprise to invest in green material production, in your opinion, what challenges are awaiting APH?
– The challenge of being a market leader is to create market for its product. At present, the cost of environmentally friendly products is 2-3 times higher than conventional products. Also, we just cannot change consumer habits in a day. That is a common difficulty for many green material manufacturers.
However, in the middle of every difficulty lies opportunities. APH's advantage is having modern and exclusive production technology from Germany, production formula researched by leading experts in the field and prestigious international certification for products. Besides, we have nearly 20 years of market experience and brand reputation to confidently bring our products to the most fastidious markets. The price issue will soon be resolved when the manufacturing plant goes into operation and APH takes the initiative in materials.
In 2021, along with the plan to expand the production of green material, why did APH decide to increase its ownership in An Phat Bioplastics JSC (Stock code: AAA)?
– AAA is one of the flagship companies in APH's business ecosystem, in charge of the packaging segment that accounts for a large part of the Group's profits. Also, most of the compostable materials we produce will be used as inputs for AAA's packaging production and consequently, AAA will be the biggest beneficiary thanks to the material autonomy. Thus, raising ownership in AAA will add value to APH's shareholders.
As a multi-business corporation, besides green products, can you share more about APH's development strategies for the next 5 years?
– APH aims to become the leading high-tech and environmentally friendly plastics Group in Southeast Asia. Regarding the traditional packaging and engineering plastics segments, we focus on stabilizing production and improving operation efficiency. Meanwhile, the two new areas including compostable materials and industrial real estate will be the key drivers for the Group to fuel growth and enhance its position in the next 5 years.
The industrial real estate sector mentioned as a strategic segment in APH's business plan is also an area of interest to many investors. What are APH's orientations in this segment in 2021?
– In the next 5 years, we aim to develop a huge land bank in Hai Duong, where has a favorable geopolitical position for attracting foreign investment into Vietnam. These industrial zones can create tens of thousands of jobs and are oriented to focus on attracting investment in environmental friendliness in industrial production fields such as manufacturing industries, mechanics, electronics; food processing industry and consumer goods; supporting industries, etc.
With so many strategic moves, can you give guidelines of the overall picture of APH in 2021?
– In 2021, AAA will be back on track thanks to the packaging business continuing its growth momentum, the industrial real estate segment will stay stable, and the supporting industry segment of Hanoi Plastics JSC (Stock Code: NHH) will recover post Covid-19 pandemic. Newly-consolidated businesses of AAA and NHH will also fully contribute profits from 2021. We set APH's net profit target of VND590 billion (some US$25 million), nearly doubling 2020's. The net profit target in 2021 for AAA and NHH are VND550 billion (US$23,5 million) and VND150 billion (US$6,3 million) respectively.