Although all the current possible resources are being devoted to the pandemic fighting, support for the corporate sector is also urgent. Aside from maintaining production and distribution of necessities, financial assistance lent to businesses in different industries to help them withstand the raging pandemic is the prerequisite for their efforts to stabilize the livelihood of the relevant work force and reinstate production in the next phase.
How to support companies of various sizes and in various sectors? In addition to attempts made to increase the budget to assist enterprises and acquire more vaccine supplies to inoculate workers in line with reasonable priorities, it is essential to manage and implement effectively aid packages so that they reach needy firms as soon as possible.
The author would like to cite five issues and related measures.
First, the increase in resources for financial bailouts of companies. The amount of Government's leeway in expanding the budget of financial bailout for businesses and individuals remains significant. As Dr. Dinh Truong Hinh put it in his article "How Much Vietnam Can Increase Fiscal Spending to Cope with Covid-19" (the Weekly No. 35-21, dated August 28, p. 27), by mid-July 2021, Vietnam spent around 1.4% of her GDP supporting individuals and businesses from budgetary resources. The rate is way below 4% the average of GDP by emerging economies. Furthermore, there is still room for Vietnam's fiscal policies. The ratio of public debt to GDP in 2020 was 55.8% (according to the old method of calculation, and it may be lower if the new one is used), significantly below the rate of 62% of GDP in the end of 2015. That means the Government may opt to further raise the budget for aid packages. While the Government can spend more helping the people, it still has leeway for financial bailout to companies.
Second, aside from budgetary support, which has so far mainly been in the form of delayed tax payments or land rents, it needs as well other cost-cutting measures for businesses, for instance reduction of payments for social insurance, trade union fees, port charges and electricity rates. Social insurance and trade union funds are with huge balances currently, whose collections may be stopped or waived for a while, say, for one year.
Third, an urgent increase of vaccine supplies and inoculation of workers are among the crucial support for businesses. The vaccine supplies are now limited, but they will expand gradually later. The Government should clearly set the priorities for people to be immunized. The first to do so are healthcare workers and officials who have to be in close contact with the people. Next come staff members and workers in production and distribution of necessaries in the people's life.
Next in line are senior citizens, patients with chronic diseases and workers in export processing zones and industrial parks so that operation for export production can be sustained to help Vietnam retain her positions in global supply chains.
Vietnam's key export markets are currently little affected by the pandemic while their economies are coming back. Vietnam's exports to these markets will therefore significantly contribute to her production growth and maintenance of domestic workers' jobs. In 2020, despite the pandemic spreading on a global scale, Vietnam's exports to the United States posted a staggering growth rate of 24%, and to China, 17%. Vietnam's major export commodities—such as electronic components and cell phones—have been more attached to global supply chains and positively affected local production. In the first half of 2021, Vietnam's year-on-year GDP growth was 5.6%. Yet her processing-manufacturing industry jumped by 11.4% on account of the exponential growth of key exports (export of cell phone components soared by 39%, and that of cell phones grew by 18%).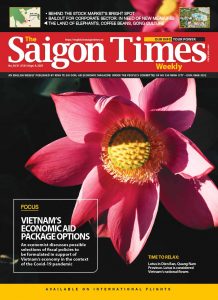 Vaccines for workers in export processing zones and industrial parks are meaningful. The good news is at least one dose of vaccine has been administered to 80% of the workers there. However, in many northern provinces, where Covid-19 is raging, immunization of workers in export processing zones and industrial parks has not been paid due attention to. As far as I'm concerned, at a big company whose entire production is exported and work force is considerable, only 5% of the workers have been given one jab.
Fourth, the next thing to do is to make the aid packages accessible to needy enterprises. Complicated administrative apparatus, favoritism, cumbersome formalities and overlapping stipulations had existed prior to the pandemic outbreak. They were improved step by step, resulting in belated implementation of many policies on small and medium enterprises. Take for example, policies on businesses in the supporting industries which failed to reach their goals.
A project conducted by the World Bank to survey the impact of Covid-19 on Vietnamese enterprises (presented in November 2020), indicates that when it comes to aid packages implemented by September 2020, only 27% of small enterprises and 37% of big ones (of the respondents in the survey) had accessed the financial bailout. The key hurdles to businesses receiving bailouts were their failure to meet the conditions although they were in trouble; the procedures were too complicated; and they did not know about the bailouts.
Fighting pandemics is like fighting the enemy. Vietnam's administrative apparatus and officials who run it must be in a hurry now. They must assume full responsibility similar to that during wartime so as to combat Covid-19 efficaciously and to make aid packages accessible to needy enterprises. In the current state of emergency, new measures are needed, such as cooperation between officials in charge of local governments and business associations in urgently implementing government aid packages.
Finally, once again, it is necessary to make information on the pandemic and financial bailout policies known accurately to businesses. This issue has been raised to the author of this article on the phone by some business proprietors he knows. A World Bank report also indicated that up to 17% of the respondents said they did not know about government bailout policies. In addition to announcements of policies on websites of ministries and agencies, it is necessary to air them also on television and radio. For example, information on support policies, and pandemic developments and its effects should be aired three times a day at fixed timing so that the public can watch or listen to them easily. Additionally, a new policy should be aired repeatedly for one or two weeks.