The worsening pandemic has proliferated many social problems. As workers rush to return to their home provinces or purchase goods from markets before HCMC tightens social distancing measures, their behaviors are deemed by those spearheading the fight against the pandemic as irrational. However, from an economic perspective, in some cases, such behaviors are explicable to some extent.
Many have criticized the lack of social distancing bred by crowds at food stores and supermarkets, contending that it will hamper the fight against Covid-19. They argue that everyone should stay home as the Government will be able to promptly cater to the people's needs and starvation will not arise. While these views hold true, the question is why so many people choose to act this way. Who are they and what is life like for them?
Purchase preferences
Solutions aimed at restricting shopping at traditional stores depend on technology access. However, not everyone is adept at using technology. A survey by Deloitte in 2020 involves 1,000 households in Can Tho, Danang, Hanoi and HCMC, Vietnam's four biggest cities, and classifies respondents into six groups. Those with an income of VND4-9 million form the group with the lowest income. The lower the household income is, the less able households are to use e-commerce channels. Among the group with a monthly income of VND4-9 million, up to 64% do not use e-commerce channels. This figure far surpasses those of the other groups. Most of those in this category are unskilled workers or those with temporary jobs. They are also the most pessimistic about the economic instability triggered by Covid-19.
Most have to rent houses and move frequently so they may choose electronics equipment such as small fridges to suit their limited living space. This means they can store much less food than many other households. The sudden restrictions imposed by the authorities also make it essential for them to rush to supermarkets to purchase necessities.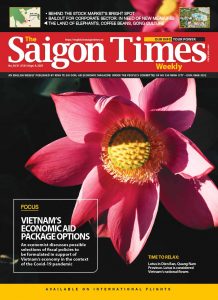 When economic imperatives influence perception
Office workers may not see their income plunge due to work-from-home arrangements, but the same does not hold true for low-income workers. According to the HCMC Office of Statistics, the per capita income of three out of five income groups (60% of its population) is less than VND5 million per month (although the average income is VND6.2 million per month). Over the three months of social distancing, workers have suffered staggering income losses and their savings have almost evaporated, especially if they must take care of their children.
Besides, according to a survey by the Institute of Workers and Trade Unions in collaboration with the Labor Relations Committee, which involves 3,000 survey forms distributed to 150 enterprises, only 32.1% of workers have monthly savings of VND1.5 million, used for emergency purposes and future spending. Besides, only 17% of workers have savings, 43% earn just enough to make ends meet and nearly 40% must tighten their spending and struggle with living costs. With a minimum monthly expenditure of VND8-10 million, the three-month lockdown might have wiped out the savings accumulated over the previous year.
The poor constantly face challenges such as rising food costs. Covid-19 has aggravated matters. The harsh living conditions in the city mean some must return to their hometown. They are lambasted for spreading the disease, including to their loved ones. However, anxiety, uncertainty and financial woes leave them with no choice but to return to their hometowns. No parents want to make their child, barely a few months old, endure a long motorbike journey, which may last hundreds or thousands of kilometers, to head home. The problem is that the financial support offered by the authorities have not swiftly reached those in need.
Everyone is aware of the dangers posed by the pandemic. If many people seem to act in ways deemed as detrimental, perhaps some empathy may be needed since they experience life differently. Unlike the rich, the poor have less access to modern facilities, be it in technology or finance. This shortcoming may lead to disparities in the seeming justifiability of the action of the two groups.
Everyone has the same fears; only the priority of fears differs. People act according to what they fear the most. It is easy to criticize, but a full grasp of issues entails embracing different perspectives on life and showing empathy during these challenging times.
By Le Hoai An(*) & Nguyen Duy Khanh(**)
(*)CFA – BUH
(**)Saigon Futures