Identified as one of the four key pillars at Joint-stock Commercial Bank for Investment and Development of Vietnam (BIDV), corporate social responsibility (CSR) is put at the core of the bank's business philosophy and is upheld by BIDV executives and employees. The lender, from the bottom of its heart, has been ceaselessly implementing CSR practices to spread love for and kindness towards the community.
Pioneer in community activities
During the 2017-2022 period, apart from expanding its banking operations to support the country's economic growth, BIDV has made itself a pioneer and encouraged its employees to participate in social programs. The bank has spent nearly VND1.5 trillion on its CSR initiatives with a focus on education, healthcare, poverty alleviation and natural disaster mitigation over the past five years, thus enhancing the wellbeing of thousands of people.
Financed by the lender, hundreds of schools and classrooms in poverty-stricken areas nationwide have been built and repaired, while thousands of scholarships have been awarded to poor students with outstanding performance.
Attaching great significance to the health of residents, BIDV has made big contributions to the country's health sector by sponsoring the upgrade and construction of over 20 hospitals and healthcare centers, and donating 100 ambulances to hospitals in many provinces and cities with a total cost of some VND500 billion.
To bring love and positivity to people on the breadline, BIDV has built some 3,000 houses worth VND170 billion, as a way to join hands with local authorities to rebuild makeshift and deteriorating houses to improve the living quality of poor households.
In the past two years, amid the complicated developments of Covid-19 in Vietnam and the world, as a generous benefactor, BIDV contributed some VND350 billion to the fight against Covid, including giving 100,000 sets of protective gear to frontline medical workers.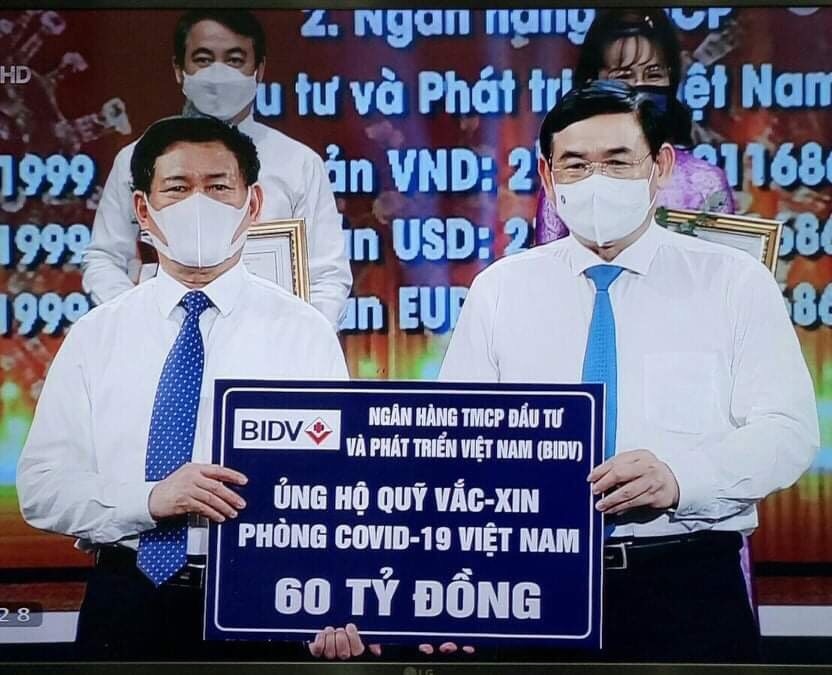 Spreading the spirit of sharing
Aside from its cash donations, BIDV has initiated various programs to spread the spirit of sharing among its customers and in the community. Through many of its initiatives, including "Tet for Poor People," "Clean Water for Green Life" and "Each Transaction – A Heart," BIDV called on its customers and residents to make contributions to building storm-resilient houses, growing one million trees and offering financial support to households hit by natural disasters and salinity intrusion.
In 2020, to lend a helping hand to families in the Mekong Delta region suffering from drought and salinity intrusion, BIDV encouraged its customers to conduct green transactions through the "For green life" program via its BIDV SmartBanking app. Some VND26.5 billion was raised from the program for installing clean water purifying systems in areas affected by salinity intrusion. The program not only benefited needy people but also helped speed up non-cash payments.
Its "Each Transaction – A Heart" program launched during the height of the Covid pandemic attracted the participation of over 10 million customers nationwide to support the nation's fight against Covid.
The lender's spirit of sharing is also spread widely and rapidly through its Tet programs for the poor. Since 2009, BIDV has annually presented 20,000-60,000 sets of Tet gifts worth over VND250 billion to underprivileged households, bringing a happy and warm Tet holiday to them.
Other influential programs include the "Warm Tet for poor people" race, "For loved Central Vietnam" and "Growing one million trees."
Towards a green bank for sustainability
As this year marks the 65th anniversary of its establishment, BIDV continues to implement a series of social programs for green life. In response to the Prime Minister's "Growing one billion trees" program, the bank has announced its "Planting one million trees" program for the 2022-2026 period, showing its commitment to environmental protection and sustainable growth. This program has been off to a good start, as BIDV has grown 300,000 trees nationwide this year.
In the 2022-2023 period, the lender will build 12 storm- and flood-resilient houses in several provinces in the central region such as Nghe An, Ha Tinh, Quang Binh, Quang Tri, Quang Nam and Thua Thien-Hue. The act of kindness is aimed at sharing difficulties with the poor and improving residents' mental health.
Moving towards becoming a green bank is defined as a long-term target at BIDV. As such, the bank has announced its responsibility for sustainability, carefully assessing risks and impacts on the environment and society before implementing or sponsoring any project and closely monitoring the process of disbursement.
As one of the biggest banks in Vietnam, BIDV has been synchronously adopting multiple measures to mobilize green credit from international organizations to finance energy-saving and renewable energy projects in the country. The lender also pays much attention to projects aimed at improving the quality of the environment, adapting to climate change, and boosting the green development.
Moreover, BIDV has been prioritizing green credit packages for projects dedicated to renewable and clean energy, low-carbon emissions and fights against climate change, environmental protection, living quality improvement and green payment.
In the coming time, BIDV will continue to take part in social programs towards the green and sustainable development, with special attention to education, environmental protection, natural disaster mitigation and social welfare.