For enterprises active in the plastics industry, pursuing sustainable development is a huge challenge. However, Binh Minh Plastics Joint Stock Company (BMP), the country's  leading enterprise in the plastic construction materials industry, has adopted a commendable approach to achieve its Environmental, Social and Governance (ESC) goal.
"Sustainable development based on the ESG framework is a strategic commitment that BMP has been pursuing and will pursue in the next period… BMP has established its ESG Committee to closely monitor the implementation," said a representative of the company. 
As sustainable development is imperative for enterprises to align themselves with the circular economy model, BMP has continuously implemented green transformation and environmental responsibility in its production and business.
Thorough transformation
BMP uses a large volume of plastic materials like PVC, HDPE and PP for its production of plastic pipes and other products and accessories each year, and from this very basic step, the company has imposed stringent standards for materials. Materials are selected and purchased from only reputable manufacturers with quality management like ISO 9001 and environmental management like ISO 14001. 
As its plastic pipes are used to build water pipelines, the company is fully aware of the importance of keeping water clean. As such, BMP's product lines have applied environmentally friendly additives that do not contain heavy metals to safeguard the people's health. The company's products have therefore been certified by the UK's Water Regulations Approval Scheme (WRAS) as safe water-conducting products for consumers. This organization has been established by 26 water companies across the United Kingdom with the role of building a system of standard regulations to recognize manufacturers whose products comply with quality assurance regulations of the UK government.
In addition, BMP has beefed up its environmental protection policy by seeking to enhance energy and water efficiency. Specifically, with new initiatives implemented, BMP's water consumption in 2022 decreased to the lowest level in the period 2018 – 2022, at 0.74 cubic meter per ton of product. Especially in 2023, BMP has made efforts to research and launch the first odor-free PVC solvent cement with low volatile organic compound (VOC) emissions, friendly to the environment and consumers.
Community support
As a leading manufacturer of plastic pipes, the company has managed to use its own products in several community programs.
In the first six months of 2023, BMP spent a total of nearly VND450 million on community activities, including a project to provide 1,700 meters of plastic pipes to build a water pipeline for 1,250 local people in Tan Hung Commune in Vinh Long Province's Binh Tan District. These near-poor households had earlier had been using river water for daily activities.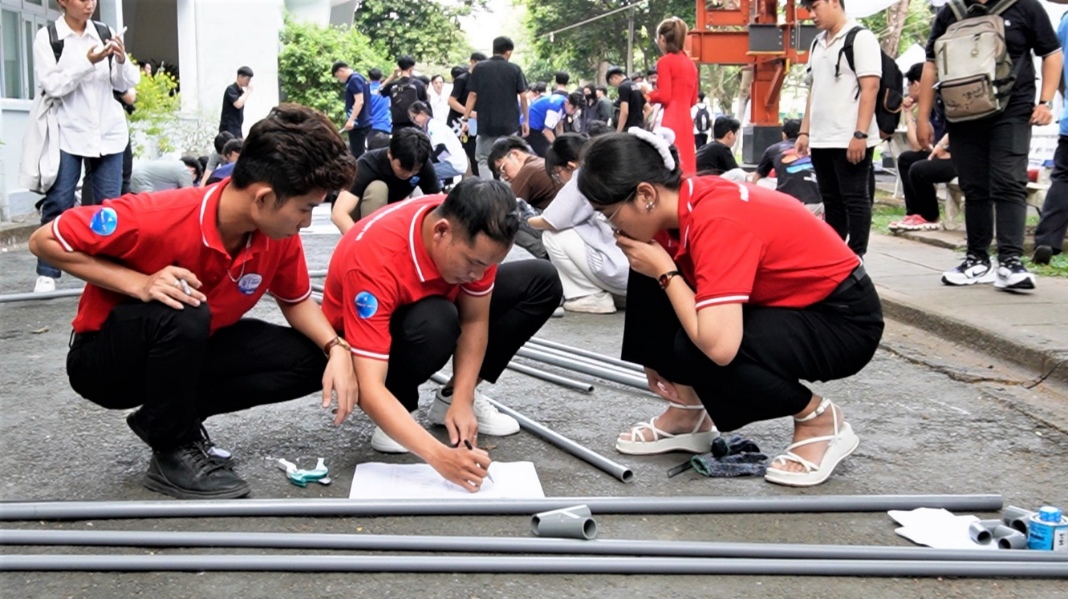 BMP, in order to motivate the young generation in the field of plastics – construction materials, sponsored PVC-U plastic pipes and fittings for the "Water Industry Festival" event of the HCMC University of Technology, and supported the organization of the contest "Technical Solutions in the Water industry" for more than 200 students from four major universities in HCMC including the HCMC University of Technology, the HCMC University of Technology and Education, Thuy Loi University, and the University of Architecture HCMC. 
Apart from activities proactively held by BMP, the company has also coordinated with the Business Association of High Quality Vietnamese Products, the Business Studies & Assistance Center, and Leading Business Club to organize "Little Vietnamese Ambassador Summer Camp 12th in 2023 in HCMC" gathering more than 100 disadvantaged campers aged 12-15 from the Mekong Delta. In this event, BMP offered a cash donation of VND50 million to finance the organizing of the event.
Those corporate social responsibility (CSR) activities have been regularly conducted by BMP in the implementation of its CSG strategy, said the company's representative. 
Last year, BMP spent around VND2.9 billion on community programs, an increase of 62% against the previous year. The most prominent activities in 2022 were clean water projects for nine schools in remote areas with a value of approximately VND1.4 billion, helping improve the water quality and thus ensuring the health of students and teachers.
Other CSR activities conducted by BMP last year included a donation of VND200 million to victims of natural disasters, grants of VND480 million to the company's own employees facing difficulties, and a donation of over 1,000 gift sets to children in Krong A Commune, M'Drak District, Dak Lak Province.
"BMP has demonstrated persistent efforts in accomplishing our ESG commitment. This is also a calling message for society to join hands with BMP to carry out more meaningful projects for the community," said the company.