In a bid to encourage more environmentally friendly consumer habits, Central Retail Vietnam, a member of an alliance of retailers with a commitment to reduce single-use plastic bags in the country, has incorporated a plastic reduction message in its Corporate Social Responsibility (CSR) plan through a host of activities, especially the launch of Plastic Bag-free Day in 2022. The effort has paid off, with the positive response from consumers countrywide.
Central Retail Vietnam, a business arm of Thailand's Central Group, first introduced Plastic Bag-free Day at its consumer goods retail business Tops Market Thao Dien in HCMC in August this year, in order to help consumers make more eco-friendly choices and thus raise their awareness about environmental protection.
During the event, many consumers were given a reusable Lohas bag for each receipt valued at VND500,000 or above, and were offered a free packaging service using carton boxes. During the day, the retailer also introduced consumers to other non-plastic bag shopping experiences, such as having vegetables wrapped up in banana leaves or contained in bagasse trays, and admiring eye-catching and eco-friendly decorations at the supermarket.
Nguyen Thi Hong, head of CSR at Central Retail, shares: "We're glad to see the growing awareness about environmental protection among consumers when launching Plastic Bag-free Day.
"Prior to the event launch, we were a bit worried about consumers' probable unease due to the inconvenience of not being provided with plastic bags. However, we got a very positive response. Most of consumers were enthusiastic taking part in the event.
"Our suppliers were also actively backing the event by wrapping veggies in banana leaves or paper sheets, or providing us with bagasse food trays," Hong continues.
Given the strong support of consumers, suppliers, and especially the Institute of Strategy and Policy on Natural Resources and Environment (ISPONRE), under the Ministry of Natural Resources and Environment, Central Retail decided to extend Plastic Bag-free Day to the remaining Tops Market facilities in HCMC, namely An Phu, Au Co, Moon Light, and to Hanoi as well. The first edition of Plastic Bag-free Day in Hanoi was rolled out at the Tops Market The Garden on October 5 and later at other facilities in the capital city.
The outcome of the Plastic Bag-free Day events went beyond the retailer's expectations, as eight Tops Market facilities in HCMC and Hanoi helped reduce the use of close to 35,000 single-use plastic bags and trays, according to the CSR head.
"We look forward to launching this event next year to encourage consumers to bring their own bags when shopping. We hope that press agencies would join hands with us to raise public awareness about plastic reduction and this event would inspire more environmentally friendly practices," Hong adds.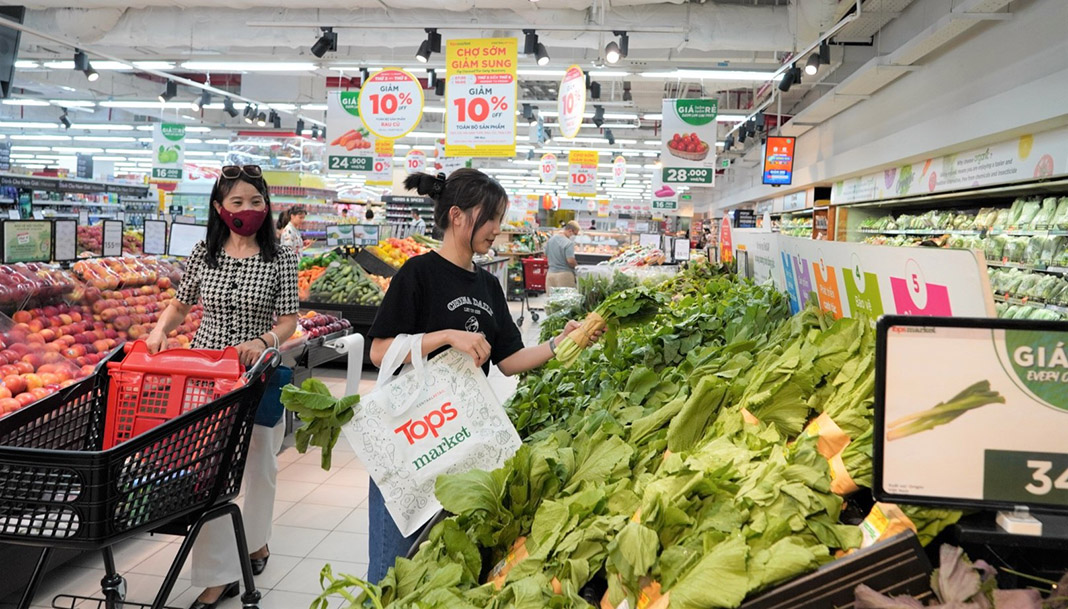 Previously, at the launch of a national campaign against plastic waste held in Hanoi on June 9, 2019, Central Retail Vietnam was honored to be certified by the prime minister and the minister of natural resources and environment as a member of the alliance against plastic waste. Since then, Central Retail has been striving to fulfill its role by selling reusable Lohas bags at a non-profit price and encouraging consumers to bring this bag when shopping. Its GO!, Big C, and Tops Markets supermarkets and megamarkets have also offered products wrapped in banana leaves and free eco-friendly packaging services to consumers.
Lately, Big C Thang Long supermarket, a subsidiary of Central Retail Vietnam, in coordination with ISPONRE and the World Wide Fund for Nature-Vietnam, organized a program featuring installation art and dance performances about inappropriate consumption of single-use plastic products that leaves a negative impact on the environment. Through the program, the organizer managed to convey the plastic reduction message to consumers.
For Central Retail Vietnam, a giant retailer with the biggest market share in Vietnam, CSR activities are not limited to environmental protection only. To support the community, the company has used its own strength as a major distributor to help promote local products, especially those from rural areas.
At a function to celebrate its 10th anniversary in Hanoi in early September, the company said it was the first modern retailer to distribute goods under the One Commune-One Product (OCOP) program to consumers. It has to date organized 22 OCOP weeks to introduce local goods to consumers across the country. Central Retail Vietnam has also supported over 5,500 farmers to sell their agricultural products at zero discount at GO! and Big C chains.
In addition, Central Retail has also launched the Community Livelihood Program, developing sustainable supply chains to help farmers boost consumption of their products. Since 2018, seven projects under this program have been launched, helping 787 farming households to have sustainable income to improve their livelihoods.