Since establishing its foothold by opening a representative office in HCMC in 1998, South Korean conglomerate CJ Group has quickly expanded its business scope in Vietnam, with its portfolio now ranging from food and food services, pharmaceutics and biotechnology to entertainment and media industries. During the journey of over two decades, the group has not only focused on corporate development on the domestic market, but also accompanied the community by conducting multiple corporate social responsibility programs to benefit the local community.
"CJ Group always believes that we are no longer a foreign business but have become a domestic business for domestic consumers," said Chang Bok Sang, president of CJ Vietnam.
The company's CSR activities cover a broad range of spheres, notably education, health, sports and agriculture. Its projects and initiatives have provided opportunities to improve local people's lives, as CJ Vietnam has joined hands with the community to promote comprehensive socio-economic growth.
Education for girls
Education has always been a priority in CJ's community projects. The company has launched the "Vietnamese Girls Education Project" in three provinces of Ha Giang, Ninh Thuan and Soc Trang, with an expenditure of US$500,000 between February 2019 and April 2022.
Under the motto "Do not let poverty hinder education," CJ Group executive vice president and head of CSR Min Hee Kyung stated that CJ desired to improve learning opportunities for youngsters and develop a talent pool for the host nation.
The project has been executed at 24 junior high schools, benefiting 42,000 people of ten ethnic groups including girls, their families, and school staff. The project focused on enhancing the educational environment and helped increase the percentage of ethnic minority females attending school. It also supported vocational training programs at the schools, providing career opportunities for girls and low-income women in the localities.
With a focus on gender equality and prevention of domestic abuse, and the creation of a safe environment for women, the project played the role of coordination in a variety of activities targeted at parents and students with the goal of raising the people's awareness of the value of education. Although the project has just been wrapped up, CJ Group pledged that vocational training programs would be able to continue.
The project is so beneficial to the community that the Ministry of Education and Training would take the project as a model to scale up this program throughout the nation, said Vu Minh Duc, director of the Department of Teachers and Education Administrators.
Moreover, CJ Group pushed a plan to provide an education support initiative called "Girl's Education Campaign" for ethnic minority females in Vietnam in cooperation with UNESCO. Over US$500,000 funding raised by 'CJ-UNESCO Girl's Education campaign' would be directed to support an education aid program for Vietnamese girls of ethnic minority during three years beginning in 2019.
Health protection
Despite being severely impacted by the Covid-19 pandemic, Vietnam-based subsidiaries of CJ Group have actively responded to the Government's appeal for funding to help expedite Covid-19 vaccination in Vietnam.
CJ Vietnam has contributed VND6.49 billion to the country's Covid-19 vaccine fund to combat the pandemic. According to Chang, CJ Vietnam's contribution, together with those of other businesses, would help ease strain on the State budget and assist the Government in accelerating vaccination so that businesses could resume normal operations.
In addition, CJ Group and its member companies have implemented a campaign to support doctors and front-line personnel, awarding 4,200 gift vouchers as a tribute to the medical professionals fighting Covid-19.
"It is our duty to support and accompany the Government and the entire Vietnamese people to fight the pandemic," said Chang. CJ Vietnam previously also launched a voluntary donation campaign, handing out more than 2,000 Tous les Jours cakes and other necessities worth nearly VND320 million to the National Hospital for Tropical Diseases in Hanoi City and quarantine centers in HCMC, among others.
Agricultural advancement
CJ's community programs in Vietnam also prioritize sustainable agricultural development, supporting people's livelihoods in many localities.
In 2014, under the Rural Development – Creating Shared Value (CSV) Project in collaboration with the Korea International Cooperation Agency (KOICA), CJ delivered Korean pepper seeds and transferred growing practices to farmers in the south-central province of Ninh Thuan. The project, which bought back farm produce, has helped improve income for locals.
Furthermore, by upgrading school and village center facilities and collaborating with K-Water on waterworks installation, residential infrastructure and living conditions were also improved.
In 2017, with a total investment capital of US$650,000, CJ Group ran a chili processing factory in the province of Ninh Thuan. CJ, KOICA, and the Ninh Thuan Provincial People's Committee collaborated on the initiative. The project, with a capacity of 500 tons of chili powder per year, provides the primary material source for the company's food sector.
In addition, CJ Foods Vietnam has been working on a project called "CJ Foods Vietnam Bibigo Ecohub" in the Central Highlands province of Lam Dong. The effort began in July 2019 with the goal of purchasing cabbage as well as 10 other types of veggies for kimchi processing.
Another noteworthy CSR activity conducted by CJ Group in Vietnam is its support for Vietnam's Taekwondo development.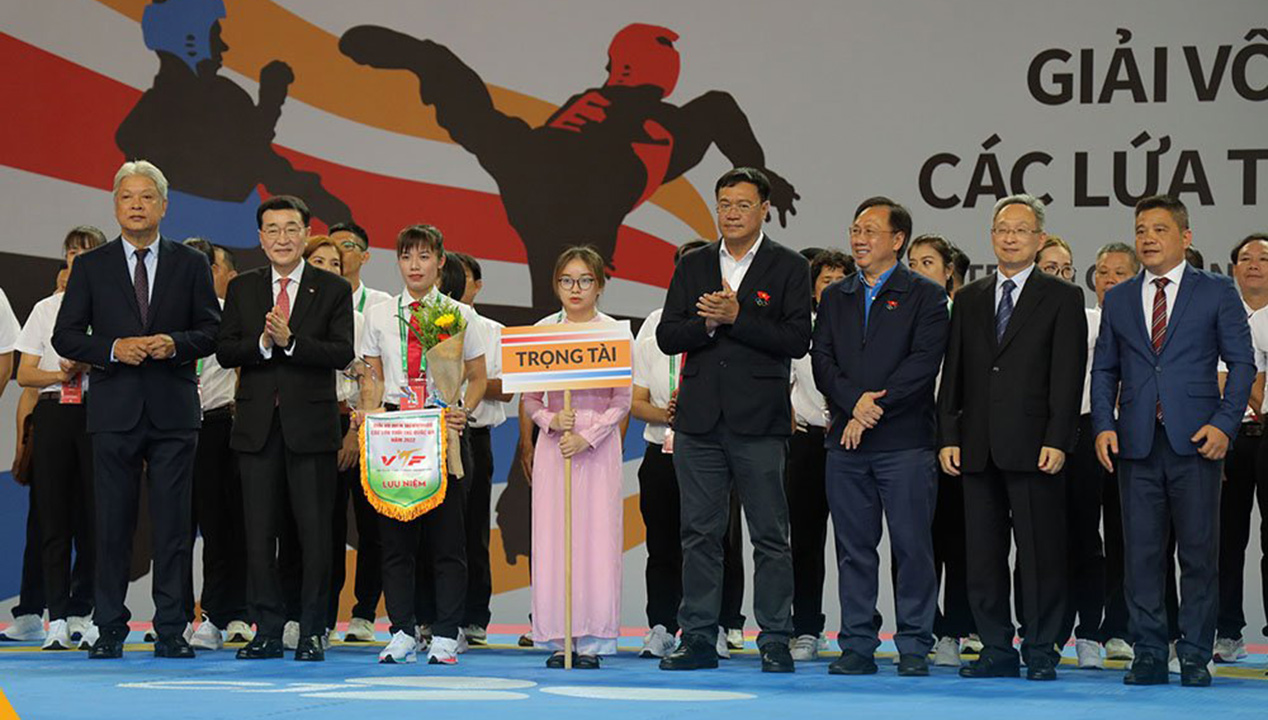 In 2012, CJ established a sponsorship agreement with the Vietnam Taekwondo Federation, and has supported women's national Taekwondo team before extending its sponsorship to include the men's national Taekwondo team in 2017.
In 2019, it hosted the "CJ National Youth Taekwondo Championship," the first Vietnamese national championship sponsored by a foreign corporation, gathering about 1,000 participants in the National Junior Taekwondo Championship-CJ in the northern province of Lao Cai.
The 2nd CJ National Taekwondo Youth Championship 2022 was held at the HCMC's Military Zone 7 Gymnasium in July, with more than 1,000 athletes and coaches from 47 teams around the country.
Over the years, CJ has consistently made efforts to carry out social and community projects in Vietnam. As Chang Bok Sang, president of CJ Vietnam, noted, CJ Group has always accompanied the Vietnamese Government in social activities.