It is no longer the common climate change, as scientists have heightened the alarm, using the term 'climate extremes' to refer to unexpected and extreme occurrences of calamities.
Climate extremes as a fact
Is climate change a reality? Even scientists have disputed this fact. There have been around 100,000 studies published in famous journals worldwide to ascertain climate change, but there have also been some 3,000 studies with the opposite viewpoint, according to Dr. Nguyen Ngoc Huy, a climate change expert, during his presentation at the Midnight Talks on July 2, 2022. Many scientists say such a change is of the natural cycle, as the sun-to-earth distance gets shorter after millions of years, causing earth temperatures to inch up.
Having spent 15 years to research droughts, floods and weather extremes, climate change and the people's livelihoods in the Asia-Pacific region, Dr. Huy has affirmed that climate change is real and is going to extreme, adversely affecting the people's living conditions.
Data obtained by the World Meteorological Organization shows that since 1980, most regions have recorded an abrupt change in temperature. The global temperature has risen by an average 1 degree Celsius compared to the average in the 1951-1980 period, with countries close to the Equator seeing a higher rise. In 2021, the average temperature in Vietnam had risen by 1.2 degrees Celsius against that in the 1951-1980 period. "It shows climate change is real," Huy said. The earth is getting warmer, more so at the two poles. The Arctic temperature has risen by 3 degrees, prompting faster atmosphere disturbance, ice smelting and sea level rise than estimates.
As temperatures at the two poles rise, extreme weather events will turn more frequent accordingly. Statistics of global calamities show that the number of geological incidents such as earthquakes has not changed on an annual basis, but meteorological incidents have increased markedly in terms of both frequency and intensity. Season disruptions, temperature disturbances, and formation of atmospheric rivers have resulted in weather extremes.
The "atmospheric river" is a new term coined by scientists in early 2022, referring to the phenomenon of rising local temperatures in different climate zones that create atmospheric trenches. Higher temperature and atmosphere in the trench give way to weather extremes in such zones.
Over the past 20 years, according to Dr. Huy, the Enso cycle length (of temperate weather) has become much shorter, while La Nina and El Nino cycles intertwine. That is to say periods of mild weather have become scarcer and replaced by harsh weather periods.
These changes are observed when the earth temperature has risen by less than 1.5 degrees Celsius. Without actions to cut greenhouse emissions, many areas will, by 2090, see temperatures rise by 4-5 degrees, prompting the average temperature rise  to exceed 2 degrees. "This will be a dangerous rise," Huy said, citing remarks by scientists at IPCC, or the Intergovernmental Panel on Climate Change. In 2018, an IPCC report on the scenario of a 1.5-degree temperature rise warned that the humankind would have only 12 years left for actions to minimize the global warming before the rise hits 1.5 degrees Celsius in 2030 to avoid extreme consequences.
Calculations show that calamities may increase 1.2% in numbers by then, and some 90% of coral colonies will be destroyed by higher temperature, storms and waves. Biosphere reserves will also be affected. Coastal urban zones will see higher floodwaters. The 1.5-degree rise can also be seen as a point of no return that feeds extreme climate occurrences. Nations must join forces to prevent such a sharp rise that may plunge 400 million people of the world into hunger and water scarcity, according to the Food and Agriculture Organization.
Dangers for Vietnam
The two biggest issues facing Vietnam now are the phenomenon of temperature disturbance and the water crisis induced by climate change.
Nguyen Thi Thanh Binh at the National Center for Hydro-Meteorological Forecasting has given examples on weather extreme affecting Vietnam. In May 2015, Hanoi suffered a record temperature at 41 degrees Celsius at Lang Station, while the semi-mountainous area of Ba Vi also reported a high temperature of 39 degrees. A half year later, on January 24, 2016, Hanoi endured an extreme cold spell, with snow falling on Ba Vi Mount.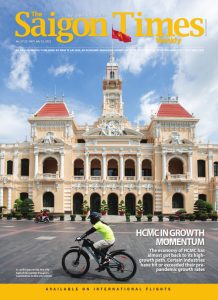 Apart from unexpected hot and cold spells, the weather pattern has also become more dangerous. A downpour on May 29, 2022 lasted two hours, but with a rainfall equaling the average precipitation of the entire month of May. Statistics show that the overall monthly precipitation has not changed, but a downpour of that scale has turned life upside down.
The Mekong Delta has become one of the three deltas in the world most vulnerable to climate change, said Associate Prof. Le Anh Tuan of Can Tho University, citing an IPCC report. The water flow in the Mekong Delta has dwindled in both the dry and the wet seasons, and, coupled with sea level rise and land sinking, the Delta has suffered from higher salinity intrusion in the dry season, especially during years of El Nino.
Problems faced by the Mekong Delta are all the more serious due to man-made factors like the construction of hydropower dams upstream and the depletion of natural resources due to unsustainable tapping. The freshwater source has become scarcer while the underground water source has been overexploited, speeding up land sinking. "Land subsidence in the Mekong Delta will further worsen, hitting the alarming level of over four centimeters a year in the next ten years if underground water exploitation is not prevented," said Tuan, quoting Tom Kompier, first secretary of the Netherlands Embassy in Vietnam in charge of water and climate issues.
Warnings about climate change are not new, but latest updates by scientists show that dangers of extreme climate are in the horizon that will have adverse impacts on the people's livelihood.