Vietnam saw a robust surge in domestic tourism last year, with over 101 million travelers reported, well above the pre-pandemic annual level. This is a vital impetus for the tourism sector amidst a scarcity of international visitors. However, many businesses have recently expressed concerns over a gloomy outlook for domestic tourism due to waning demand this year.
The upcoming five-day break on the occasion of the death anniversary of the Hung Kings which falls on April 29, Reunification Day on April 30 and International Labor Day on May 1 offers an ideal opportunity for the tourism industry to attract visitors. Travel companies, hotels and other tourism-related businesses are gearing up for the strong rise in tourists during this period.
Nevertheless, tour and hotel bookings have yet to show signs of strong growth, raising concerns over the industry's ability to maintain its appeal to customers.
Lower-than-expected demand
Nguyen Ngoc An, deputy general director of Vietluxtour, said that bookings of tours to northern and central Vietnam remain open, and that guests can still book tours of Phu Quoc Island, which sold out quickly ahead of previous holidays.
"We have received a decent number of customers for overseas tours, but we're still struggling to fill vacancies for domestic tours. Many guests are inclined to buy tours close to departure dates. However, this time around, the demand appears to be waning," he noted.
Echoing the view, Ngo Minh Duc, chairman of HG Holdings, said that there is no significant growth in tourist numbers.
The occupancy rate at Lang Co Resort in the central province of Thua Thien Hue is below its normal level of the last three months. The resort is noticeably quieter than in the same period last year. Unfortunately, the situation shows little sign of improvement at the end of this month. Although there is an uptick in customers booking rooms and services through Gotadi, HG's online travel agency, it does not seem to make considerable change. "The consumption is woefully weak," Duc said.
Major travel companies reported lower-than-expected tour bookings during the upcoming five-day holiday despite a slight increase in domestic tourists. Some famous destinations, such as Nha Trang and Phu Quoc, are experiencing the lower demand for hotel rooms than during the Lunar New Year holiday early this year.
Despite significant room rate discounts, hotels and resorts in Nha Trang City have reported lower-than-hoped occupancy rates. Many hotels along the beaches have posted their holiday occupancy rates of below 50%, with some of them getting around 30%. Few hotels have achieved occupancy of 70%.
A businessman said that his company is still receiving price quotations from hotels in Nha Trang. Numerous four-star hotels are offering rooms for less than VND1 million per night while travel agencies can ask for better prices for their customers. However, there are still few customers to book their services.
Phu Quoc Island, which usually attracts a large number of domestic tourists, will be in the same situation during the upcoming holiday. Unlike in previous years, when hotels and resorts were fully booked two weeks before the holiday, many rooms have remained unoccupied this year. Despite offering huge discounts and service fee waivers, hotel owners are finding it hard to attract guests.
High airfares make local tours expensive
Although travel companies, hotels and resorts in Ho Tram area in Ba Ria-Vung Tau Province, and HCMC have secured a decent number of customers, experts believe it is just the tip of the iceberg. Currently, it is extremely hard to attract customers given low demand and rising prices of services.
The bleak economic picture has eaten into the travel demand. As many other sectors in the economy are struggling to survive tough times, workers' incomes have dropped, hitting the demand for tours and tourism services.
Nguyen Ngoc An at Vietluxtour said that the woeful situation has existed since the Lunar New Year holiday in late January this year. Although foreign tourist arrivals have increased, their spending has not been as strong as expected. Meanwhile, domestic tourists are easily influenced by bad news about the economy, employment and service prices.
"Customers have become much more prudent in buying tours and services recently. Some even delay their travel plans due to higher prices," he said.
Many businesses believe that high service prices, especially airfares that account for 40-50% of tour costs, have delivered a blow to domestic tourism. Return tickets of flights from HCMC to destinations such as Danang, Phu Quoc and Nha Trang cost more than VND4 million each, discouraging guests from traveling. Although discounts of 20% or below may be offered to groups of tourists, package tour prices are still higher than last year. Airfare hikes are to blame for low occupancy at resorts and hotels in Phu Quoc.
According to data from travel companies, airfares have soared 15-25% this year for tourists traveling in groups. The ticket prices during the April 30-May 1 holiday have surged 30-40% depending on destination and flight duration. Many tourism businesses fear the future market prospects may be gloomier due to high airfares.
A businessman stated that airfares for groups of tourists ranged from VND1.6-1.9 million per round-trip ticket from HCMC to destinations such as Phu Quoc, Nha Trang and Quy Nhon, and VND2.4 million to Danang in June last year. Meanwhile, July's airfares for the HCMC-Phu Quoc, Nha Trang and Quy Nhon routes increased to VND2.2-2.5 million, and around VND2.7 million for a round-trip ticket to Hanoi. If the airfares continue to edge up this summer, it would be difficult to attract domestic customers.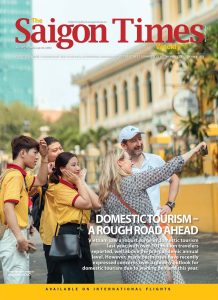 According to Minh Duc, chairman of HG Holdings, airfare hikes are a common issue for the tourism and hospitality sectors in many destinations. After a long travel pause induced by the pandemic, many Vietnamese carriers have raised airfares to compensate for their colossal losses incurred during the height of the pandemic. Moreover, high costs of fuel, labor and others have also led to airfares rocketing. This is a major hindrance to the tourism recovery, particularly for domestic tourism.
Travel businesses alone cannot address the pricing issue. It requires multiple agencies to regulate the coordination of enterprises in the service industry or draw up appropriate policies that ease the financial burden and stimulate demand.
At some travel companies, the prices of tours from HCMC to Hanoi and other destinations in the north during the upcoming holiday are VND9.5 million, equivalent to or even higher than the prices of overseas tours.
For example, the price of a four-day tour to Bali in Indonesia ranges from VND10 million to VND11 million per guest while a five-day tour to Thailand costs VND7-8 million per person. A tour to Malaysia-Singapore is offered at VND10-11 million. Meanwhile, many airlines are offering attractive promotions to lure customers back to other destinations, such as Taiwan and Zhangjiajie in China. This competition is placing significant pressure on domestic tourism to survive.