Even though two-thirds of the school year 2020-2021 was delivered online, Vietnam Australia International School (VAS) students still achieved excellent results in both the Cambridge exams and the national high school graduation exam.
The leading school in Cambridge exam results
The results of VAS students in IGCSE, AS, and A Level exams were all equal to or higher than the world average in the upper grading brackets.
The percentages of VAS students achieving A*-C grades (equivalent to Fair to Excellent grade) in 3 exams are 85% (IGCSE), 63% (AS Level), and 76% (A-Level) respectively. These are 3 popular entrance scores required by most universities worldwide and in Vietnam.
Especially, the ratio of A*-A grades achieved by VAS students in the IGCSE exam is 42%. There were 16 students who got A*-A in all 7 subjects, of which 6 got all A* (7 A*).
The exceptionally high-performing subjects include English as First Language (EFL), Mathematics, Global Perspectives, and Computer Science. Particularly, 100% of the EFL grades fall within A*-C, of which 64% are within A*-A.
In the AS and A Level exams, 7 students achieved Excellent grades in all subjects (Grade A for AS Level and A*-A for A Level). Nearly 20 students got 3 A*-A in 4 subjects. Subjects with outstanding achievements include Economics, Chemistry, and Biology.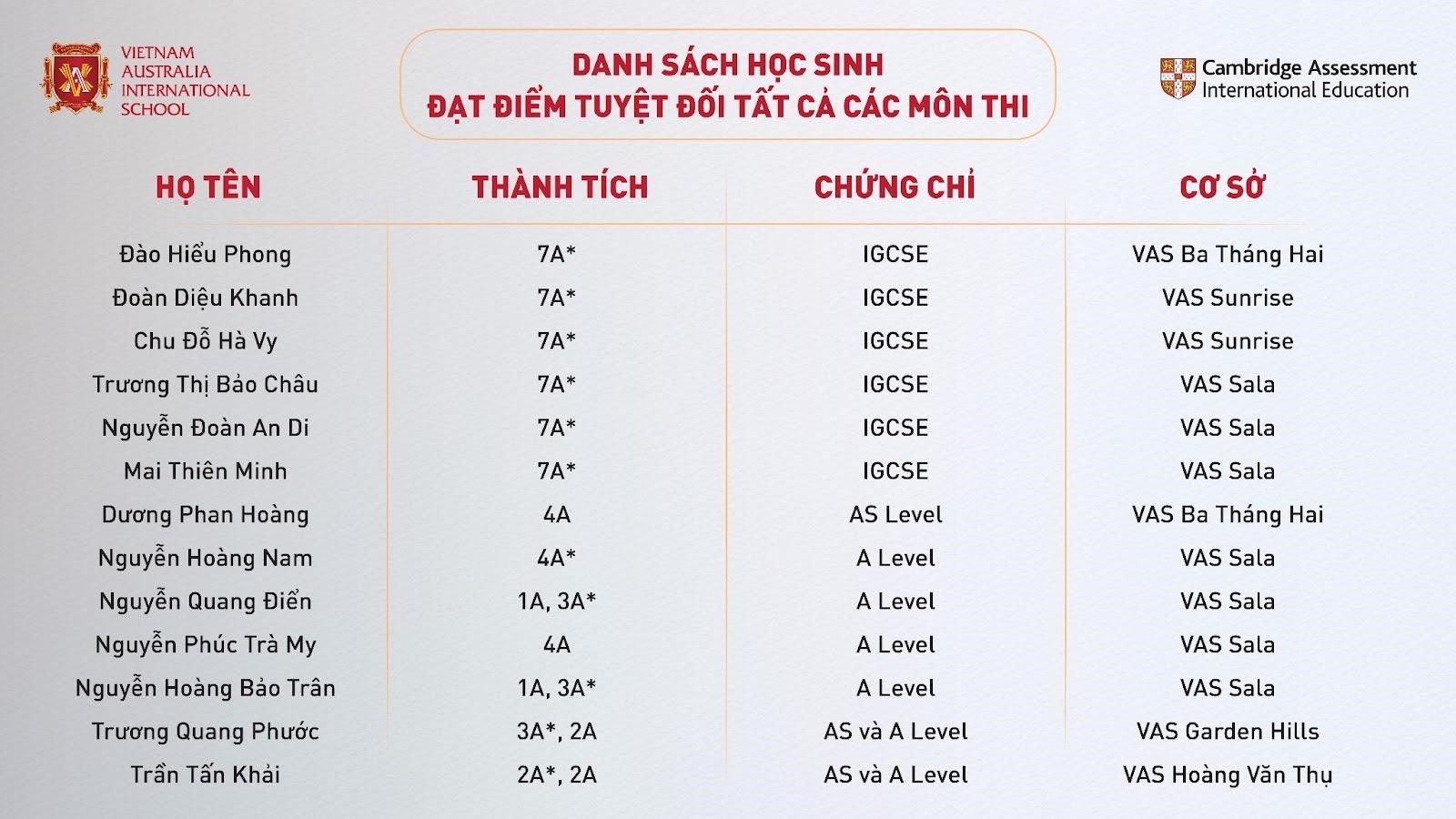 In the Primary and Secondary Checkpoint exams, 22 VAS students achieved Excellent grades in all subjects. VAS students' performance in Math continued to be at the top level with an average score of 5.0 (Perfect Score) in the Secondary Checkpoint and 4.8 (Very Good score) in Primary Checkpoint, which are both higher than the world average of the same year (by 1.2 points and 0.6 points respectively).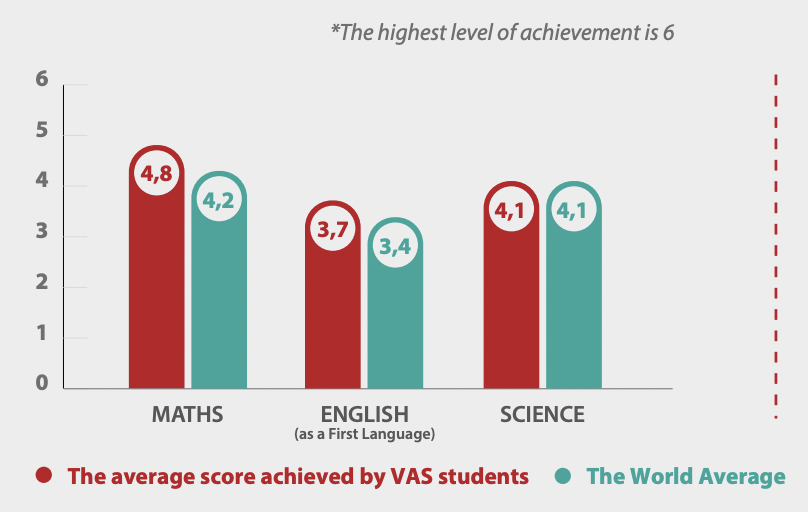 "Over nearly 10 years of teaching the Cambridge programme, VAS has always been one of the leading schools in Vietnam in both the number of students taking the Cambridge exams and the number of students getting high results in Cambridge exams. The average scores of VAS students are always equal to or higher than the world average," said Mr. Melvyn Lim – Senior Country Manager of CAIE.
Proof of VAS's 18 years of sustainable development
Besides excellent results in Cambridge exams, VAS students also demonstrated a solid and comprehensive foundation in Vietnam's high school graduation exam with an average graduation score of 8.2, a passing rate of 100%, of which 71% graduated with a "Very Good" grade, and 100% of students were eligible for the MOET English exam exemption thanks to their IELTS certificate.
VAS students also achieved 50 scholarships to study abroad that are worth more than VND52 billion; 477 awards from the district, city, national and international competitions; and 5 science research projects awarded at the city level.
These results have confirmed the education philosophy and approaches that VAS has persistently pursued during the past 18 years. It is to prepare students for life in the 21st century by helping them develop their natural inquiry skills to become well-rounded and lifelong learners, and 7 core values, which are: Excellence, Teamwork, Integrity, Passion, Confidence, Respect, and National Pride.
At the end of 2021, VAS officially joined XCL Education Group, which also belongs to TPG Investment Fund based in Singapore. This has affirmed VAS' vision and sustainable development strategy not only in Vietnam but also reaching out to the world. By joining XCL Group, students and teachers of VAS are offered the opportunities to learn, exchange knowledge and access the most advanced educational resources from XCL members in Singapore, Malaysia, and many other countries in the future.
Well-being: The key focus of VAS in the new school year
In the school year 2021-2022 with the enormous challenges caused by the Covid-19 outbreak, VAS delivered the message "Renovation based on true values" to urge each individual to renew and develop themselves, their families, organizations, and communities… based on their core values.
This year, VAS continues to encourage students to build a "well-being" lifestyle – an essential foundation for sustainable development through the theme "The Journey to Well-being", said Mr. Brian Rogove, CEO of XCL Education and Executive Chairman of VAS at the opening ceremony of the new school year.
"A school, however, must strive to achieve more than just its formal curriculum and academic results. The well-being lifestyle with a focus on nurturing your physical, psychological, and social wellbeing will help you channel your thoughts and feelings, fight through tough times, and stay persistent in your goals," Mr. Brian said.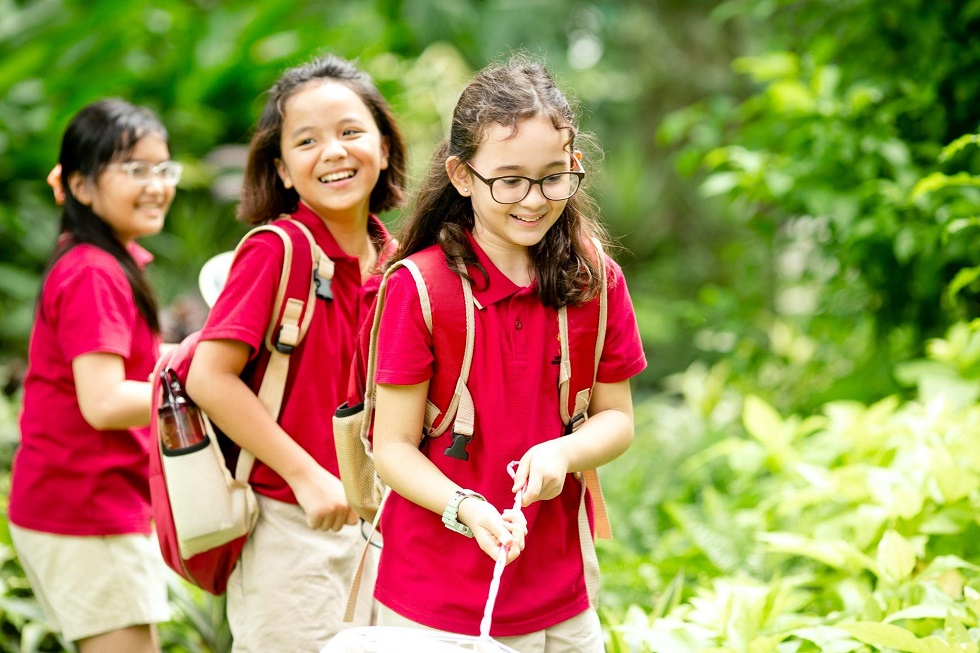 VAS is offering attractive promotions with discounts of up to VND20 million, an installment payment programme with a 0% interest, and many other promotions for enrollments before September 30.Find out more information at: www.vas .edu.vn – 0911 26 77 55.