HCMC – For the first time since the stoppage a decade ago of the Thu Thiem ferry service, people in HCMC can once again travel and relax on the Saigon River thanks to the newly opened night waterbus service, an early Christmas present for residents of and visitors to HCMC.
Connected to internal waterway canals that create a continuous water transportation system, the Saigon River is a sign of the city's development, from blooming river commerce to the development of bridges and skyscrapers.
The river buses are not simply a means of commuting between locations but also highlight a journey through the city's past, present and future, making them the ideal vehicles for unlocking unique experiences of the riverside communities and changes in city life. In the context of HCMC being in the second phase of the tourism recovery process, this project can also help the development of inner-city tourism.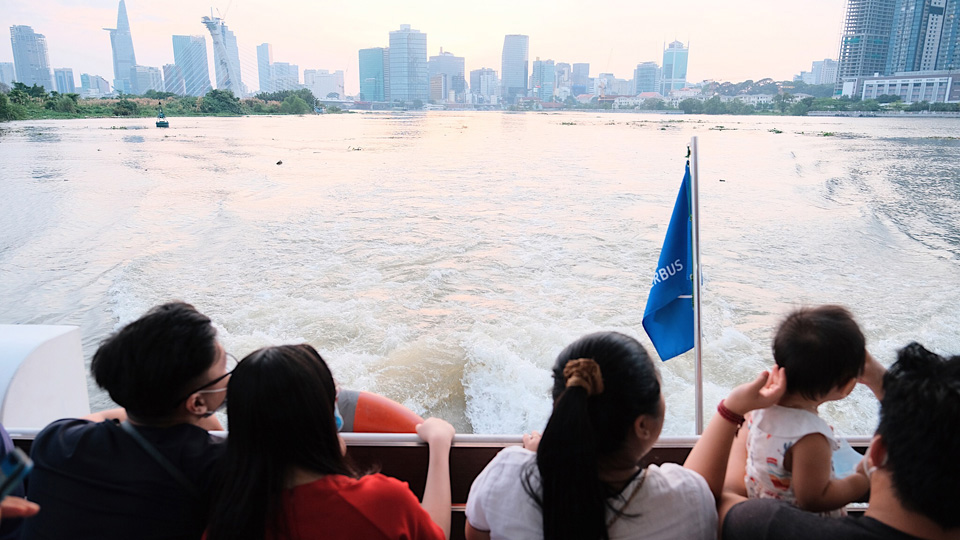 After a long period of social distancing, people have become more interested in outdoor activities, and the introduction of evening river bus trips between Bach Dang Wharf in District 1 and Binh An Wharf in Thu Duc City couldn't have come at a better time.
"When I lived in the countryside, my favorite thing to do was take the night train to the sea and fish for squids. It's nice that HCMC now has river buses running in the evening so that I can enjoy the view when I need to relax and find creative inspiration," tattoo artist Truong Van Manh shared while looking for an outdoor seat at the stern of the ship, before starting to paint on his iPad.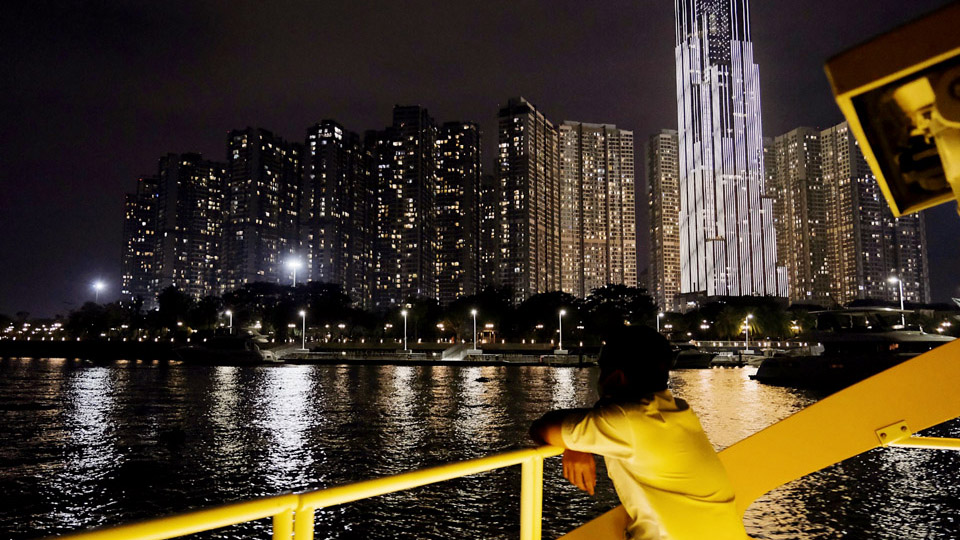 "The river bus does not have to stop often to pick up passengers; sitting here listening to the sound of the water is way better than listening to car horns," said Quoc Chien, a furniture salesman living in Thu Duc, who tried the river bus for the first time on his girlfriend's suggestion.
He shared a city-tour plan that he designed for his family: "From Thu Duc, my family will watch the sunset along the river to District 1. We will enjoy some music in the cool evening on the river before each person chooses his/her own favorite spot at the Bach Dang terminus. On the weekend, there are always lots of activities and locations that suit the needs of each person in the family such as the Book Street, the Pedestrian Street, restaurants and cinemas. Otherwise, just sitting and watching the yellow buses going back and forth on the river is peaceful enough."
In the first phase, the Saigon Waterbus' evening buses will operate from 5 p.m. to 9 p.m. Passengers can buy tickets at two stations: Bach Dang (District 1, HCMC) or buy tickets online here. The ticket price is VND15,000 per turn.