Participating for the third year in a row in the inspirational sharing series VAS Talks organized by Vietnam Australia International School (VAS), Helly Tong believes that helping students understand their true values ​​and flexibly improvise in the new situation after Covid-19 is extremely important. Besides, today's young generation also needs to be empowered and trusted by adults to help them contribute voices and solutions to social problems.
As a businesswoman, model, and community activist, Helly Tong (Tong Khanh Linh) is considered a modern, knowledgable, passionate and ambitious representative of the young generation. She is also an influential speaker for students through her persistent journey to pursue a green lifestyle and sustainable development. Below are Helly's shares after the VAS Talks 2021:
1. How do Helly feel after participating in this year's VAS Talks? What do Helly comment on the changes and growth of the students over three consecutive years participating in the event?
This is Helly's third year being speaker at VAS Talks, but I still have a feeling of anticipation and nervousness before each sharing session. Even though I know there will be surprises, every time we meet again, I am still proud to see the maturity of students through their way of sharing, and asking about deep and wide problems, which I myself might not be able to do at that age.
I believe that the bravery and confidence that students have must come from a great learning environment. Especially the way the school has created dynamic sharing spaces, helping children to form liberal thinking even though the topics are not simple such as the "Green School", "Sustainable Development" or most recently "Renovation based on true values".
2. What is Helly's personal perception of "Renovation based on True Values", as well as what they mean and how important they are to students in the current social context?
Through the sharing sessions that I participated in, it can be seen that 70% of the concerns of students aged 8-18 revolve around the topic of the impact of the pandemic on them, the world around them and recovery solutions. Obviously, they need to be relieved psychologically and oriented to overcome this challenging phase. Therefore, I think that this year's owner is very practical and timely.
Rebuilding yourself early on also helps students to locate behaviors and choices, stemming from the values available in them. From there, they have an overview of why it is necessary to renovate, innovate, create to be more discerning with their mission, in all situations, societies, or where they live.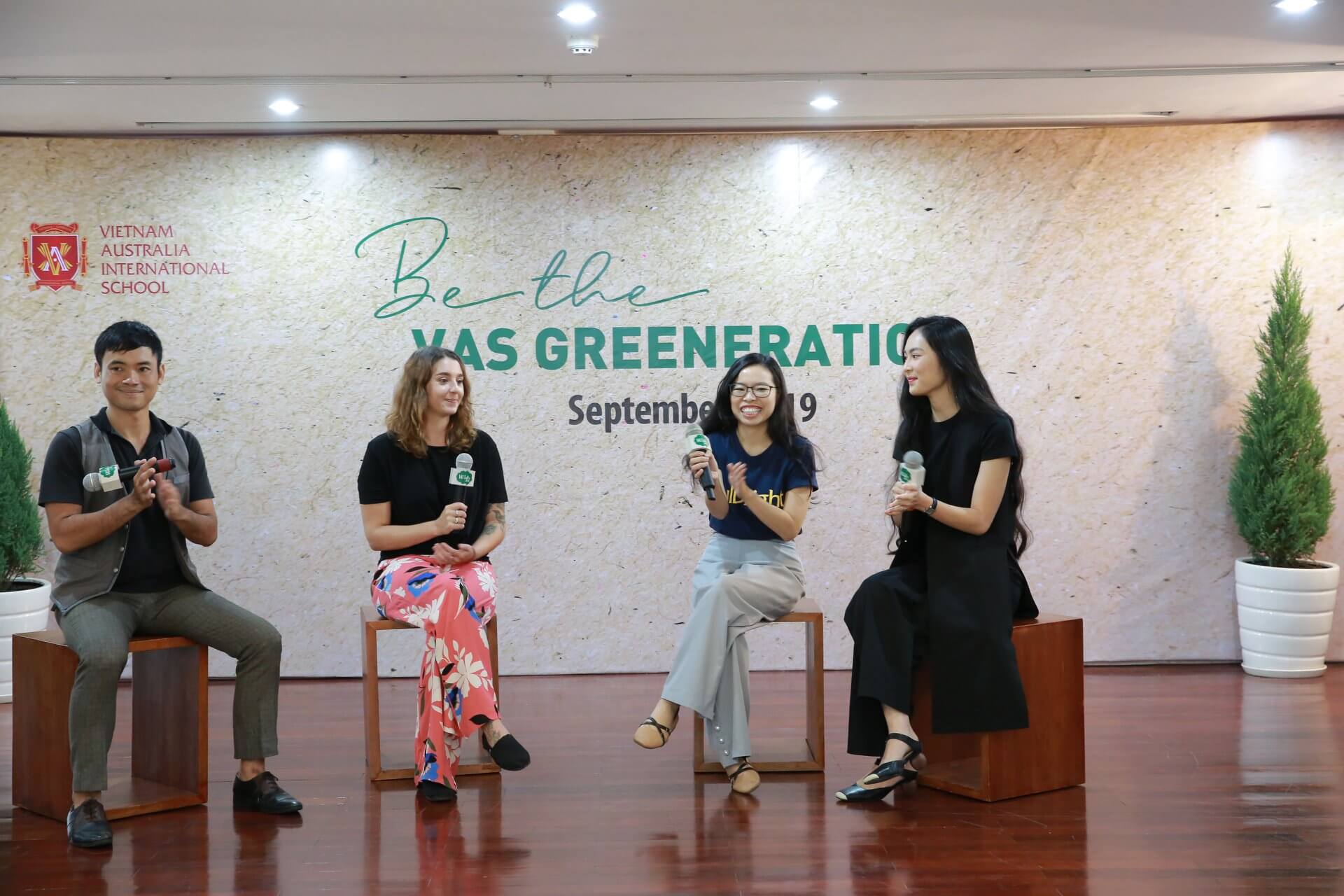 3. According to Helly, how do today's young people care about community activities, build sustainable lifestyles and express their voices and responsibilities for common problems?
Empower and give them trust!
With contributions or social solutions, in the present century, the boundaries of age are increasingly blurred. I, therefore, believe that the reform of modern education, as VAS has brought in this program as an example, has given them access to social issues, opened more doors, thereby laying the foundation for them to open up their curiosity and be a part of the solution.
In addition, when nurturing and cultivating the ability to think, solve problems, argue, pursue creativity in the main and extracurricular activities at the school, they will soon become aware of their responsibilities, wisely choose their future career and make a positive impact on society.
4. If we were turning back to 10 years ago, when Helly was a high school student, what message would you send to yourself?
This is actually a difficult question! Even though there were some regrets because I couldn't do something sooner, but time was a valuable lesson for me to cherish and motivates me to work harder today. I realize that if everything was flawless, life would be less interesting. And a frequent message to myself, is to appreciate time.
For each period, a person's outlook on life will change depending on the situation. Learning with purpose right now will save the youth a lot of time once they are grownups. To cherish time can also be interpreted as cherishing the world you are living in, it could be the water, the wind, the air; it could be the relationships with your relatives, your friends- the sacred connections between emotions and souls. Lastly, it is to adore yourself, every hour, every day we grow up is the time for us to accumulate experiences in life, in love, in creating passions and one day, these things will become a guideline to create a kind person.
5. What are the accomplishments you have in your social activities, developing sustainable growth that you would like to share with the youth as a forerunner?
Every idea is more complete when put into practice. To me, accomplishments follow the same rule, therefore it does not have a specific name or limit. Because I believe that the person who owns that limit is myself.
But, to be alive and proud, for me, is to witness the projects from the very beginning and growing everyday such as The Yen Concept, "Lai Day" Refill Station and "Song" Foundation.
Thank you Helly for these practical and meaningful sharing!
VAS is still continuing to enroll students for the 2021-2022 school year in 3 learning pathways of Intensive English programme (CEP), Bilingual programme (CAP) and Fully Integrated programme (CAPI). Find out more about international education programs and enrollment incentives at VAS at https://www.vas.edu.vn or via hotline 0911 26 77 55.