With many favorable conditions, industrial real estate in Vietnam is having growth potential.
Impressive growth in H1
In tandem with the recent rally of the VN-Index, stocks of industrial park developers have been making gradual gains since they bottomed out in mid-July. Since then, many of these stocks have marked up in price, regaining investor confidence. Apparently, the growth momentum of industrial real estate stocks is supported by their positive business results in the first half of the year, together with their huge future growth potential.
A case in point is Viglacera Corporation, whose second-quarter net revenue was some VND4.26 trillion, up 45% year-on-year, which took its six-month revenue to over VND8.1 trillion, up 53%, with a pre-tax profit of VND1.74 trillion, up 121%. The main reason for the improvement in its Q2 business operations was the industrial real estate segment playing the leading role, with a major contribution to profit growth. Earlier, the 2022 General Meeting of Shareholders at Viglacera reached a consensus on the targets of VND1.7 trillion in consolidated pre-tax profit and VND15 trillion in revenue for this year. Thus, after six months, the company had already completed 54% and 102% of its plans for revenue and profit, respectively.
Similarly, IDICO Corporation achieved impressive results in the second quarter, with its consolidated net revenue reaching nearly VND3.31 trillion, 2.6 times higher than in the same period last year. With expenses deducted, the after-tax profit of the parent company was VND1.42 trillion, rising more than six-fold against the year-ago figure. The surge in its Q2 profit was attributed to the recognition of its contracts at industrial parks such as Nhon Trach 5, Phu My 2 and Phu My 2 Expansion and Huu Thanh. This came after these projects met conditions for one-time revenue recognition. Overall, in the first six months of the year, IDICO's after-tax profit totaled some VND1.75 trillion, 5.1 times higher than in the first half of last year, meeting 79% of its profit target for this year.
Two other major industrial park developers, the Investment and Industrial Development Corporation (Becamex IDC) and the Industrial Park Development Corporation (Sonadezi) also registered spectacular Q2 profit growth. Specifically, Becamex IDC made nearly VND1.98 trillion in revenue during this period, a 12% year-on-year rise, with after-tax profit of around VND979 billion, up 88%. The main contributor to such results was their sales of real estate and investment properties, which amounted to some VND1.51 trillion. In the first six months, Becamex IDC brought in more than VND3.35 trillion in revenue and around VND1.37 trillion in profit after tax.
Meanwhile, at Sonadezi, its Q2 revenue picked up 4% to nearly VND1.32 trillion, of which its industrial parks generated some VND337 billion, a surge of nearly 47%. Not only their main operations, Sonadezi's income from financial investments also grew a staggering 75%, totaling nearly VND210 billion. As a result, the corporation reported more than VND255 billion in net profit in the second quarter, up 36%. Thanks to the positive results of April-June, Sonadezi's profit after tax in January-June of 2022 grew 10% year-on-year to VND671 billion.
Great potential
With many favorable conditions, industrial real estate in Vietnam is having great future growth potential. Production costs, such as labor, land rent, electricity and water, are lower than in other regional countries, so Vietnam is one of the beneficiaries of the "China Plus One" strategy which multinational corporations are embracing to avoid doing business only in China and diversify their operations into other countries. Considering the rapid growth of e-commerce and the diversification of major foreign firms into Vietnam, industrial park developers with available land in the urban vicinity who are developing ready-built factories could catch attention.
The RongViet Securities Company (VDSC) in a recent report said the two main segments of industrial real estate to experience a business boom would be land for lease and ready-built factories for lease. Rent rates are expected to increase further as the demand is still rising and supply is limited, according to VDSC.
For this reason, investors who have already made compensation for site clearance and paid land use fees will benefit more thanks to low costs, while rent is ticking up.
Sharing the same view, the analysis department of SSI Securities Corporation (SSI Research) expects the profit after tax of the industrial real estate sector in the second half of 2022 to grow 47.3% over the same period last year. This is thanks to the demand for industrial land, which is expected to recover positively when the economy is re-opened, plus the fact that rents are forecast to further go up by an average of 8-20% year-on-year, depending on the region.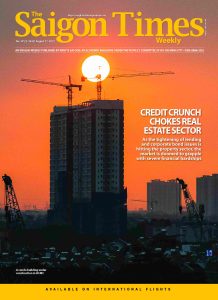 Looking further, the demand for industrial land will continue to edge up in 2023 as the trend of shifting production from China to Vietnam goes on. In addition, policies for FDI promotion will prompt investors to return for business in Vietnam, including preferential policies such as corporate income tax exemptions for the first four years of operation, a 50% corporate income tax cut for the next five years, and many other incentives.
Infrastructure improvement in near future, which is evident in Beltway No. 3, Beltway No. 4, Bien Hoa-Vung Tau Expressway, Dau Giay-Phan Thiet Expressway, the Cai Mep-Thi Vai Port and Gemalink Port, will help boost connectivity between industrial zones. Next year, net profit of listed industrial park developers is expected to pick up 18% year-on-year when the total area of land for lease grows 10% per year. Along with that, land rent is expected to advance 8% at industrial parks in southern Vietnam and 6% in the north.
In general, with the above potential, it will not be surprising if industrial real estate stocks continue to win the attention of investors from now until the end of the year.